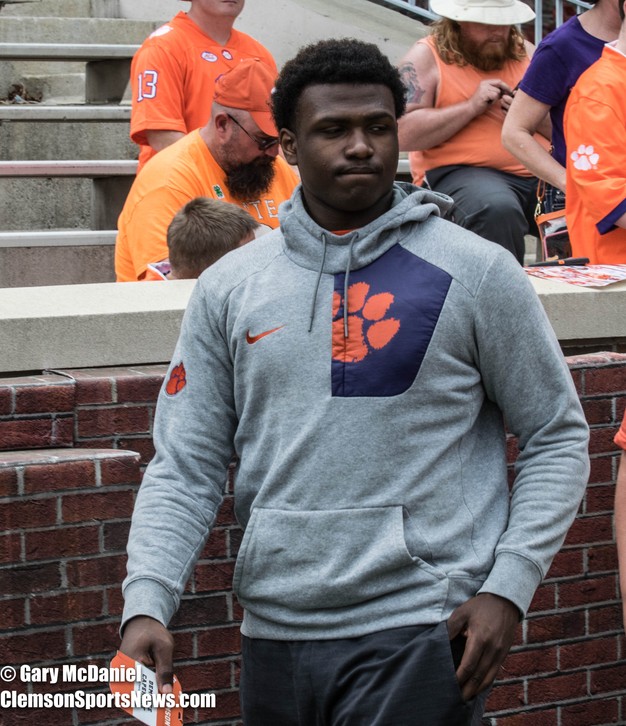 2020 Clemson Commit 4 Star Defensive End Demonte Capeheart
Clemson, SC
Three weeks removed from a second national title in the past 3 seasons and Dabo Swinney and staff are prepared tp welcome a "who's -who" of 2020 recruits to the Reeve's football facility this January Saturday. Clemson is in the midst of finalizing its 2019 class as well with a few spots still up in the air and the Tigers looking for another running back and maybe another offensive lineman or linebacker. But this day is about the building of this 2020 class, one that so far looks like it may be the best Class in Clemson history if some of the signs and signals we have seen coming out of this class hold true. The Tigers are already entrenched with several of the top player in the 2020 class including #1 Overall Prospect DJ Uiagalelei the 6'4" quarterback out of California. DJ will not be in town this week opting to come to the Clemson Spring Game in April. But in his stead is a list of some of the top prospects in the nation are on tap to be in Tiger Town today and take in all that is Clemson.
Dabo Swinney and his staff have always been a threat to others schools and had a great recruiting pitch to sell kids before the Tigers took down the mighty Tide in Santa Clara earlier in the month. Now add to the 2016 trophy a twin to sit next to it and for the recruits to take in as they enter the Football facility. Today will be about relationships and starting new ones or continuing ones they have formed over the recruiting process. As of today the Tigers 2020 Class sits at five commitment in the class. And sitting inside the top5 of all the network recruiting rankings. The word out of Pickens County is this particular class could end up being the best Clemson class in school history and challenge for the #1 Overall recruiting class in the nation.
Look for the possibility of commitments taking place over the weekend as there are a couple prospects on hand this weekend that have been serious Clemson "leans" for quite some time and this weekend may be the time they needed with the staff to sit with and give a verbal commitment. Usually Clemson yields a commitment from any of these such events they have put on in the past.
Clemson 2020 Commits :
Paul Tchio. OL Milton, GA 6'5 320 4 ****
John Williams. OL Canton, GA 6'5 275. 4 ****
Walker Parks OL Lexington,KY. 6'5 275. 4 ****
Sergio Allen. LB Fort Valley, GA 6'2 215. 4 ****
Demonte Capehart. DE. Hartsville,SC. 6'6 270. 4 ****
***** Special thanks to ClemsonSportsNews Contributor Neil Burnett for his work on this piece. Look for more from Neil as he has his eyes on the recruiting world here in 2019-2020.
Slated to attend Junior Day.
5-star DE Jordan Burch, 6-5 250, Columbia SC
.
4-star RB Jaylan Knighton, 5-10 180, Deerfield Beach, FL.
4-star DB Keshawn Lawrence, 6-2 187, Nashville, Tennessee.
3-star RB Michael Dukes, 5-11 191, Charleston, South Carolina.
4-star WR E. J. Williams, 6-3 183, Phoenix City, Alabama.
4-star LB Kevin Swint, 6-3 220, Carrolton, Georgia.
5-star RB Demarkcus Bowman, 5-11 186, Florida.
5-star DB Fred Davis, 6-2 177, Jacksonville, Florida.
4-star DB Henry Gray, 5-11 172, Hollywood, Florida.
5-star DE Brian Bresee, 6-5 290, Damascus, Maryland.
5-star DL Myles Murphy, 6-5 255, Powder Springs, Georgia.
4-star S R.J. Mickens, 6-1 188, Southlake, Texas.
4-star DL Cole Brevard, 6-3 280, Carmel, Indiana
5-star WR Rakim Barnett, 6-0 182, Washington, DC.
5-star WR Julian Fleming, 6-3 210, Catawissa, PA
4-star CB Luke Hill, 5-11 180, Washington DC
5-star TE Arik Gilbert, 6-3 215, Marietta, Georgia.
Brought to you by our Sponsors: