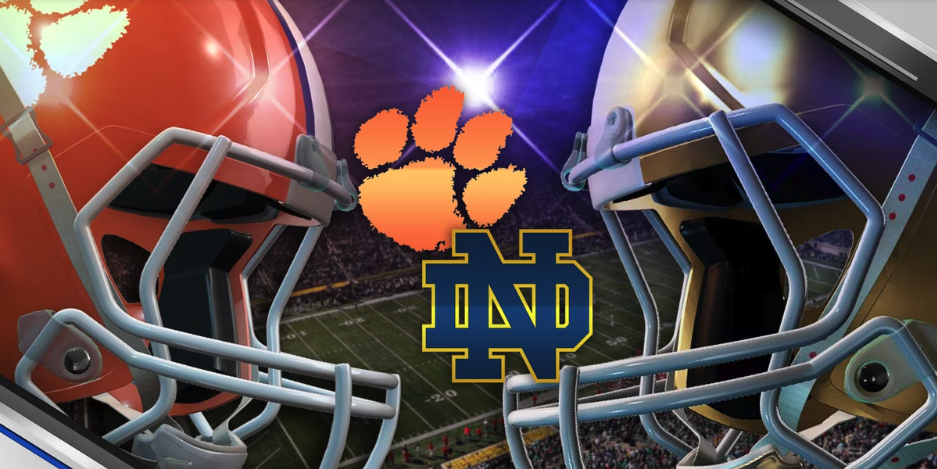 Clemson, SC
Clemson on Saturday welcomes the 15th Ranked Notre Dame Fighting Irish into the friendly confines of "Death Valley". The Tigers bruised and battered limp into this contest at 4-4 and in a rare position as underdogs inside Memorial Stadium for only the second time since 2016. To say it's "rare air" around these parts the past decade says a lot.
Dabo Swinney … who's receiving a lot of press off the field on his response to fans and media, has to focus this Tiger squad for the challenge stepping in front of them and prepare for a physical contest.
The Irish stand behind a run game that is led by Audric Estime who is approaching a 1,000 yard season and averages 100.2 yards per contest. On the other side of the ball Clemson's defensive strength is against the rush. As the Tigers only give up 99 yards per game. Passing wise the Tigers have also been quite stingy giving up a mere 167 yards per contest. The Irish also are very stout on the defensive side as they are Top 10 in scoring defense giving up 15 points per game in 9 games so far this season. Both teams will bring lofty numbers and expectations into this game on their perspective side lines.
The Notre Dame lines of scrimmage are where they make their living on Saturdays, as they love to pound the ball over and over then hit you with play action passes from veteran quarterback Sam Hartman. Hartman who is no stranger to Clemson has led the Irish all season and has amassed 2100 yards in passing while throwing 18 Touchdowns versus 5 interceptions. This combo of a experienced QB and reliable run game will challenge Wes Goodwin's defense.
Clemson needs to find itself. You ever seen the movie Friday Night Lights? There is a scene where the head coach tells his players "you gotta go out there and find yourself". This is where Garrett Rileys squad stands. After a season of underwhelming on offense. This Tigers team has big issues inside the red-zone, with ball security, and the lack of the ability to strike with a "Big Play". The Wide Receivers who have shown some improvement, still have huge glaring issues. Getting separation downfield in routes has been an issue.
Cade Klubnik's issues in the pass game start when he's in the pocket and can't find an open receiver. And the offensive line has to create a push up front and unleash the Clemson run game and force the Notre Dame defense to respect the pass. The M.O. for defenses this season versus the Tigers is to "stack the box" and bring extra defenders towards the line of scrimmage and force Klubnik to win it with his arm. With the Tigers inconsistency in this area. You can see the results as NC State was able to do just this, and the Irish will come in with the same game plan and even better talent than anyone Clemson has played so far this season. So to say the challenge is daunting in regards to Swinney's squad getting on track offensively is speaking truth.
With a 12 high noon kick off and perfect weather expected, the "Valley" will need to be at full throat by 12:01. This Clemson team will need every advantage it can find. And the 12th man in the stands is an absolute must for the Tigers to challenge the Irish… Offensively, getting "creative" literally is the best prescription for a Tigers win. A trick play using the Irish's advantage in talent against them is imperative. Something to throw the Irish out of their game plan. But this Tigers squad will need some luck along with inspired play to overcome this solid Notre Dame squad. Both Defenses are able to control things… but the lack of offense fire power on the Tigers side will be a detriment along with the inconsistency special teams wise. We have not projected a Clemson home loss in over 7 years here at CSN. But this time the Irish are just too solid and well coached. Hoping we are wrong here.. But…
Notre Dame 24 Clemson 20