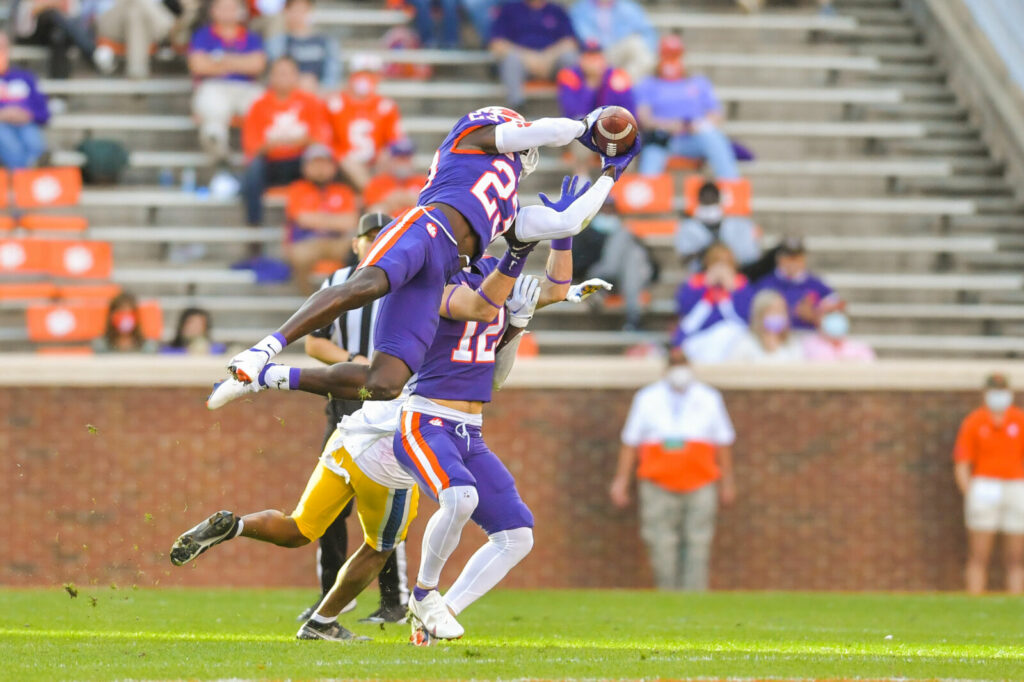 Well, the verdict is in. Clemson has zero chance to travel to Pittsburgh and came out a winner. The Tigers are an underdog in an ACC game for the first time since 2016. That game was to Lamar Jackson and the Louisville Cardinals. By the way, Clemson won that game 42-36 although Jackson cranked out over 450 total yards. Just watched this morning as three "experts" raved about Pitt, Kenny Pickett and Coach Narducci. Clemson doesn't have this and Clemson looks bad at that.
Coach Dabo Swinney has been to Pittsburgh exactly one time and it wasn't to coach in a football game. He was recently asked about quarterback DJ Uiagalelei and the comparison of him to Deshaun Watson and Trevor Lawrrence. His answer was simple. "We had better players around them than what DJ has now." Meaning, the talent on offense was better and more experienced than a bunch of freshmen and sophomores that are around DJ right now. The thing missing here is that the talent around DJ is improving every game.
Let's do some raving here. Kenny PIckett is one of the best quarterbacks in the nation. Yes, the nation. He has thrown for over 300 yards a game, 21 touchdowns and only 1 interception. Great numbers!!!! Against UMass, Western Michigan, and New Hampshire, he racked up 1057 yards through the air, 13 touchdowns and 1 interception. Against Tennessee (58th), Georgia Tech (71st), and Virginia Tech (49th), Pickett passed for 877 yards, 8 TDs with no interceptions. Still, good numbers, but historically, he hasn't fared very well against a Brent Venables defense.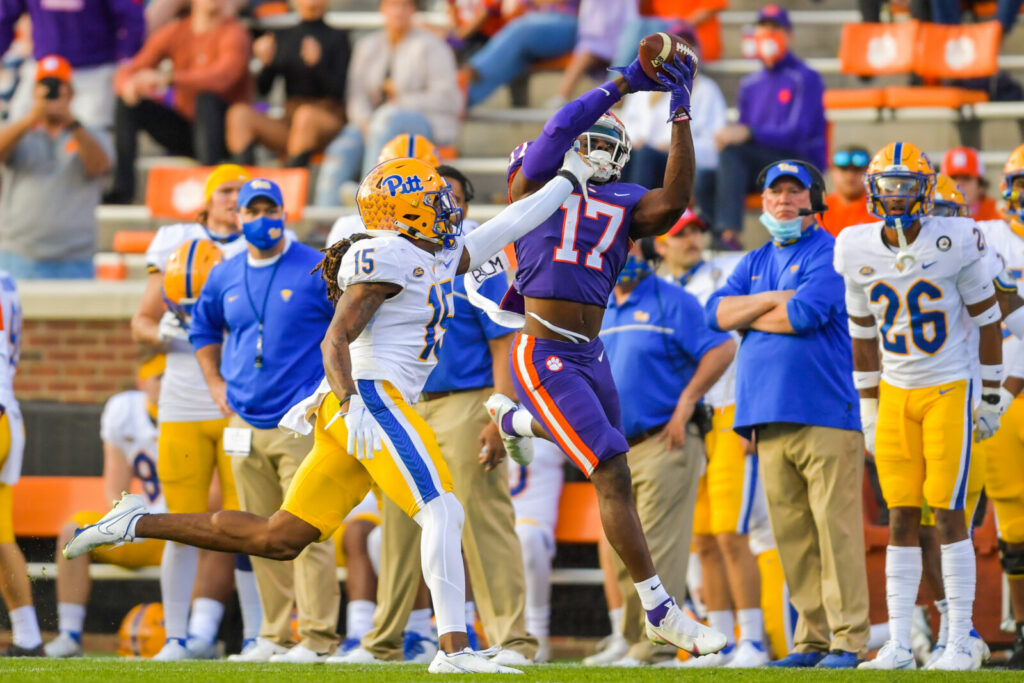 Israel Abaniknda is the leading rusher for the Panthers with 347 yards (5.0) and four touchdowns. Pickett has chipped in with another 180 yards and three touchdowns. The passing game is where PItt excels. Leading receiver Addison Jordan is the main target, hauling in 34 passes for 586 (17.2) and 9 touchdowns. All in all, Pitt has 8 different players with 10+ catches on the season in 6 games. Picket loves to spread the ball around and the Tigers will have their hands full.
The Pitt defense is currently ranked 27th in total defense, allowing 16 touchdowns in 6 games. The Tigers have allowed 8 touchdowns in 6 games and ranked 24th. Everyone knows that Clemson is struggling on offense. Everyone also seems to know what the problems are…..except the coaches. Apparently. The staff is with these players every day. They are in the film room every day, and they have the heartbeat of the team. The coaches know more than a lot of fans give them credit for.
Quarterback DJ Uiagalelei is still finding his way. No, he isn't terrible. No, he hasn't digressed. No, he doesn't need to be benched. What he does need is healthy running backs and receivers around him. Will Shipley, since inserted as starter, had 40 rushes for 204 yards (5.1) and five touchdowns prior to getting hurt in the NC State game. Say what you want, his loss was crucial in that State game. Since then, Kobe Pace has rushed 32 times for 201 yards and two touchdowns and Phil Mafah has chipped in with 17 carries for 88 yards (5.1). There is a chance that Shipley will be returning Saturday.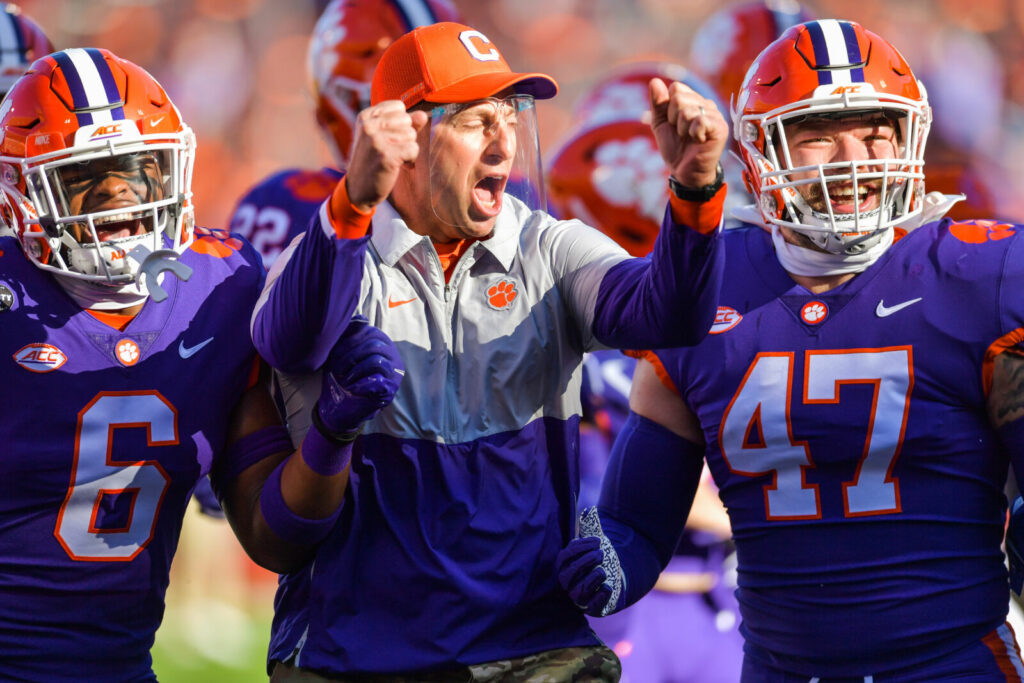 The wide receiver room has been plagued by injuries all year. At various times, the Tigers have yet to go into a game at 100% injury free at that position and that includes tight ends. The stat lines tell the injury story; Frank Ladson, 4 catches 19 yards, EJ Williams 5 catches, 40 yards; Bradon Galloway, 4 catches, 14 yards, and the list goes on. This group has got to get healthy and start producing.
Defensively, the Tiger defense has kept the games close, albeit a ton of injuries itself. The TIgers lost starting defensive tackles Tyler Davis and Bryan Bresee early on and have reached into the "We Too Deep" depth to fill the positions. To make matters worse, the Tiger secondary has been snake bit as well, losing starting Safety Lannden Zanders in the 1st game of the year, and multiple players have missed games due to injury. Coach Swinney said yesterday that finally, everyone is available in the secondary. Well, everyone except S Joseph Charleston who has decided to transfer, is ready. This group includes Fred Davis II, who has been on "internal discipline." This is a good sign.
This week's game is most certainly the major hurdle in Clemson's quest for another ACC Championship game appearance. The offense has struggled, the defense has done everything asked of it. This is the pivotal game of the year for the Tigers. Predicting this game is not easy but unlike "media experts" I can not go against Clemson. I've seen this team step up to the table more times than not when the going gets tough.
Clemson will travel to Pittsburgh and come home victorious. 23-20.