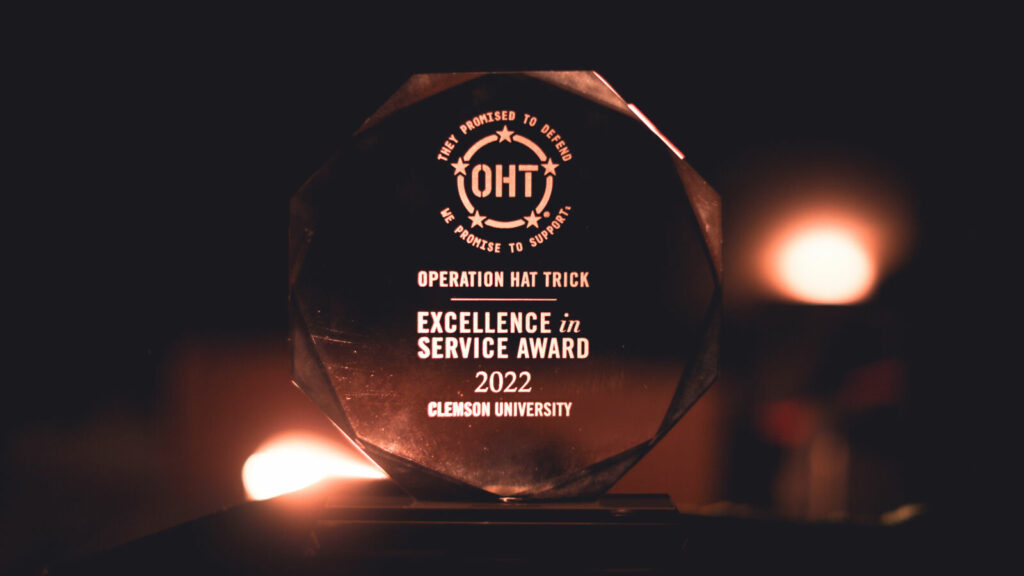 CLEMSON UNIVERSITY NAMED A CO-WINNER FOR OPERATION HAT TRICK (OHT) 2022 EXCELLENCE IN SERVICE AWARD FOR IMPROVING LIVES OF U.S. VETERANS
HAMPTON, NH – Operation Hat Trick (OHT), a non-profit supporting the recovery of wounded service members and veterans, has recognized Clemson University's outstanding efforts in aiding the recovery of wounded U.S. combat service members and veterans by naming the University a co-winner for its 2022 Excellence in Service Award. In recognition of the University's impact, OHT will make a $40,000 donation to the Purple Heart Homes, Golden Corner Chapter on the University's behalf. Operation Hat Trick Founder and President Dot Sheehan presented the Excellence in Service Awards at the Collegiate Licensing Company Licensing Seminar in Atlanta on April 27.
Clemson was a finalist in 2021 and 2020, and won the award in 2019.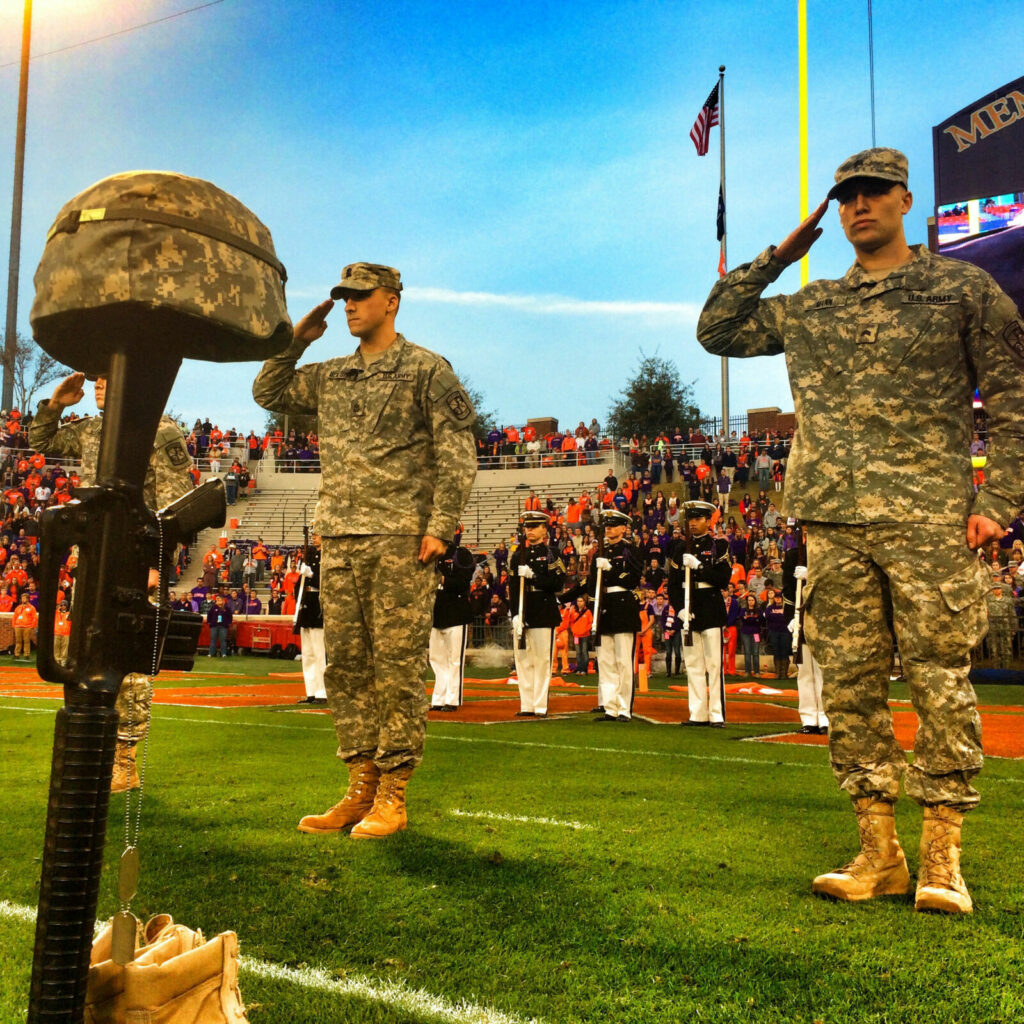 Clemson was one of five finalists this year, which included Western Michigan University, the University of Arizona, Texas A&M and Virginia Tech. The finalists were chosen based on their efforts to fully integrate OHT on and off their campuses through a presence in their bookstores and other retail outlets; promoting veterans' causes through their social media properties and advertising campaigns; and generating additional revenue that will be used to support the recovery of wounded service members and veterans.
"I am so very proud of what Clemson has done to support Operation Hat Trick and veterans who have been wounded, and are now recovering from invisible and visible injuries," said Dot Sheehan, Founder and CEO of Operation Hat Trick. "The University has shown not only a long-standing commitment to support OHT but also a commitment to support their local community, which is so critical. We at OHT are honored and proud to partner with Clemson."
A portion of each sale of OHT branded merchandise is donated to select organizations that support the recovery of wounded service members and veterans. Through the sale of branded merchandise, Operation Hat Trick has helped 85+ organizations that provide direct support to veterans in need. They include the Travis Mills Foundation, Semper Fi Fund, nine Warriors Ice Hockey Programs, Canine Companions, Let's Chow!, and the Overwatch Project.
About Operation Hat Trick
Operation Hat Trick is recognized by GuideStar as a Platinum seal of transparency organization for its responsible stewardship (https:/learn.guidestar.org/platinum). Dedicated to Nate Hardy and Mike Koch, two Navy SEALs who were killed in Iraq in 2008 and are buried side by side at Arlington National Cemetery, OHT never forgets their sacrifice.
OHT is differentiated from other veteran-focused nonprofits by its innovative operating model. OHT pioneered the first national philanthropic co-branded cause marketing retail apparel licensing program. Rather than relying on donations to raise money, OHT receives a royalty on every product purchase of co-branded apparel and merchandise in conjunction with over 500 supporting American colleges and universities, as well as many NHL, NBA and MiLB teams. Its products are also available via online retailers such as Fanatics, Amazon and national retailers including Cracker Barrel, Dick's Sporting Goods, Academy Sports & Outdoors, Kohl's, Lids, Scheels and more.
Support and learn more about Operation Hat Trick by visiting operationhattrick.org.
About Purple Heart Homes
About Purple Heart Homes
Purple Heart Homes fills the gaps in housing through the Veterans' Aging In Place and Veterans Home Opportunity Programs. From building a ramp for a Veteran of World War II, to providing home ownership opportunities to younger Veterans, our programs are designed out of necessity and fit the specific needs of the Veteran population.  To learn more, visit purplehearthomesusa.org.