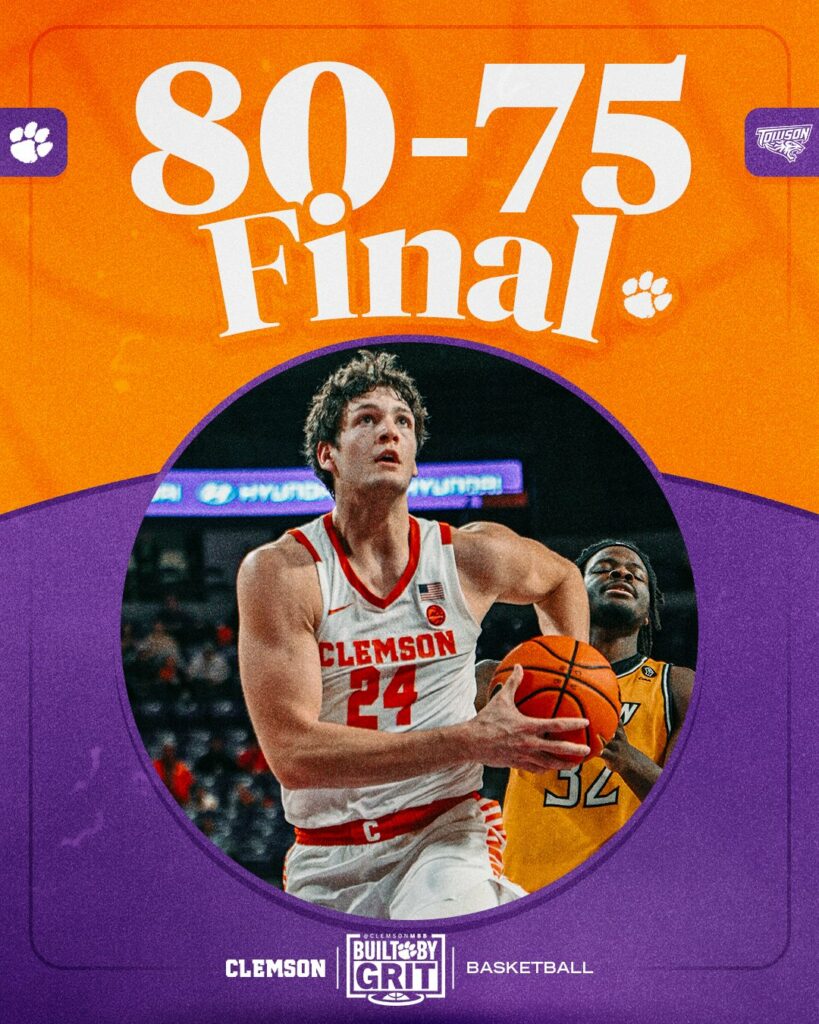 Clemson Takes Down Towson 80-75 on Wednesday Night
Four Tigers score in double figures on the way to victory on Wednesday night

CLEMSON, S.C. – Clemson University men's basketball earned a hard-fought win over Towson, 80-75 on Wednesday night.
The Tigers' (8-2, 1-0 ACC) offense came out firing from long-range connecting on 9-of-15 three-point baskets. The Tigers finished the opening stanza shooting 50.0 percent from the floor and took a 37-35 lead going into the break.
In the second half, the Clemson offense was even more efficient. The Tigers shot 57.7 percent from the field and connected on 62.5 percent of their threes ending and ended with a season-high 14. The second half saw seven lead changes, but the Tigers made 10-out-of-their-last-12 field goals to put Towson away late.
PJ Hall (Spartanburg, S.C./Dorman), Hunter Tyson (Monroe, N.C./Piedmont), Alex Hemenway (Newburgh, Indiana/Castle) and Chase Hunter(Atlanta, Ga./Westlake) all scored in double figures combining for 71 out of the Tigers' 80 points.
Hall continued to be a force on the offense, recording his third-straight game scoring 20 or more points. Hall finished the night with a team-best 22 points.
Tyson recorded his fourth double-double of the season and has had back-to-back games achieving the feat. Tyson ended the night with 20 points and a career-high 14 rebounds.
Hemenway continues his hot streak from long range over his last three games and is 11-out-of-16. He scored 15 points on the night. Hunter scored 14 points and dished out seven assists to lead the offense.
The Tigers travel to Atlanta to take on Loyola Chicago in the 2022 Holiday Hoopsgiving. The game is set to tip off at 7:30 p.m. and will air on ACCN.

Get the latest news on all things Clemson men's basketball by following us on Twitter (@ClemsonMBB), Facebook (/ClemsonMBB) and Instagram (@clemsonmbb).