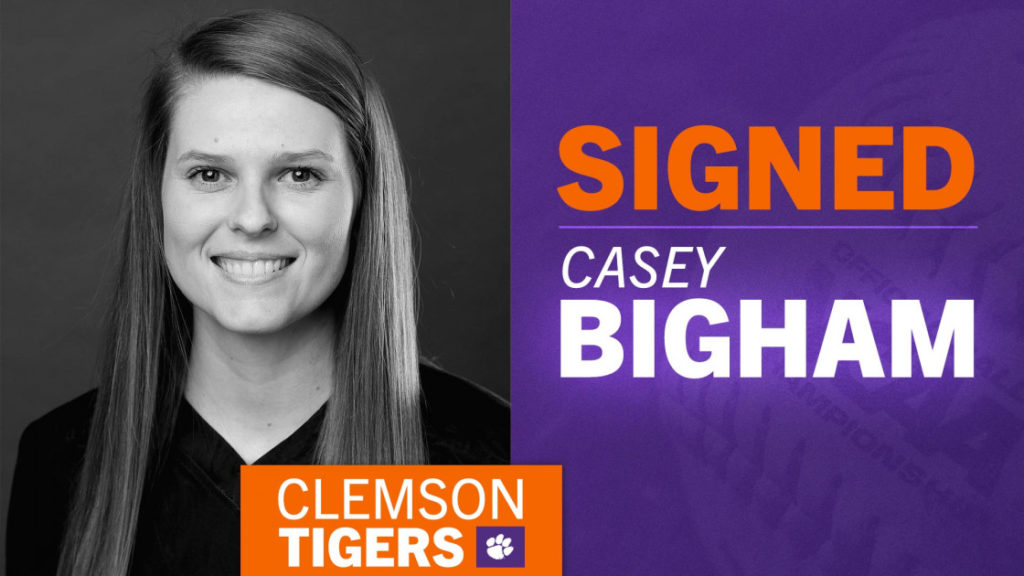 Clemson Sports News Talks With Newest Lady Tiger
By Zachary Wagner
On August 19th, the Clemson Softball Program announced the addition of a transfer second baseman from Furman University in Casey Bigham. The redshirt senior infielder becomes the second player on Head Coach John Rittman's roster to win SoCon Freshman of the Year (Marrissa Guimbarda). Bigham was also a 2X First Team All-SoCon award winner and will be a big addition fielding wise for the Tigers.
Clemson Sports News sat down with Bigham last week to get her thoughts on the upcoming season and how the former Paladin ended up in purple and orange.
"I've been a Clemson fan for as long as I can remember." Said Bigham who has a long family history at Clemson. Both her parents and aunt and uncle graduated from Clemson. Bigham already planned on attending Clemson for graduate school, but once the NCAA approved another year of eligibility due to the COVID-19 Pandemic, Bigham entered the transfer portal and the rest is, as they say, "history".
"I'm honestly really excited," Bigham stated when asked about the upcoming season. "Clemson had a great first year last season, even though it wasn't finished. Coach Rittman keeps telling us we have to prove ourselves this year and continue to improve and get better."
"Our goal this year is to win an ACC Championship," Said Bigham. "After that it's to get to a regional, and then a super regional and make it to Oklahoma City."
Bigham will be one of eight new faces on the Clemson Softball Team that returns all but one player from the first year program last year.
"We are excited to welcome Casey Bigham to our Clemson Family," said Rittman. "Casey will be a great addition to our program as a versatile infielder."
It is still unsure if Clemson Softball will be able to pack the stands as they did last year for every home game inside of Clemson Softball Stadium, but fully expect another successful season from Coach Rittman and his squad.
Make sure to stay up-to-date on all things Clemson Sports at Clemsonsportsnews.com and follow our twitter for daily coverage of Tiger sports and Tigers in the pros.