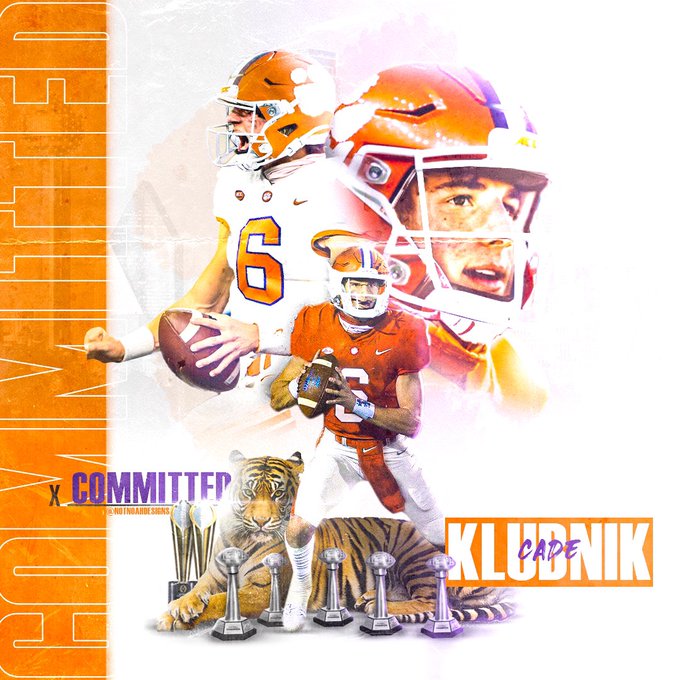 Get ready for National Signing Day. As of December 14th, the Clemson Tigers have 13 commitments, albeit, 13 pretty darn good prospects. There might be a few more added on signing day, and there might be a few more at the February signing day. That's not what you have to get ready for.
"Clemson ONLY has 13 commits, their ship is sinking." "Dabo lost both his top coordinators, and this is going to hurt them tremendously." "The Dabo and Clemson Dynasty is over." It's going to be a signing day that Clemson fans need to simply cut the volume off if you have thin skin.
Losing the OC and DC, as well as the AD, the pull-back coach, a GA (Chavous), and Thad Turnipseed, to go along with 3 decommitments (IMG, go figure), and at least 9 transfers, Dabo and staff have their work cut out for them. No one knows this more than Coach Swinney.
The 13-man class (as of December 14) have a lot of good pieces. 5-star Cake Klubnik is uber-talented, and will come in ready to challenge current quarterback DJ Uiagalelei in the spring. This is a much awaited challenge to watch.
Of the 13 commitments, six are on offense, 5 are on defense and there are two kickers coming in as well. It's limited in numbers but not in talent.
There will be a lot of mention of Dabo needing to go to the transfer portal, and he might just do that this year. One particular player of interest is former UVA center Olusegun Oluwatimi (say that real fast five times), a Remington Finalist in 2021. This would be a huge get.
Another player that might be underrated that the Tigers are looking at is RB Andrew Paul out of Texas. He only had 2600 yards rushing this year to go along with 44 touchdowns. Currently a 3-star, he has only one Power 5 offer right now. Another name to watch will be DL Khurtiss Perry. He is a heavy lean towards Alabama but Clemson could have a shot here.
RB Trevor Etienne, Travis's younger brother, recently visited the Tigers and could be leaning towards Clemson as he will announce his intentions January 8th.
Be prepared for the Tigers, currently ranked 15th, to end the day at 13 commits, and look for Dabo to start looking with interest at the transfer portal. Expect the "recruiting experts" to tell you how much losing the two coordinators affected Clemson's recruiting. So far, only the three IMG kids got together and they convinced each other to decommit. There could have been other outside forces stepping in to provide advice, but odd how they all three go to the same school and they all three decided to look elsewhere.
Be prepared for it, it's going to happen.