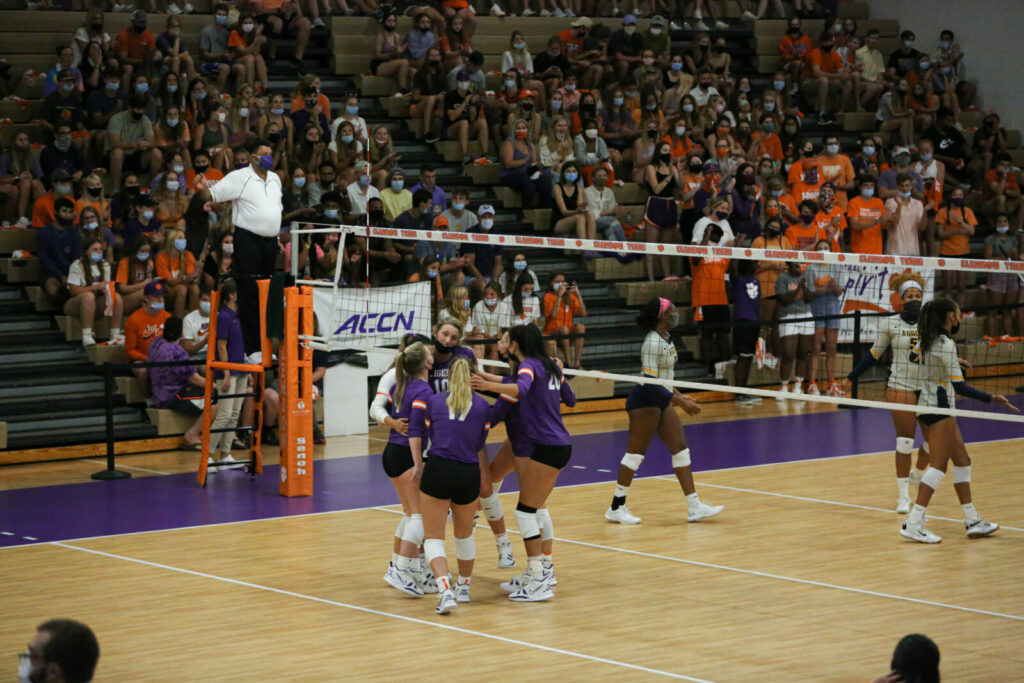 Clemson Powers Past NC A&T To Improve to 2-0
Clemson, S.C. – Clemson Volleyball used a balanced offensive performance to power past North Carolina A&T, 3-1, on Saturday night and improve to 2-0 and win the Clemson Invitational. The Tigers fought off a set point from the Aggies (1-1) to close out in four, 25-15, 21-25, 25-15, 28-26.
Graduate transfer Kaylee Martin led the Tigers with 19 kills on .357 hitting, and also added 11 digs. In the two matches on the day, she finished with 29 kills (4.14 per set) while hitting .369. Sophomores Camryn Hannah (15 kills), Cate Long (14 kills) and Ava Pritchard (9 kills) also had big offensive nights. 
The offense was also guided by another sophomore, Jenna Moore, who added 50 assists as the Tigers hit .269. Defensively, Clemson was able to side out 67.1 percent of the time and tallied six blocks.
Up Next:
Clemson travels to Columbia, S.C., where they'll take on UCF (Thursday, noon) and South Carolina (Friday, 1 p.m.) in the Gamecock Invitational.
Match Notes:
Jackie Kirr is now 2-0 as Clemson's Head Coach.
Kaylee Martin tallied a match-high 19 kills and 11 digs for Clemson's first double-double of the season.
Camryn Hannah had 15 kills and eight digs.
Cate Long added 14 kills and seven digs.
Ava Pritchard had nine kills on .438 hitting and three blocks in the match.
Jenna Moore finished the match with 50 assists and nine digs – both career highs.
Freshman libero Devan Taylor had 18 digs, which tied a match-high for all players.