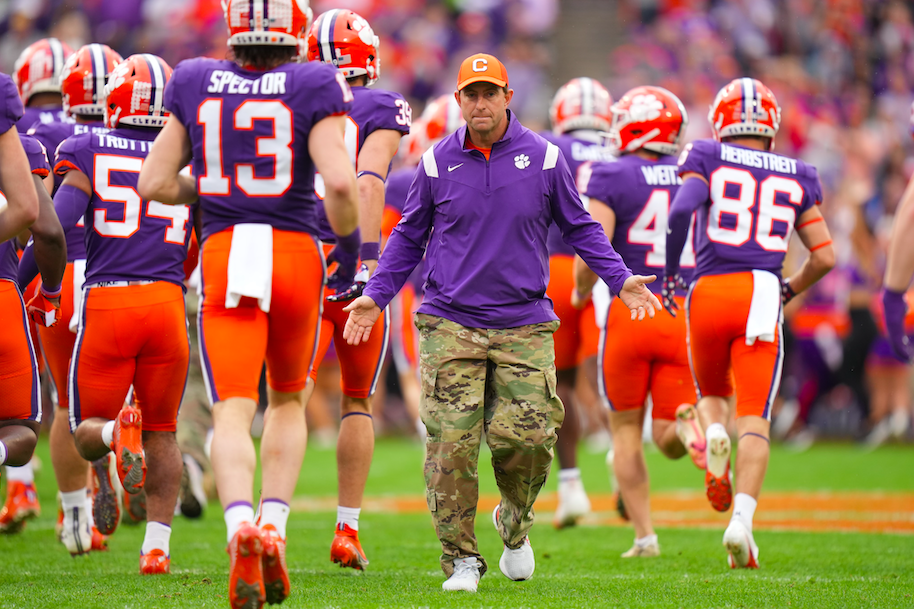 So You're Telling Me There's A Chance?
By: Grayson Mann
Hear me out.
Clemson fans all came to the reasonable conclusion following the Notre Dame loss that a postseason bid was likely not in the cards. After the three-possession letdown, many analysts across the country believed Clemson did not have a strong enough resume to overcome the loss on the road.
Following a win against Louisville and an Oregon loss with a very talented UNC team on the horizon, what if I told you there was a chance?
The chances are slim, but with enough chaos across the country, the Clemson Tigers could again find themselves back into the postseason mix. Going from conference to conference, we can map out what the Tigers need to get back in.
SEC:
Locks: Georgia Bulldogs
Teams To Watch For: LSU Tigers, Alabama Crimson Tide
Georgia here is a virtual lock to make the postseason, and it is unlikely they will face a tough test until they face off against LSU in the SEC Championship. What do the Tigers need here? They need Georgia to win out and take LSU out of the equation. A two-loss Alabama team is still hanging around, but if it should come down to it, a one-loss champion against a two-loss non-champion should be enough. For the Tigers to make the playoff, they need to root for the Bulldogs to clinch that number one seed.
Big 12:
Locks: TCU (Currently)
Teams To Watch For: N/A
The Big 12 has TCU, and that is it. The second-best team in the conference is currently Kansas State, which has three losses and no chance of making the playoff. For Clemson, TCU needs to drop a loss before selection Sunday. The Horned Frogs finish their regular season with Iowa State and Baylor, both tough tests. Ideally, you have TCU lose in the Big 12 championship, as you can stack up the two teams, with one winning the conference and the other not.
Big Ten:
Locks: Winner of OSU/Michigan
Teams To Watch: Loser of OSU/Michigan
This is a tricky conference to figure out. The Big Ten has an odd assembly of teams, with groups like Iowa struggling to be explosive and an Illinois team that is very exciting to watch. For Clemson fans, you need the Buckeyes to win out. With Clemson and Ohio State's rivalry, it is a tough ask for most Clemson fans to root for the Buckeyes, but look back to the first slate of rankings for the Committee. Clemson has ranked ahead of Michigan due to a more vigorous schedule and having more wins with teams over .500. The same argument stands with other teams as Clemson can be a one-loss champion with Michigan watching their rival Ohio State win another Big Ten Championship. It would lock in Georgia and Ohio State at one and two, leaving two open spots for the Tigers.
PAC 12:
Locks: USC (Currently)
Team To Watch: Oregon, UCLA, Notre Dame
This is a tricky conference to decipher, but following the loss Oregon took against a fun Washington team, one thing is clear; USC is the PAC 12's final hope for a playoff spot. The Trojans have UCLA and Notre Dame left on their schedule, which is why you see the Fighting Irish as a team to watch. The team that many believed eliminated Clemson from a chance at the postseason could be why Clemson slips right back in.
So that looks like many scenarios need to go Clemson's way, but with three weeks remaining on the schedule until selection Sunday, anything is possible in College Football.