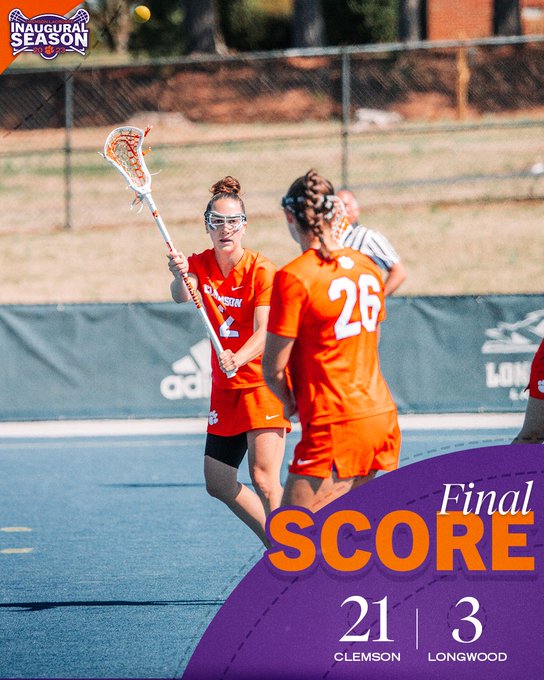 Clemson Lacrosse Defeats Longwood 21-3
Farmville, Va. — The Clemson Tigers Lacrosse team (5-2) handles business in Farmville, Va. and defeats the Longwood Lancers 21-3 on Sunday, March 5.
Clemson got off to a quick start and scored eight goals in the first quarter. Emma Tilson started the scoring off for the Tigers, continuing her streak of scoring at least once in every game this season. Gianna New and Hanna Hilcoff made their presence known, leading Clemson in scoring with five and four goals respectively. Five other Tigers would put the ball in the back of the net during the game, including Sofia Chepenik, Belle Martire, Marina Miller, Miya Scanlan and Jalyn Jimerson
Emily Lamparter forced a shutout in the first quarter, as the Tiger's were up 8-0. Hilcoff continued Clemson's momentum and scored the first goal of the second quarter. Longwood would score two in the second quarter and one in the third, but Clemson held them scoreless in the fourth.
The Tigers outshot the Lancers 44-10 and won 22 out of the 28 draws. In addition, Clemson had their best yet performance clearing the ball, clearing all 17 of their clears successfully. Meanwhile Clemson's ride forced five unsuccessful clears from Longwood.
Up next Clemson will return home for a five game home stretch. First up, Clemson will face Campbell on Wednesday, March 8 at 4:00 p.m. on Historic Riggs Field.
For complete coverage of the Clemson women's lacrosse team, follow @ClemsonWlax on Instagram and Twitter and @ClemsonWLacrosse on Facebook.