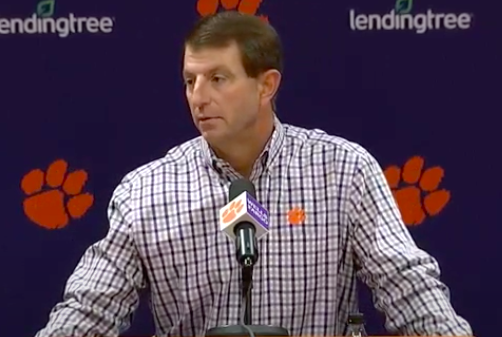 Clemson football is going to be fun in 2022. The second National Signing Day is coming up in February, spring practice starts and then the Spring Game will probably be April 2nd, and man, is it going to be a fun one.
Wow, where do we begin. The 2nd National SIgning day will be 1 February, and the Tigers will more than likely ink several prospects, the first time in quite a few years this has happened. Due to coaching departures, the Tigers had four decommitments and ended up with a 12-person recruiting class, with only 10 position players. The decommits may rue the day they made that move. We may also see the first transfer portal recruit in this new "free agency" era. Or not.
Spring practice will start up in late February and culminate in the Spring Game on April 2nd. There will no doubt be 30K+ to watch the battle between QB DJ Uiagalelei and incoming 5-star freshman Cade Klubnik. Brandon Streeter has his work cut out for him working with both of these highly touted quarterbacks.
WRU took 4 steps back last year from previous years, mostly due to a lot of injuries. Frank Ladson has taken to the transfer portal, and Justyn Ross has decided to take his talents to the NFL. All eyes will be on the wide receiver group of Beaux Collins, Dacari Collins, Joe Ngata, EJ Williams, Robbie Spector and Troy Stellato. Right on their heels will be two 4-star freshmen, Antonio WIlliams and Adam Randall. Braden Galloway exercised his free agency rights to hit the transfer portal as did Jaedyn Lay, but the tight end position is in good hands with Davis Allen, Jake Briningstool and Sage Innis.
Coach CJ Spiller returns a three headed monster at running back with Kobe Pace, Will Shipley and Phil Mafah returning, and raring and ready to go. Lyn-J Dixon and Michel Dukes decided they could get more playing time elsewhere and entered the transfer portal. The Tigers are hoping to add at least one more running back on the February signing date. This would be the perfect opportunity to add a "hidden gem."
The offensive line is always a point of interest. The Tigers won 8 of 9 games going down the stretch and the offensive line played a huge part in it. Matt Bockhorst got injured in the 7th game and missed the rest of the season. Other than Bockhorst, the entire two deep returns. Keep your eyes on Tristan Leigh, Marcus Tate, Mitchell Mayes, Bryn Tucker, and incoming freshmen Collin Sadler and Blake Miller. The tigers will also be returning several linemen that were injured before the 2021 season even started. Deitrick Pennington, John Williams, and Tayquon Johnson should be ready to stick their hands in the dirt and get after it. Barring injury, this unit will be deep.
We are going to see a little difference in the defense this time around. S Nolan Turner, LB's James Skalski and Baylon Spector, and CB's Andrew Booth and Mario Goodrich will be missing for the first time in four years. Practically the entire two deep defensive line will be returning, including DT Bryan Bresee who missed 9 games due to injury. DE KJ Henry decided to return, and will team with Justin Mascoll and Myles Murphy to give the Tigers a ton of experience on the edge. Speaking of linebackers, we will see players like Jeremiah Trotter Jr. and Barrett Carter step into full time roles, as well as Keith McGuire and Lavonta Bentley, who have been in the background waiting to take their place on the defense.
One of the things to watch for at the spring game is all the new coaches and how they interact. Understand something before you go. The offensive coaches have been coaching together for a few years now. OC Brandon Streeter, RB Coach CJ Spiller, offensive line coach Thomas Austin, WR Coach Tyler Grisham. They are not learning a new system and they are all on the same page. The same goes for the defense, for the most part. DC Wes Goodwin and CO-DC Mickey Conn. DB Coach Mike Reed. DE Coach Lemanski Hall. Only new defensive line coach Nick Eason has not been at Clemson…..lately. Eason is coming home and will fit right in. The transition should be seamless. The key is how much the players buy in and how hard they play for the new coordinators. It's going to be a great game to be at.
Lots to look forward to in the next few months. Hold on to your hats. It's gonna be fun.