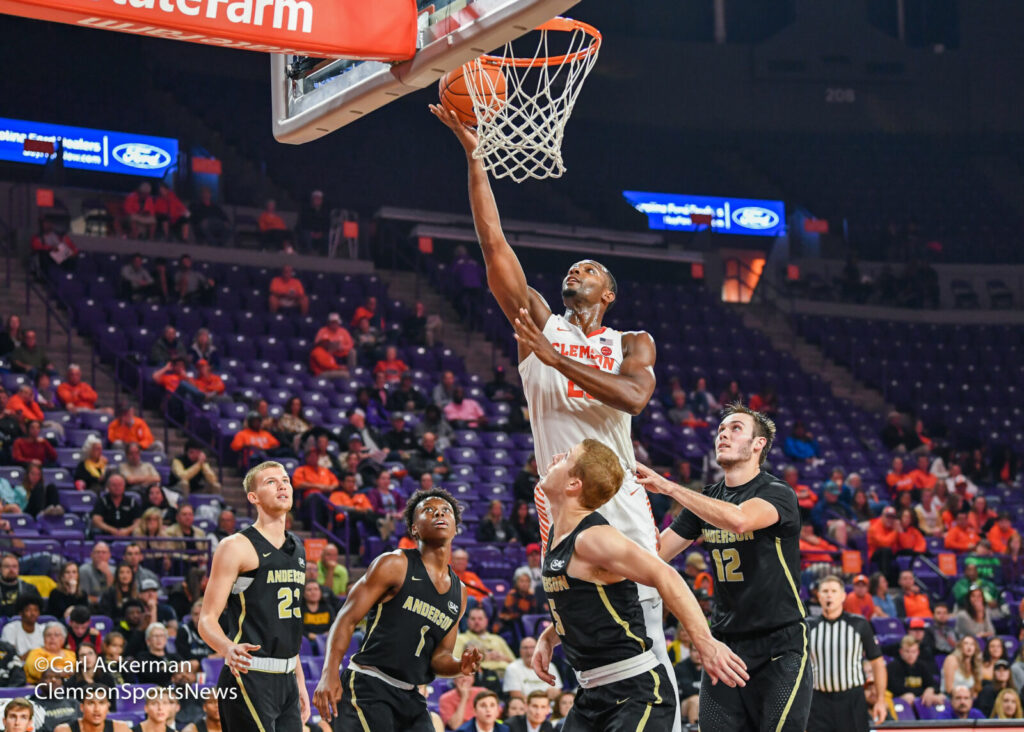 Aamir Simms Preseason Sit Down
By Zach Wagner
Clemson Senior Forward Aamir Simms sat down with the media for the first time this preseason inside of Littlejohn Coliseum on Thursday morning to preview the Tigers upcoming 2020-21 basketball season. 
On Wednesday afternoon, the ACC announced preseason All-ACC teams, and Simms saw himself pegged as a First-Team All-ACC with 50 votes and also received 5 votes from the media to be the ACC Player of the Year.
The 6'8, 245 senior from Virginia led the Tigers last season in points (391), assists (68), rebounds (217) and blocks (23) and helped the Tigers to three wins at home against top-six opponents.
Simms announced he would be returning back to Clemson for his senior year earlier this fall after shopping his name around to some NBA teams in the draft. The forward said it was a no brainer coming back to Clemson and was just looking to evaluate his game at the next level to see what he needed to improve on for his final college season.
After a 16-15 season last year, many Clemson fans were disappointed with the outcome of the season. After an ACC Tournament First Round win over Miami, the remaining games of the ACC Tournament and NCAA Tournament were cancelled due to the COVID-19 virus.
Clemson also dealt with a variety of injuries last season. Freshman Alex Hemenway and Chase Hunter dealt with injuries for the better half of the season and Johnathan Baehre tore his ACL for the second time within a year, only three games after returning to the Clemson lineup. Transfer Point Guard, Nick Honor, also had to sit out the 2019-20 season after the NCAA denied his appeal for immediate eligibility.
Simms is looking forward to a healthy Clemson Basketball Team.
"Playing wounded last year really hurt us. Getting our full team back will give us the opportunity to show the world what Clemson Basketball is really about."
Head Coach Brad Brownell also put together one of the best recruiting classes the Tiger basketball team has seen in many years. Centers P.J. Hall and Lynn Kidd will give Simms some well needed rest when needed, and are learning from one of the best players in the ACC everyday at practice.
Clemson will begin its season on November 25th down in Melbourne, Florida for the Space Coast Challenge. The Tigers will open play against Mississippi State and will take on either Liberty or Purdue the following day on the 26th.
The first game for Clemson in Littlejohn Coliseum will be on December 2nd against South Carolina State.