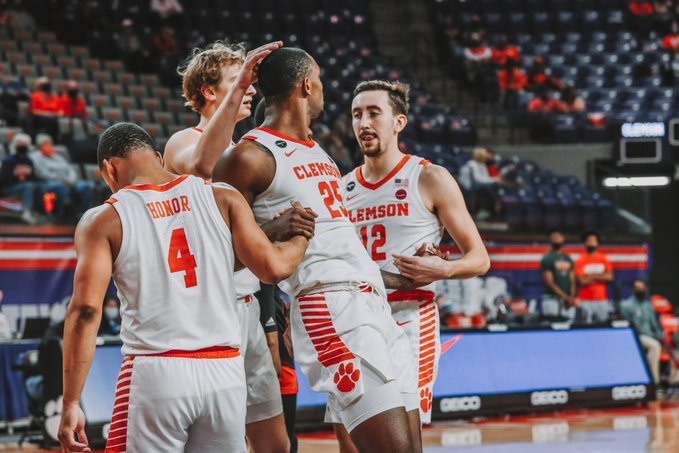 Clemson Comes Up Short Against Miami
The Tigers lost a nail-biter versus the Hurricanes in the second round of the ACC Tournament.GREENSBORO, N.C. — After garnering clutch wins in its two regular season battles with Miami, Clemson came up short against the Hurricanes in ACC Tournament play. The Tigers fell to the Hurricanes 67-64 in their second-round matchup at the Greensboro Coliseum on Wednesday.

Clemson (16-7) made 12 3-pointers on the afternoon, including a season-high eight treys in the first half. The Tigers shot 46.9 percent from the field and were a perfect 6-for-6 at the free throw line. Miami (10-16) finished with a field goal percentage of 53.7 and made five 3-pointers. The Hurricanes won the rebounding battle 26-25. Also of note, Clemson tallied 15 assists and scored 10 points off Miami's 13 turnovers.

Aamir Simms connected on 7-of-13 shot attempts to give him a team-leading 17 points. He went 3-from-5 from beyond the arc and notched eight rebounds and four assists. Hunter Tyson was a perfect 4-for-4 from deep, finishing with 16 points to go along with his seven boards. Clyde Trapp shot 4-for-5 from the floor and registered 10 points and three assists. For Miami, Isaiah Wong scored a game-high 20 points.

Out of the gate, Clemson had the hot hand from three, knocking down four 3-pointers en route to going up 12-6. Tyson made the first pair of shots from beyond the arc, and Simms sank the next two. A trey from Jonathan Baehre increased the Tigers' lead to 17-8. With under 11 minutes remaining in the first half, Al-Amir Dawes drove the length of the floor and laid it in to give the Tigers a 20-12 edge. Miami clawed back and took the lead, but threes by Simms and Alex Hemenway in the closing minutes of the opening half culminated in Clemson taking a 36-32 lead into halftime.

Following an offensive rebound by Simms, Nick Honor netted a triple early in the second half. Simms pulled down a defensive board around the 13-minute mark and hurried down the court before passing to Dawes, who glided to the basket and scored an up-and-under layup. At that point, Clemson led 48-43. The 'Canes produced a 16-2 run after that and built a nine-point advantage. The Tigers closed the gap down the stretch but never retook the lead. A steal by Simms with 22 seconds left led to Honor having a good look at the basket out of a timeout. Honor's runner was off the mark, however, and the Hurricanes went on to win 67-64.

Get the latest news on all things Clemson men's basketball by following us on Twitter (@ClemsonMBB), Facebook (/ClemsonMBB) and Instagram (@clemsonmbb).
Head Coach Brad Brownell's Postgame Quotes
Opening statement:
"We had chances, but we didn't play quite as well in certain areas as we would've liked. We shot the ball well and, for part of the game, moved it well, too. We just couldn't guard. [Kameron] McGusty and [Isaiah] Wong are tremendous one-on-one players who shoot over the top of us a lot. Miami's guys played very efficiently and made some tough shots. The story of the game for us was committing too many turnovers and not being able to keep Miami out of the paint. We put ourselves in a position to win with a couple of steals late in the game, but give Miami a lot of credit. We've got to be better defensively."

On Nick Honor's shot at the end of the game:
"You're not going to get a much better look than that. Miami made shots like that all day. We got what we wanted. It was just one of those days we didn't make them, but we needed to play a little bit better on previous possessions to win."

On Clemson's NCAA Tournament aspirations:
"I feel good about that. That'll be a tremendous honor for these young men. They've played their hearts out for several months to get to this point. It's just disappointing. We felt like we had a chance to win some games here and get some positive momentum, but we'll be excited on Selection Sunday. It'll be a great reward and great recognition for these kids."