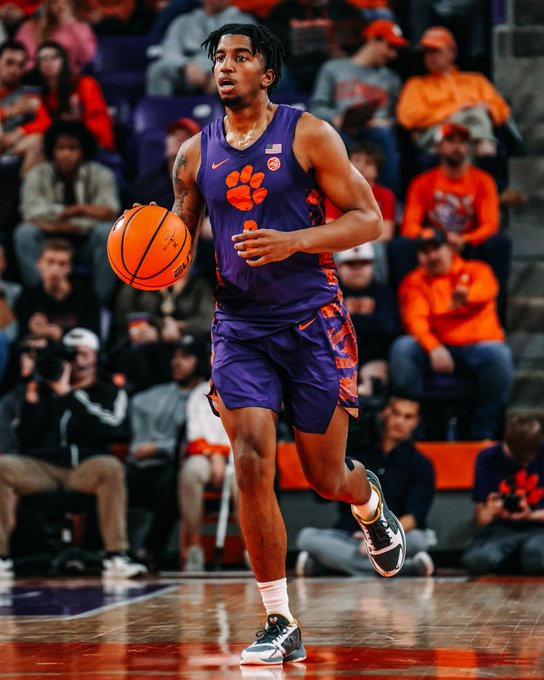 Clemson Basketball Signs Four Transfers
Joseph Girard III, Jack Clark, Jake Heidbreder and Bas Leyte join Tigers
CLEMSON, S.C. — Head Coach Brad Brownell and his staff officially announced the addition of four transfers to the roster beginning in 2023-24. Joseph Girard III (Glens Falls, N.Y./Glens Falls/Syracuse), Jack Clark (Cheltenham, Pa./Cheltenham/NC State), Jake Heidbreder (Floyd Knobs, Ind./Floyd Central/Air Force) and Bas Leyte (Bergen op Zoom, Netherlands/New Hampton/UNCG) all officially signed with the Tigers.
These four will join incoming freshman Asa Thomas (Lake Forest, Ill./Lake Forest) who averaged 19.0 points, 5.7 rebounds and 1.7 assists, while shooting 52.0 percent from the field and making 80 threes.
"I want to thank my staff for all their hard work this spring as we are super excited about the four young men who are joining our program. We were seeking experienced players with size, length and elite shooting and we nailed it with these four. They will be a great fit for our team and our fans will really enjoy watching them play."
Girard was one of 20 players named to the Jerry West Award Watch List last season before averaging 16.4 points, 2.8 rebounds and 3.0 assists for Syracuse. In four seasons with the Orange, Girard scored 1,652 points, totaled 445 assists and grabbed 360 rebounds. He also collected 165 steals and made nearly 300 3-pointers (36.3 percent). He was 86.3 percent from the foul line in his career.
Girard finished sixth in the ACC in scoring last season, including second in league games (17.8). This gives Clemson the top two returning scorers in league play last year with Girard and PJ Hall (Spartanburg, S.C./Dorman) who averaged 17.6 per game.
"Joe is a talented guard who has proven himself to be a high-level scorer in the ACC. He's an extremely competitive young man who has a great feel for the game and plays with a natural poise that all great players possess."
Clark played in 23 games for the Wolfpack last season, including 17 starts. He averaged 9.0 points per game and 6.9 rebounds per contest to go along with 39 steals and nine blocks. Clark finished 43.6 percent from the field and 84.0 percent at the foul line.
Last year was Clark's first in the NC State program after playing three seasons at La Salle. He finished with 12 double-digit scoring games last year, including five in ACC play. While at La Salle, he scored 693 points and grabbed 338 rebounds.
"Jack is a versatile forward with very good size and length at the wing. He impressed our staff with his rebounding ability and possesses the tools to shoot and make plays from the perimeter."
Heidbreder earned Third Team All-Mountain West honors last year, the first Falcon to earn all-league honors since 2020-21 and just the third since 2013-14. He closed out the regular season 10th in the league in scoring (15.1 ppg). His 75 made threes led the Falcons and was the most by a Falcon over the last 14 seasons and finished seventh on the all-time program list.
One of the top scoring guards in the Mountain West last season, Heidbreder shot 49.2 percent from the field, 39.2 percent from three and 86.3 percent from the free throw line – a mark that is eighth-best in a season at Air Force. Heidbreder finished with 24 double-digit scoring games, six 20-point games and had 24 games making at least two threes.
"Jake is an outstanding shooter who moves very well without the ball. He's a highly efficient scorer and holds a unique ability to cut and finish plays around the rim."
Leyte joins the Tigers after four seasons at UNCG. He scored 640 points and grabbed 413 rebounds in his career. An increase in minutes the last two seasons came with increased production. Leyte averaged 9.5 points and 6.0 rebounds as a junior and 7.6 points and 4.3 rebounds as a senior.
He scored in double-figures 26 times over the last two seasons and grabbed at least five rebounds on 14 occasions last season.
"Bas is someone who fits our system because he has the ability as a post player to play inside and on the perimeter. He has a high basketball IQ, which helps him on both ends of the floor. He is super excited about competing at this level and will add depth and experience to our frontcourt."