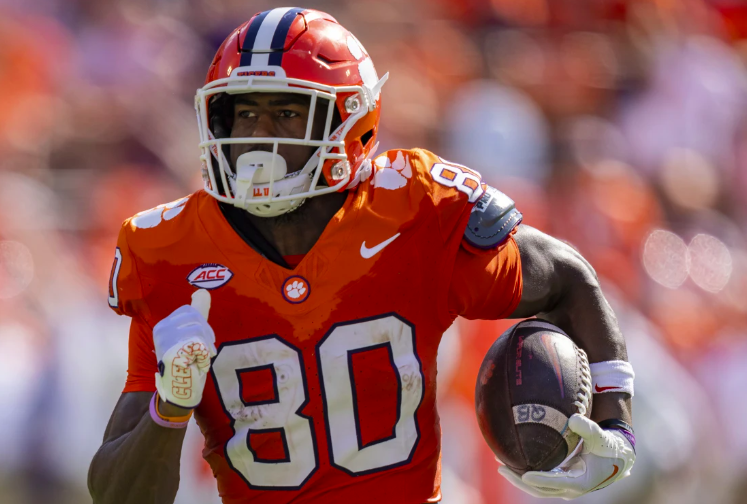 GAME NOTES
The game was Head Coach Dabo Swinney's 100th home game at Memorial Stadium. He is 92-8 all-time in games played at Death Valley.
Unofficially, 117 Clemson players played in the game, breaking Clemson's record of 111 set against Charlotte in 2019.
Clemson's 66 points were its most since a 73-7 win at Georgia Tech in 2020.
Clemson compiled 679 yards of offense, its most since gaining 702 yards against Wofford in 2019. It was Clemson's 31st 600-yard game all-time, with 30 instances coming since 1981 and 24 of the 31 coming in Swinney's tenure.
Overall, Clemson outgained Charleston Southern, 679-73 (+606), the second-highest yardage margin in single-game records dating to 1950, trailing only a +691 margin against South Carolina State in 2014.
Clemson held a 37-4 advantage in first downs. Clemson's +33 margin in first downs is its largest in single-game records dating to 1950.
Defensively, Clemson held Charleston Southern to four first downs, its fewest allowed in a single game since 2009 against Boston College (four).
Offensively, Clemson's 37 first downs were its third-most in school history, trailing its 40 against South Carolina in 2016 and its 38 against South Carolina in 2018.
Clemson held Charleston Southern to 73 total yards. It was the fifth time under Dabo Swinney that Clemson held an opponent to 100 or fewer yards, and the 73 yards were its fewest surrendered in a game since 2014 (44, South Carolina State).

Clemson has now exceeded 200 rushing yards and 200 passing yards in back-to-back games for the first time since 2019 against South Carolina and Virginia.
Clemson has now opened the first two games of a season by reaching 200 rushing yards and 200 passing yards in consecutive games for the first time since 2000 (vs. The Citadel and Missouri).
Clemson has now rushed for 200 yards in each of the first two games of a season for the first time since 2010 (vs. North Texas and Presbyterian).
Clemson's 405 passing yards represented its first 400-yard passing game since the 2020 season finale against Ohio State (400) and its most since a 439-yard passing day against Notre Dame in November 2020.
Quarterback Cade Klubnik completed 28-of-37 passes for 315 yards with four touchdown passes and one interception. His 315 passing yards were five shy of his career high of 320 set in the 2022 Orange Bowl.
Klubnik's four touchdown passes were a career high and Clemson's most by a quarterback since DJ Uiagalelei's five touchdown passes at Wake Forest in 2022.
Klubnik recorded his second career 300-yard passing game to tie current Clemson offensive player development assistant Cole Stoudt for seventh-most in Clemson history. Klubnik is now one of eight quarterbacks in Clemson history with multiple 300-yard passing games.

Wide receiver Beaux Collins led Clemson in receiving, setting a career high with seven receptions and matching his career high with 137 receiving yards, set in 2021 against Wake Forest.
Wide receiver Antonio Williams caught five passes for 64 yards with one touchdown.
Williams posted the first multi-touchdown game of his career and the first by a Clemson pass catcher since tight end Davis Allen caught two touchdown passes at Wake Forest last September.
Clemson opened the scoring on a 10-yard touchdown pass from Klubnik to Williams.
The first touchdown pass from Klubnik to Williams was the culmination of a 10-play, 68-yard opening drive on which Klubnik completed 6-of-8 passes for 64 yards.
Running back Phil Mafah rushed nine times for 59 yards with a career-high two touchdowns.
Mafah scored his first touchdown of the season — the eighth of his career — on a one-yard rushing touchdown late in the first quarter.
Clemson has now scored at least one rushing touchdown in a national-best 69 of its 71 games since the start of the 2018 season.
With Mafah's first touchdown, the game was tied 14-14 after one quarter despite a 198-6 Clemson advantage in offensive yardage. Clemson also held a 12-0 advantage in first downs at the quarter break.
Williams scored Clemson's third touchdown of the first half on a five-yard pass from Klubnik in the second quarter.
Mafah recorded his second touchdown of the game on a five-yard run on Clemson's opening possession of the second half.
Collins scored his first touchdown of the season on a career-long 69-yard pass from Klubnik in the third quarter.
The 69-yard pass from Klubnik to Collins was Clemson's longest since Trevor Lawrence completed a 70-yard pass to Cornell Powell against Pitt in November 2020.
Tight end Josh Sapp caught a 25-yard touchdown pass from Klubnik in the third quarter. The touchdown came on the Clemson legacy's first career reception.
Sapp's touchdown gave Clemson 28 points in the third quarter, Clemson's highest-scoring third quarter since a 28-point third quarter against Louisville in 2018. It was Clemson's highest-scoring quarter in any frame since a 31-point first quarter against Pitt in 2020.
Clemson's 42-point second half was Clemson's most in a half since a 35-point second half against Louisiana Tech last season.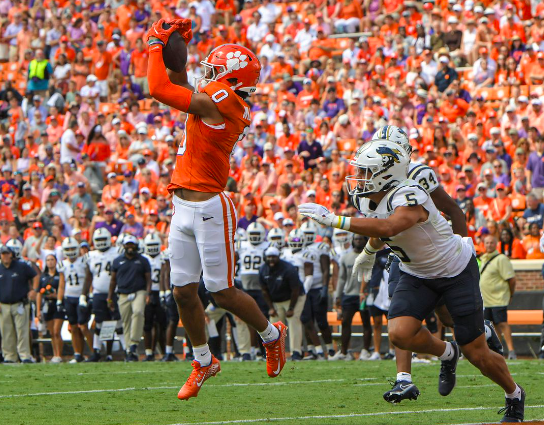 Running back Will Shipley recorded 108 all-purpose yards, including a team-high 73 rushing yards on nine carries. In the process, Shipley (3,255) passed Aaron Kelly (3,151) for 13th on Clemson's all-time leaderboard for career all-purpose yards.
Wide receiver Troy Stellato recorded career highs with five receptions for 51 receiving yards. He entered the game with two career receptions for 15 yards.
In his first career game, running back Jay Haynes turned his second career carry into an eight-yard rushing touchdown in the fourth quarter.
Haynes added a six-yard receiving touchdown later in the quarter.
Haynes became the first Clemson player with a rushing touchdown and receiving touchdown in a single game since Chez Mellusi accomplished the feat against Pitt in 2020.
Clemson quarterbacks Hunter Helms (5-for-5, 48 yards) and Paul Tyson (3-for-3, 42 yards, one touchdown) combined to go 8-for-8 for 90 yards and a touchdown through the air. Tyson, a senior transfer, was making his Clemson debut, and his passing touchdown was the first of his career.
Clemson completed passes to 16 different receivers, its second-most under Swinney and its most since 17 different players caught passes at Georgia Tech in 2020.
Clemson scored its first defensive touchdown of the season on a 35-yard pick-six by linebacker Wade Woodaz in the third quarter. Woodaz picked off the pass after a big hit by cornerback Jeadyn Lukus jarred the ball loose.
Woodaz's touchdown came 12 seconds after Mafah's second touchdown run, representing the quickest back-to-back touchdowns from scrimmage in Clemson history. The two touchdowns in 12 seconds broke the previous mark of 14 seconds, set against Duke in 2003 when Derrick Hamilton caught scoring passes from Charlie Whitehurst 14 seconds apart. (Note: Clemson technically scored two touchdowns in 0:00 against SC State in 2017 when it followed a touchdown run by recovering a fumble on a kickoff in the end zone for a touchdown.)
Clemson now has an interception return for touchdown in three of its last five games, dating to last season.
The game was Clemson's first on record back to 1950 in which both teams recorded an interception return for touchdown.
Clemson finished the game with 10 tackles for loss.
Defensive end Xavier Thomas recorded Clemson's first sack of the season in the second quarter, pushing his career sack total to 15.5.
Cornerback Nate Wiggins recorded his first career sack, dropping Charleston Southern quarterback Tony Bartalo for an eight-yard loss.

Wide receiver Tyler Brown recorded a 27-yard punt return on his first career punt return in the second quarter. The return set up Clemson's ensuing three-play, 39-yard touchdown drive.
Kicker Robert Gunn III recorded his first career field goal with four seconds remaining in the first half, giving the Tigers a 24-17 advantage at halftime. Gunn finished the game 1-for-1 on field goal attempts and 7-for-7 on PATs.
Clemson played the contest on a five-day turnaround, its second straight year playing its second game of a season in a five-day window. Clemson defeated Georgia Tech and Furman five days apart last September.
Clemson played its 123rd home opener in school history in its 128th season, as there were five seasons in which Clemson did not play a game at home.
Charleston Southern became the 39th different opponent faced by Clemson in a home opener all-time.
Clemson faced Charleston Southern for the first time in program history.
Clemson faced its 108th different opponent in program history. Clemson is now 66-38-4 all-time in its first meeting with those 108 existing opponents, including a 17-1 mark in first meetings since 2003. Clemson has won 19 of its last 21 games when making its all-time debut against a new opponent.
Clemson faced a new opponent for the first time since facing Iowa State for the first time in the 2021 Cheez-It Bowl.
Dabo Swinney coaches against Charleston Southern Head Coach Gabe Giardina. Giardina served as a placekicker and holder on the 2000 Alabama Crimson Tide squad for which Swinney served as wide receivers coach.
After his first two starts came at a neutral site and a road game, Klubnik made his home starting debut. Clemson quarterbacks are now 25-6 since 1971 in their first starts at home, including wins by Clemson's last eight starting quarterbacks to earn a home start (Kyle Parker, Tajh Boyd, Cole Stoudt, Deshaun Watson, Kelly Bryant, Trevor Lawrence, DJ Uiagalelei and Klubnik).

Clemson played the first game of two separate three-game homestands it is scheduled to play in 2023. The three-game homestands in September and November this year will be Clemson's 34th and 35th homestands of three or more games in school history (1911, 1920, 1922, 1949, 1959, 1962, 1969, 1974, 1979, 1982, 1983, 1987, 1988, 1989, 1990, 1991 (2), 1993, 1998, 2000, 2001, 2002, 2003, 2004, 2006, 2007, 2008, 2011, 2012, 2014, 2015, 2020 and 2022).
Captains for the contest were tight end Sage Ennis, cornerback Sheridan Jones, safety Jalyn Phillips and wide receiver Brannon Spector.