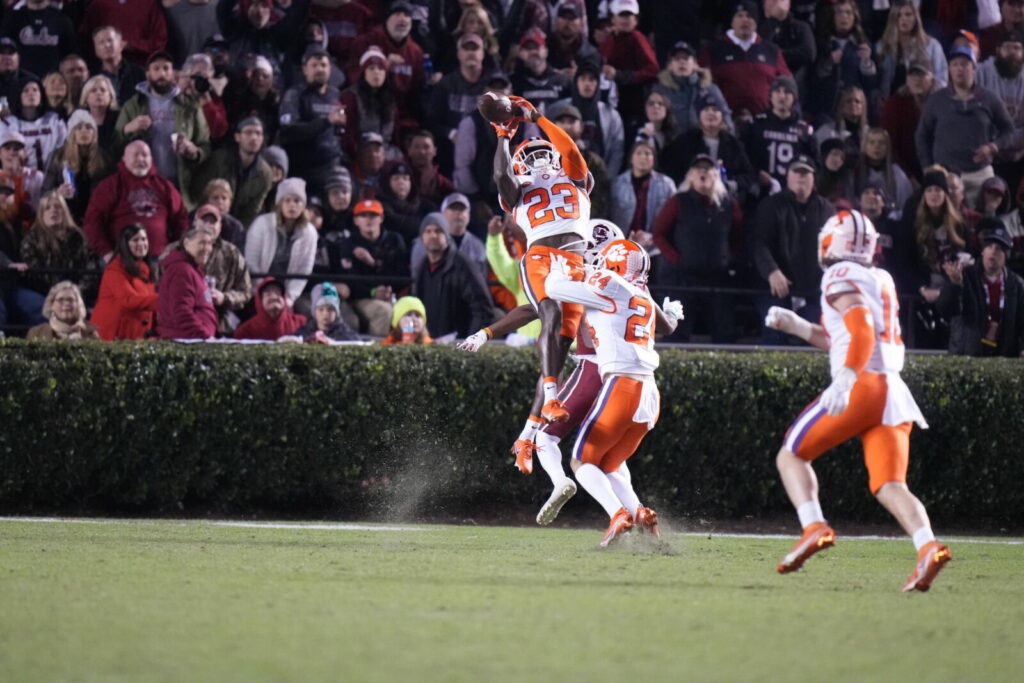 Good, Bad and the Ugly
Wow, Tiger fans. A lot of people did not see this coming, especially a few hundred thousand USC fans. Dabo Swinney and his Clemson Tigers waltzed into WIlly Brice Saturday night, collected the rent, and promptly left town. There is a ton of good to get to, but lets look at the bad and ugly first.
Ugly was the group of USC fans that promptly broke into chants of "F..k you Dabo" before the game. Yep, I said it. Ugly. There is no room for this, especially since all Dabo was doing was his yearly rental collection. He complimented USC Coach Shane Beamer after the game, saying he has this program going in the right direction. USC did go 6-6 this year with wins over Florida and Auburn, and is bowl eligible after winning only 2 games last year. Major improvement but still a long way to go to compete with Clemson. The behavior by USC fans is nothing new, it happens every year, just in variable ways, never the same one two years in a row.
If we want to talk about bad, you don't have to look any further than the entire performance by the USC team, both offensively and defensively. First let's listen to what Roman Harper, SEC Football Analyst, had to say before the game. "I'm calling my shot. South Carolina is going to win this game and they might do it by double digits." Don't you just love the arrogance of the SEC media? Yeah, that was bad.
The South Carolina offense was held to 12 first downs on the night and 206 total yards. 206 total yards. USC was 19-42 in the passing game for 163 yards. The Clemson defense completely shut down the Gamecock run game, allowing only 43 yards on 20 attempts. USC was 4 of 16 on 3rd down. The Tigers weren't much better, only converting on 3 of 12, but they still managed 17 first downs. It's been 32 years since USC was shut out. The SC offense was so bad, they had to bring in Zeb Noland, a preseason Graduate Assistant who was pressed into action when preseason starter Luke Doty went down with injury. Yeah, that was bad.
Good? Where do we start. Freshman WIll Shipley exploded once again with 19 carries for 128 yards which included a 29 yard touchdown run for the first Tiger touchdown. Sophomore Kobe Pace also had a big night with 7 rushes for 59 yards and a 34 yard touchdown run in the 2nd quarter to put the Tigers up 17-0. What is the common denominator here? The offensive line has gelled and continued to open up holes for these two talented backs. This group has come into their own and not only are they a boon in the run game, QB DJ Uiagalelei went sackless, again. The offense has found an identity although it took all season to get there. That's pretty good.
The defense played it's best all round game for this 2021 season. As mentioned, the Tiger defense allowed 206 total yards, There were no glaring errors out there tonight. No penalties to speak of that extended drives for the opponents. No receivers got behind the secondary. USC quarterbacks only completed 19 of 42 passes. CB Andrew Booth, Jr., picked off two passes in a game that might be his last regular season game for this Clemson defense. He is projected to go early, with good reason.
What's not being said enough is how much this defensive line has grown up since the first game against Georgia. DT Bryan Bresee went out in the 4th game of the year, and Tyler Davis also missed four games in the middle of the season. The development of Etinosa Reuben and Ruke Orhorhoro has paid huge dividends to this Clemson defense.
Admittedly, the USC offense (or lack thereof) played right into the hands of DC Brent Venables. In past games, offenses had success against this Tiger defense with tempo. Tempo tempo tempo. Tempo offense is apparently not in the Gamecock game plan. Coach Venables was able to get the defense in position to be successful.
Kicker BT Potter hit a pothole against Florida State, missing three out of four field tries. Since that game, call him "Money". He has now connected on 11 straight attempts, including 3 of 3 last night against South Carolina.
This Clemson team has run the gamut regarding the Good, the Bad and the Ugly, from very Ugly to very Good. Last night in Willy Brice Stadium in Columbia, SC, this team dominated from start to finish in every facet of the game. This was the 22nd time in Clemson history the Tigers have pitched a shutout against South Carolina. All 22 shutouts have been played in Columbia. Dabo needs to raise the rent.