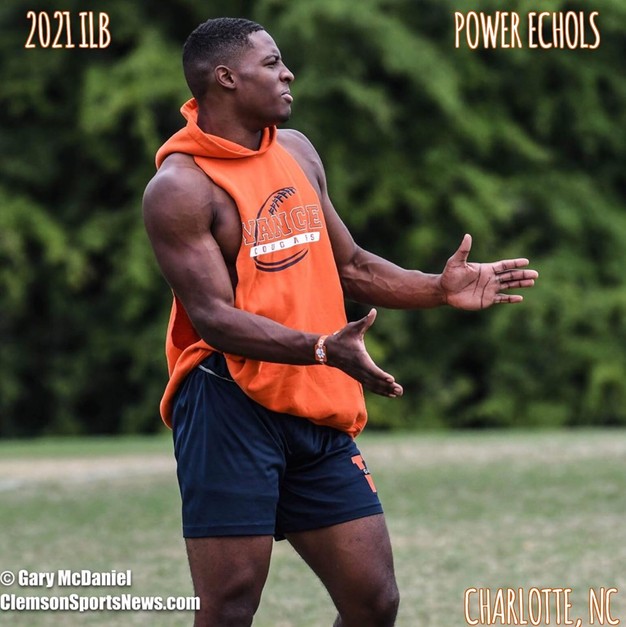 LB Prospect Power Echols received an offer post camp after working out for LB coach Brent Venables
Clemson held the Dabo Swinney camp in mid June over a two week period that consisted of six days and equal number of sessions in the 2019 version. With an estimated 2000 plus total participants …the pool of talent was not watered down to say the least. The Tigers head man Coach Dabo Swiney and his staff of recruiters entertained a bevy of the nations top talent for both 2020 and 2021.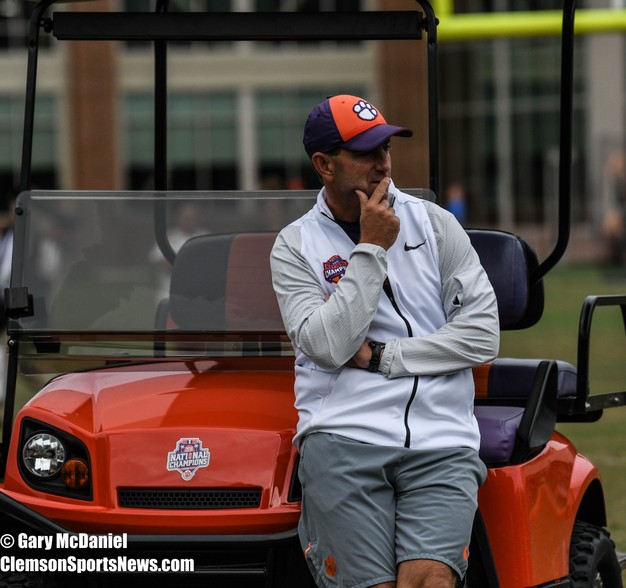 Coach Dabo Swinney personally watching the running backs work out during his annual camp.
With headliners sprinkled about in the 6 days and multiple sessions, the staff always seems to find time for evaluations and face time with kids that made the trip in to talk recruiting or vying for an offer by participating in drills for instant evaluations.
Prior to camp the Tigers had been conservative to say the least in laying out offers to 2020 and 21's especially with the late start the staff gets each year with the teams participation in the College Football Playoff. But with camp and the ability to get one on one time and in some cases work these prospects out and truly see if they are a fit. This is where the Tigers 2021 and the remaining 20 targets started to see significant movement in the case of offers being dispensed by this staff.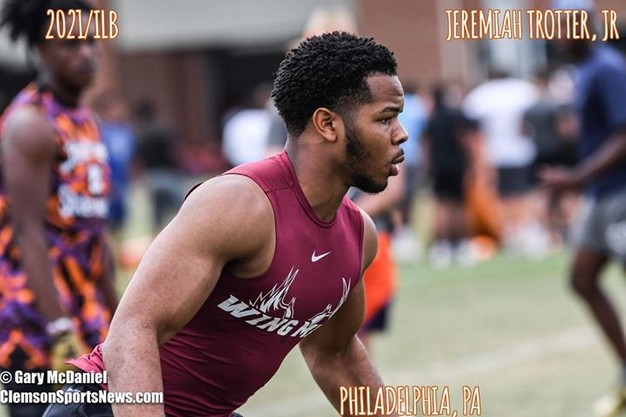 Philadelphia, PA LB recruit Jeremiah Trotter working out at Dabo Swinney camp in June.
CSN's recruiting analyst Neil Burnett did the research and took time to break down the offers list here along with the current Clemson 2020 Class
Remaining Clemson 2020 offers The 2020 recruiting class for Clemson is nearly complete, but several positions are still waiting for those last few commits. The Clemson class is currently ranked #1 in the country, with several more sure to be added before December. Taking a look at Clemson's recruiting class by position: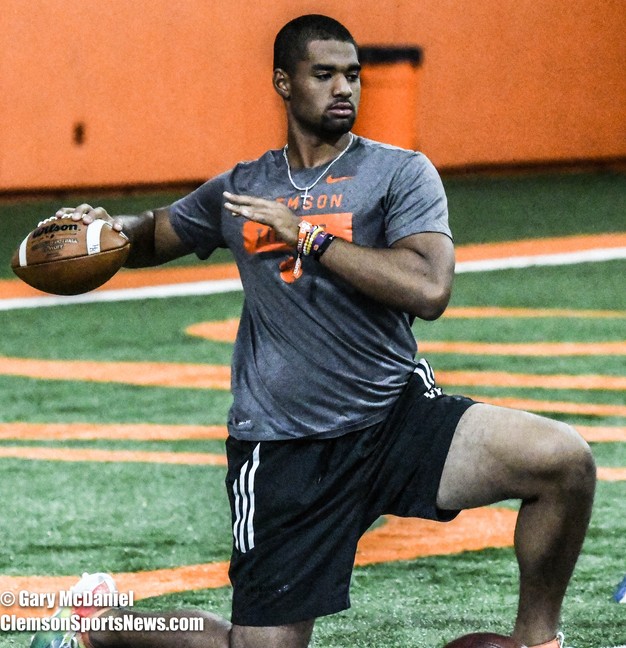 Clemson 2020 QB Commit and #1 Rated QB in nation DJ Uiaglelei
QB – DJ Uiagalelei 5* 6-4 246. #1 ranked PRO style
RB – Demarkus Bowman. 5* 5-11 195. #2 ranked RB RB – Kobe Pryor. 4*. 5-10 205. # 28 ranked RB
TE – Sage Ennis. 3*. 6-4 220. #18 ranked TE
OL – Walker Parks. 4*. 6-5 275. #10 ranked OT OL – Mitchell Mayes. 4*. 6-6 315. #4 ranked OG OL – John Williams. 3*. 6-5 270. #31 ranked OT OL – Paul Tchio 4*. 6-6 320. #5 ranked OG OL – Bryn Tucker 4*. 6-5 305. #7 ranked OG
DE – Myles Murphy. 5*. 6-5 255. #2 ranked SDE DE – DT – Bryan Bresee. 5*. 6-5 290 #1 ranked player in the nation
DT – Tre Williams 4*. 6-2 306. #5 ranked DT DT – Demonte Capehart. 4*. 6-4 284. #2 ranked DT
LB – Kevin Swint 4*. 6-2 243. #9 ranked ILB LB – Sergio Allen 4*. 6-1 217. #6 ranked ILB LB –
DB – Fred Davis II. 4*. 6-0 186. #3 ranked CB DB – S. – RJ Mickens. 4* 6-0 197. #2 ranked S S. – Tyler Venables. 3*. 5-10 190 #65 ranked S
Looking at this list, there are up to five positions the staff has not yet filled. Clemson sent out 98 offers for the 2020 class with 18 of those committing. Position by position analysis reveals just who the Tigers might finish up with. Wide receiver Of the 13 wide receivers offered by Clemson, six remained uncommitted. The biggest target is probably E.J. Williams from Phoenix City, Alabama, the same high school of current Clemson WR Justyn Ross. Williams is a 6-3 180 pass receiving target, much in the mold of Ross, and is a heavy lean to Clemson. Xzavier Henderson is the same size as Williams, also a 4-star, and ranked as the 21st rated WR in the country. Landing these two would add two more 4-stars to an already packed Clemson recruiting class. Of the four remaining targets, Clemson's best option seems to be Florida 3-star Ajou Ajou. Ajou is playing his first year of high school in Florida, having recently moved there from Canada. In terms of raw talent, he has it. At 6-4 200, he also plays basketball and runs track. It will be interesting to see how his game translates at the high school level of Florida football. Defensive End Clemson is loaded at the defensive end position, returning no less than six players with significant playing time, and three more coming in the 2019 class. The Tigers already have Myles Murphy, 5-star DE out of Georgia in the 2020 class, and is looking to add one more, and that would be Jordan Burch. Burch is a 5-star DE out of the Columbia, SC, and currently jumped to the #1 spot in the rankings. At 6-5 250, Burch is basically down to Clemson and South Carolina. Some fans are of the belief because he is in Columbia, visited there many many times, plays for a coach that played for USC, and goes to school with the USC coach's son, that he is a USC lock. My belief is that if he were going to commit to them, he would have done it already. Rumor has it he is coming to the All In Cookout in July in Clemson.
ClemsonSportsNews will keep track of this event. Linebacker Clemson has two linebackers in this class in Kevin Swint and Sergio Allen. Both are 4-star linebackers and both are inside linebackers. Clemson biggest target at linebacker is still available and is trending to Clemson. Justin Flowe of Upland, California, is a lightening fast 6-2 225 tackling machine and has a strong relationship with current Clemson commit DJ Uaigalelei. Their dads are from the same home town and played football together. The "experts" are predicting him to go to USC (the real one) and that might be true, but he is another one rumored to be at the All In Cookout later this month. Clemson offered a total of five inside linebackers in the 2020 class, with Swint and Allen committing. The other two committed to LSU and South Carolina. Regarding the outside linebacker position, Clemson offered six players, with the most prominent being Sa'Vell Smalls of Burien, Washington, and Phillip Webb out of Buford, Georgia. Smalls is more than likely not coming to Clemson, looking for like an Alabama lean, but it's still a long way till signing day. Webb, on the other hand, is looking hard at Clemson and at 6-3 225 would be a very welcome addition. Webb recently released his Top 11, and yes, it included Clemson. It could be after his senior season before he makes a decision. The other four that Clemson offered ended up committing to Florida, FSU, Michigan and Georgia. Secondary Clemson picked up two highly ranked players for the secondary, Fred Davis II from Florida and RJ Mickens, and un
Clemson football offers since the June 9th article on offers.
OG Jared Wilson, Clemmons
NC LB Smael Mondon Jr
Dallas Georgia
C Ryan Linthicum, Damascus, Maryland
LB Brandon Jennings, Jacksonville, Florida
LB Reid Carrico, Ironton, Ohio
DB Nyland Green, Newton, Georgia
QB Drake Maye, Charlotte, NC
APB Emeka Egbuka, Steilacoom, Washington
OL Nolan Rucci, Lititz, Pennsylvania
RB Malik Newton, Norfolk, Virginia
QB Eli Stowers, Denton, Texas
WR Agiye Hall, Plant City, Florida
WR Dacari Collins, Powder Springs, Georgia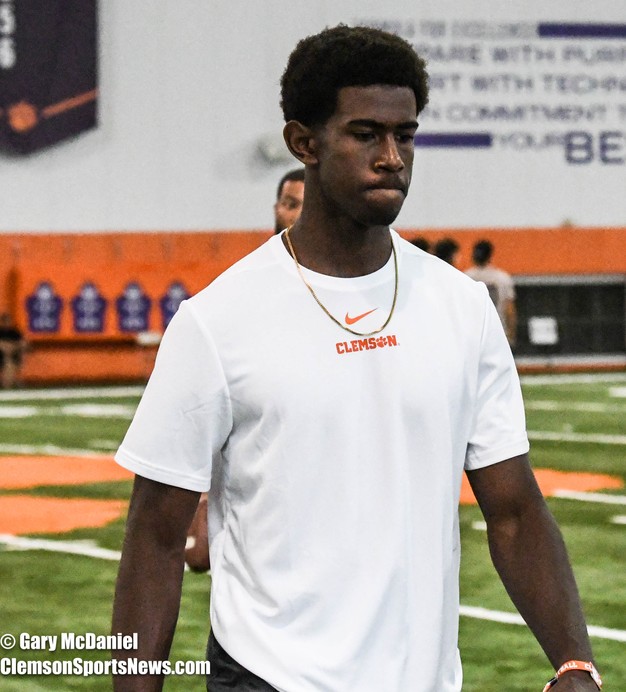 California St John Bosco Prep 4 Star WR 2021 Beaux Collins. Team Mate of "DJ-5"
WR Beaux Collins, Bellflower, California
LB Jeremiah Trotter Jr, Philadelphia, Pennsylvania
TE Jake Briningstool, Brentwood, Tennessee
OL Marcus Tate, Ft. Lauderdale, Florida
CB Corey Collier Jr, Miami, Florida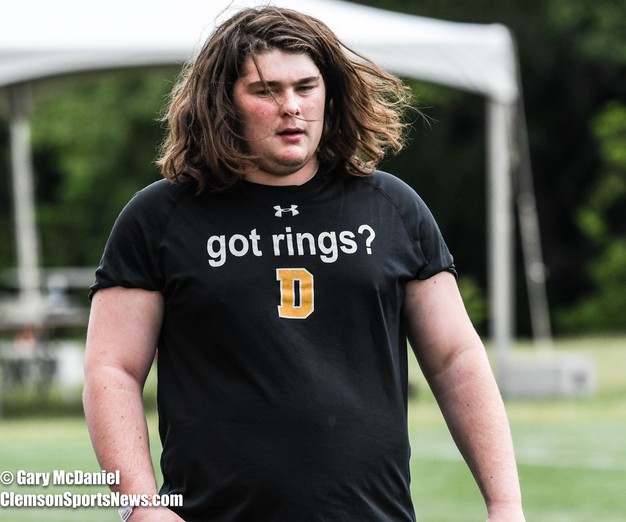 2021 #! Center prospect in Nation Ryan Linthicum during his camp stay in Clemson.

Mini Gallery of Camp :
Brought to you by our Sponsor: