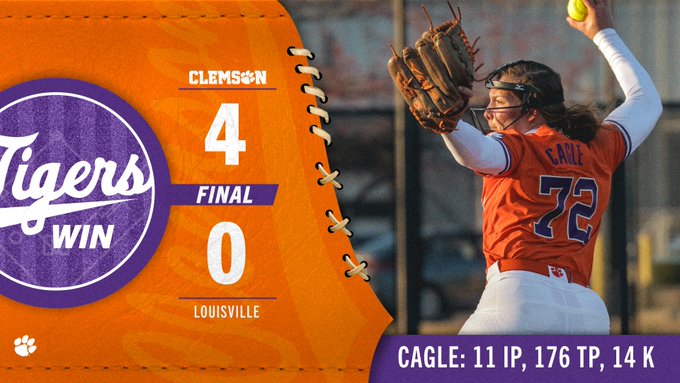 Cagle Pitches 11.0 Innings in Tigers' 14th Consecutive Win
LOUISVILLE, Ky. —  The No. 23 Clemson Softball team (17-2, 9-2 ACC) scored four runs in the top of the 11th inning against Louisville (9-8, 3-3 ACC) at Ulmer Stadium on Friday night to earn its 14th consecutive victory. The Tigers were led by righty ace Valerie Cagle (11-1), the ACC's wins leader, who threw a complete game after pitching a career-high 176 pitches in all 11 innings. Cagle also set a career best with 14 strikeouts on the evening. With Friday's win, Cagle is now tied for first in the nation with five shutouts on the season.
Clemson took a 1-0 lead in the top of the 11th after McKenzie Clark registered her first hit of the night on an RBI triple that trickled past the Louisville centerfielder. Then, Cagle (2-for-4) collected her second hit of the night on an RBI single up the middle to score Clark. After going 0-for-4 in her first four at bats, Marissa Guimbarda blasted her seventh home run of the season on a deep two-RBI shot over the center field wall.
In the bottom of the 11th, Cagle struck out two Cardinal batters before a line out to Clemson shortstop Ansley Gilstrap ended the game.
The Tigers and Louisville return to action on Saturday for a doubleheader. First pitch for Saturday's first contest is scheduled for noon. Both games are scheduled to stream on ACCNX.