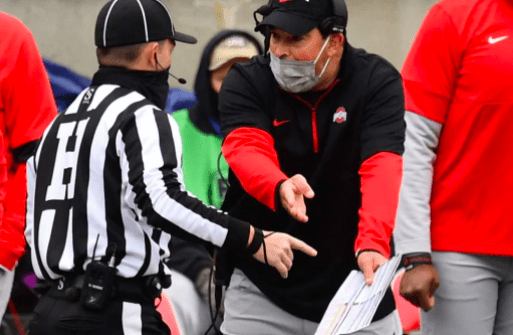 By Zach Wagner
When will people learn? Don't give the Clemson Tigers Football Team any bulletin and extra motivation going into a game. It didn't work for Texas A&M last year and it sure didn't work for Notre Dame in the ACC Championship Game. Ohio State Head Coach Ryan Day must not have got the memo either, as after the Big Ten Championship Game, a video leaked from the Buckeye locker room of the second year head coach giving all three playoff teams some extra motivation.
Last year, Aggie Offensive Lineman Jared Hocker guaranteed a victory over Clemson inside of Death Valley. "There will be an upset," he said in the week leading up to the top-15 matchup.
Flash forward to a 24-10 defeat and the game was not as close as the score may seem. A&M did not score a touchdown until its last offensive snap of the game.
Last week, Notre Dame Quarterback Ian Book gave the Tigers even more motivation for the highly anticipated rematch in the ACC Championship Game.
In a one-on-one interview with ESPN's Kirk Herbstreit, Book stated "I'm excited that all those guys are back and we can play them, and have all those people be quiet once the game is over and we get this win".
Uhhhh, you think that the Tigers took that personally? A 34-10 win and a sixth straight ACC Championship later, Tigers Linebacker James Skalski credited the Irish for pushing some buttons they wished they hadn't with some comments leading up to the game.
Now, Ohio State's Ryan Day in a leaked video from the locker room after the Buckeyes 22-10 win over Northwestern in the Big Ten Championship, telling his team: "you give us one game against Clemson, against Bama or against Notre Dame, we're gonna [expletive] beat their ass … I promise you."
Ohio State has only played six games this season, compared to the 11 games the other three playoff teams have competed in. Dabo Swinney took notice of the lack of games when he submitted his final Coaches Poll on Sunday night, ranking the Allstate Sugar Bowl CFP Semifinal opponent 11th in his ballot.
So both teams have bulletin board material heading into the fifth ever meeting between the Tigers and the Buckeyes. Any college football fan knows the Fiesta Bowl thriller last year was probably the best CFP Semifinal game of all time.
Clemson and Ohio State will kick off at 8 pm on January 1st in New Orleans, Louisiana in the Allstate Sugar Bowl. The game can be seen on ESPN following the Alabama and Notre Dame Semifinal game.