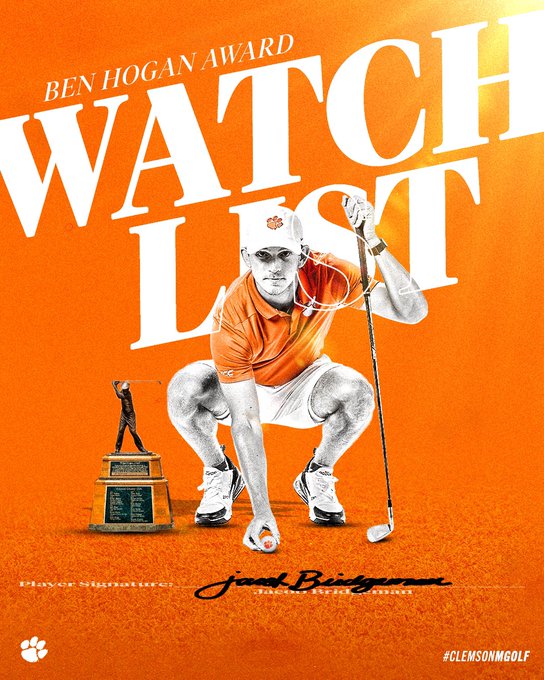 Bridgeman Named to Ben Hogan Award Watch List
Clemson, S.C.—Clemson senior Jacob Bridgeman has been named to the Watch List for the 2022 Ben Hogan Award presented by PNC Bank. The joint announcement was made by the Hogan Trophy Award Foundation, the Friends of Golf (FOG) and the Golf Coaches Association of America (GCAA).
The Ben Hogan Award presented by PNC Bank annually awards the top men's NCAA Division I, II or III, NAIA or NJCAA college golfer based on all collegiate, amateur and professional events over the previous 12 months. Three of the top four players in the Official World Golf Ranking—No. 1 Jon Rahm (2015, 2016), No. 3 Viktor Hovland (2019) and No. 4 Patrick Cantlay (2012)—are past recipients of the honor, while No. 2 Collin Morikawa (2018, 2019) was a two-time finalist.
Bridgeman is one of six players on the Watch List from the ACC. The others include Michael Brennan and Alex Fitzpatrick of Wake Forest, Ryan Gerard and Austin Greaser of North Carolina and Palmer Jackson of Notre Dame.
Bridgeman has a team best 69.67 stroke average so far this year for nine rounds. He has four rounds in the 60s and six under-par rounds. For his career, Bridgeman's 70.74 stroke average is second best in Clemson history behind Doc Redman's 70.70. In 39 tournaments he has 13 top 10s, including three tournament victories.
Bridgeman was a first-team All-ACC selection last year when he was also second-team All-American, helping the Tigers to the ACC Championship and a 13th place finish in the NCAA Tournament.
This year's list of 10 semifinalists, which could include individuals not on the watch list, will be unveiled on Friday, April 15. That group will be pared down to three finalists on Thursday, May 5. The finalists will attend a black-tie dinner on Monday, May 23, at Colonial Country Club in Fort Worth, Texas, where the winner will be crowned.