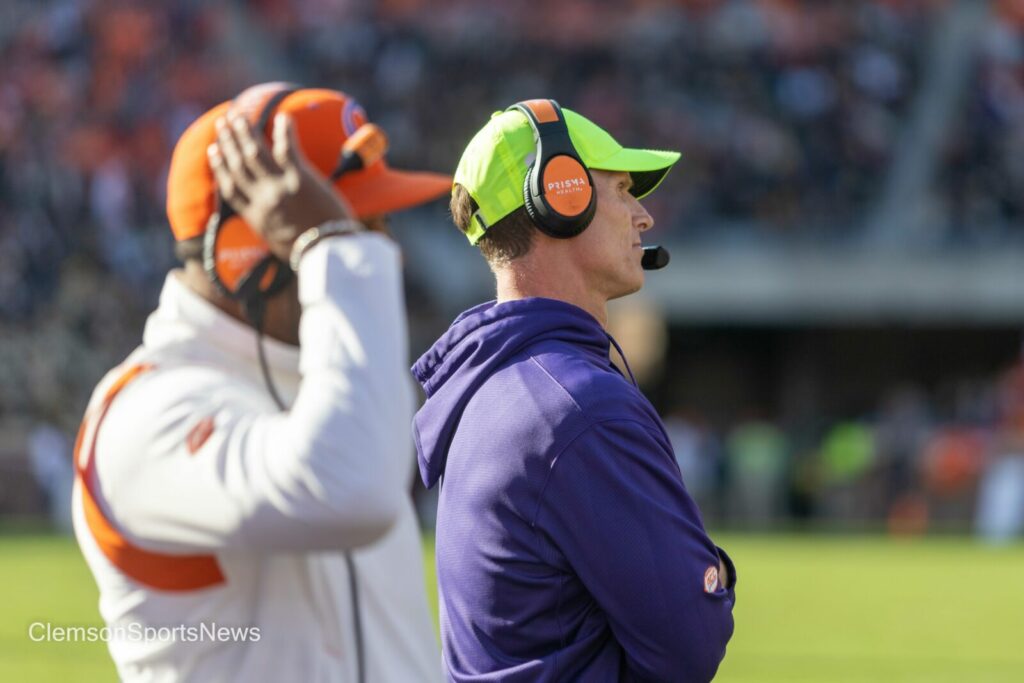 The Oklahoma Sooners are in the market for a football coach. Previous coach Lincoln Riley has departed for the riches of the real USC out on the west coast. Why would a coach of a fanbase self-proclaimed blue blood football school bolt for another quote enquote blue blood school? Money? Fear of getting his hat handed to him in the SEC? There are any number of reasons.
The media and "sooner boomer" fans love to point to Heisman winners Baker Mayfield, Jalen Hurts, and Tyler Murray as Riley successes and how he is the QB guru. Well, the fact is, Riley didn't recruit any of those guys out of high school, and the last two came to play for only one year. These guys were already developed, but we won't go there. BTW, Spencer Rattler was a Heisman hopeful going into the season. We all know how this worked out.
Research on the web, you'll find umpteen videos regarding WHY Oklahoma wouldn't hire Clemson defensive coordinator Brent Venables. "He is an Oklahoma boy, Stoops brought him in a long time ago." "Brent Venables would bring a bite back to the Oklahoma defense.". The media already has Venables packing his bags and heading out to Norman to assume his rightful position.
Has anyone bothered to stop and ask Venables what he wants to do? BV is a smart man. He left Oklahoma and moved south at a time when Clemson football was coming off a humiliating loss to West Virginia, a game MANY Clemson fans look back on as the turning point in this Clemson program. The game was played on January 4th, 2012. January 20th, Venables was hired as the Clemson DC. Since that hire, the Tigers have 120 games and lost only 17 games, and Venables has been a HUGE part of this.
This isn't a secret. Running a football program is hard. A head coach must put his finger print on everything involved. The responsibilities are endless and Dabo has set the blueprint; recruiting, dealing with administration, media, parents, coaches, players. Coach Swinney has proven he has what it takes. The key to being a successful head coach at a big time program is directly linked to hiring the best assistant coaches that fits the culture. Clemson coaches are on the same page and have the same goals.
The question isn't whether Brent Venables is ready to be the face of a program. The question is does Brent Venables WANT to take on the headaches, trials and tribulations of being the head coach at a major program, hiring his own coaches, and stretching himself thin instead of doing what he obviously loves; coaching and running his defense. There is something to be said for huge money, and then there is something to be said for the quality of the job. Don't be surprised if Venables stays put, much to the dismay of Sooner fans, and Oklahoma hires Georgia DC Dan Lanning.
Every college football season ends with coaches being hired and fired, and Brent Venables name always comes up. Schools think that throwing big money at coaches is the end all, especially "blueblood" schools. Now, at some point, BV might go the head coach route, but this man truly loves Clemson and Clemson football. He has been very successful at doing what Brent Venables does. He recruits at a high level, coaches at the same level and the man will forever be a Clemson favorite whether he leaves or not. The media and the fans can hope all they want, it will come down to what is best for Brent Venables. He is the highest paid assistant coach in college football at $2.5 million a year and the contract runs through 2026. He could double or even triple that being the head coach at Oklahoma, but……….is it worth it. Only Venables knows what is going to happen next.