By Neil Burnett
Next month, one of North Carolina's biggest (and I mean "BIGGEST") targets will be making his announcement of where he will be playing his college football. Payton Page, at 6-4 335, reminds people (size wise) of former Clemson Tiger defensive tackle, Dexter Lawrence. Big Dex entered his freshman year at Clemson 6-4 340. They grow these guys BIG in North Carolina.
What would a Page commitment to Clemson mean? It would mean the continuation of drawing big time defensive linemen to Brent Venables' defense and reloading. The tigers already have two solid 4-star defensive ends committed to the 2021 class. Adding a top 5 defensive tackle to the fold would continue the run of outstanding big men controlling the line. In the 2020 class, Clemson added #1 DT Bryan Bresee, #6 DT Tre Williams, and #4 DT Demonte Capehart. Iron sharpens iron.
Currently, Clemson has 14 commitments, and ranked 3rd in the ESPN College Football Recruiting rankings. Ohio State sits atop the rankings (19 commits) followed by Tennessee (23 commits, then Clemson. The tigers could be looking to add 4-6 more to the 2021 class.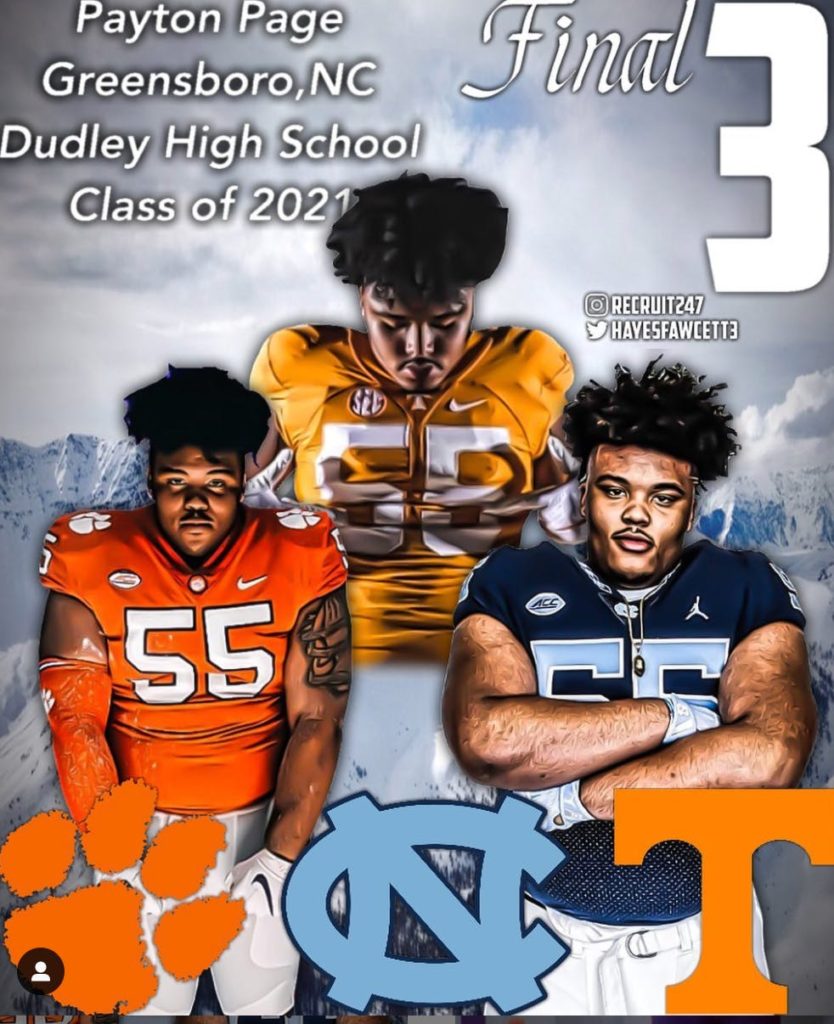 "We actually gave Page an elite P5 grade as an underclassman. He has very nice overall size with a frame that can continue to be developed. Needs to improve snap anticipation, but displays good initial burst. Page demonstrates very good strength and can press and control blockers and flashes ability to maintain pad level and solid POA skills. Big man with good ability and upside." —- Tom Luginbill, National Recruiting Director, CFB Analyst ESPN.
As a junior, Page racked up 71 tackles, 3 sacks, and 6 hurries, helping to lead Dudley High School to a 10-3 record. ESPN has Page ranked as the #4 defensive tackle in the country in the 2021 class, and the #3 player in the state.
Clemson is in competition with conference foe North Carolina and Tennessee for the Page's services. 247 has him 100% to Clemson. We will all know next month.