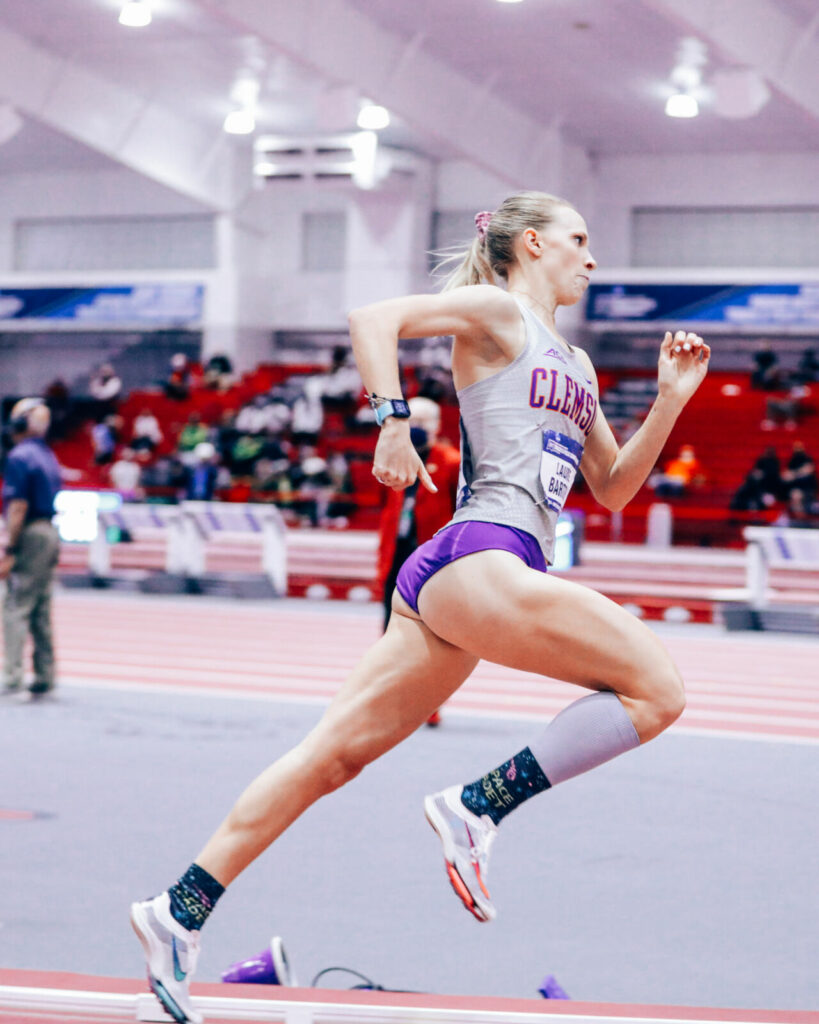 Barton Breaks Record, Six Tigers Earn All-American Status Saturday
FAYETTEVILLE, Ark. – Laurie Barton, Terryon Conwell and Trishauna Hemmings each garnered first-team All-American honors at the 2021 NCAA Indoor Track & Field Championships on Saturday. Barton finished 2nd in the women's 800 meters after running 2:01.21, Conwell placed 7th in the men's 200 meters after sprinting to a final time of 21.09, and Hemmings finished 8th in the women's 60m hurdles after crossing the line in 8.16.
A world-class effort by Barton in the 800m saw her set a new school record following her effort Saturday night. Natoya Goule previously held the record after running 2:01.64 to win the 2015 indoor national title for the event. On Saturday, Barton had splits of 28.65-29.91-30.93-31.74 to finish as runner-up. Barton's eight points are the most scored by a Clemson athlete at indoor nationals since Goule's title-winning run. This was the second school record Barton has set this year, breaking Goule's records at 800m and 1,000m during the 2021 season.
Mark Elliott, Clemson's Director of Track & Field, serves as the program's middle distance coach and had glowing remarks for Barton following the race.
"It's really fulfilling. I'm so happy for Laurie! We've talked about it [the record] so much… to see her be runner-up and break the school record of someone who's [an Olympian], it's very exciting. It's exciting personally as a coach and I'm excited for the program."
Conwell's result on Saturday served as the first points scored by the men's team at an indoor national championship since 2018. Conwell's the first Clemson athlete to score in the men's 200m since Tevin Hester finished sixth after running 20.86 in 2016. The first-team All-American honor is the first of Conwell's career.
Elliott reflected on Conwell's season by saying, "From the start of the year, we could see how good Terryon can be. It was awesome for him to finish the indoor season with All-American status and put points on the board for us."
In the women's 60-meter hurdles, Hemmings became Clemson's first first-team All-American in the event since Brianna Rollins won the national title in 2013. This was also the fifth first-team All-American accolade in program history for the event, with Hemmings joining Brianna Rollins (2011, 2012, 2013) and Bridgette Owens (2012) as the only three athletes to collect the distinction.
"She [Trishauna] came a long way this year and all season she's been stepping up," added Elliott. "Only certain people can do it at a national level, as this is an 'Elite Eight' like I've said. For her to get the point, which means a whole lot, it was awesome to see and I can't wait to see what she does outdoors."
Following their performances during Friday's preliminary rounds, Giano Roberts (60mH), Andrea Foster (800m), Fabian Hewitt (60m) and Hemmings (200m) have all garnered second-team All-American honors in their respective events. This is the first NCAA Div. I All-American honor for Roberts and Hewitt, while Foster and Hemmings bring their career tally to two All-American honors.
The women's team finished in a tie for 24th in the team rankings as the meet came to a close. The men's team finished tied for 53rd. This was each team's best finish at the national championship meet since 2015.
For all of the most up-to-date information regarding Clemson's Track & Field programs, be sure to reference clemsontigers.com and follow @ClemsonTrackXC on Twitter.
###
Photo courtesy of Clemson Athletics
—