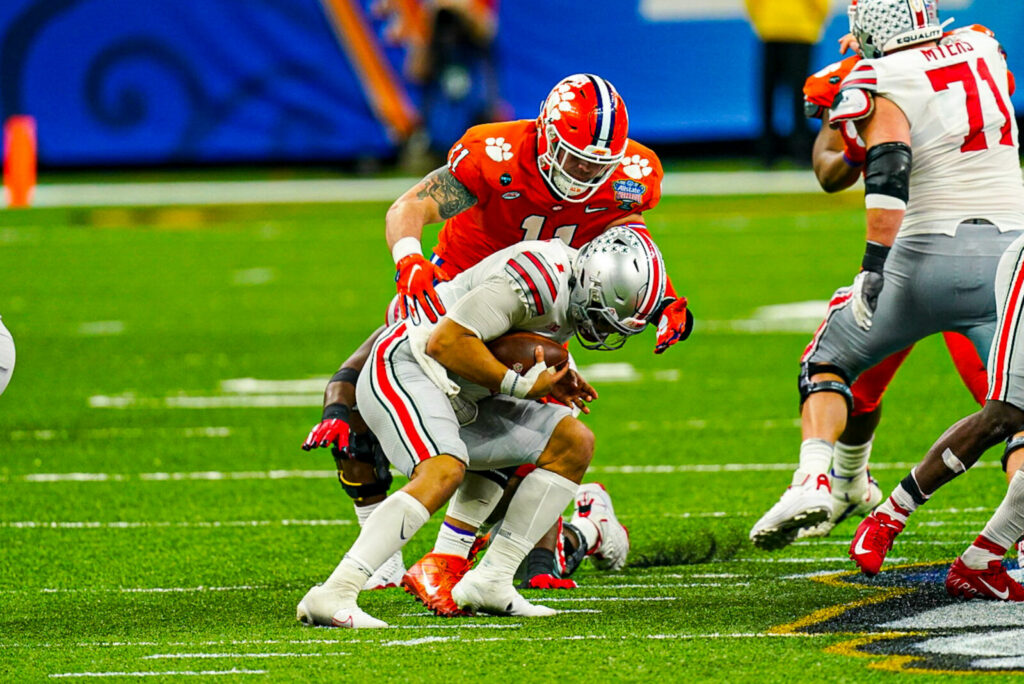 Clemson fans, back away from the ledge. The Tigers lost to Ohio State on Friday night, but trust me when I tell you, it's not the end of the world.
Those of us that battled through the last few years of Frank Howard, then Hootie Ingram, Tommy West and Red Parker, we are loving us some Dabo Swinney. Those of you living in the "spoiled years" of Coach Dabo Swinney are acting like football just started 10 years ago.
Friday night's loss comes down to Ohio State prepared better. It really isn't anything more than that.Now there are "reasons" why Clemson lost but by no means are these excuses. Tony Elliott was unable to be there, only testing positive for Covid a couple of days before the game. Nolan Turner was unavailable the first half, and James Skalski, unfortunately, was not available the 2nd half. These led to the loss but were not the ultimate reasons we lost. Preparedness.
Perusing social media, it's amazing at some of the things Clemson fans were saying. Let me dissect a couple of them.
"Worst display of Clemson coaching I've seen in years! We look clueless on defense and offense looks hesitant and indecisive. Maybe we turn it around, but it's not looking good!"
"Absolutely. No excuses given the ridiculous salaries."
Very curious what these same people would have said when Red Parker was coach (17-25-2) or Hootie Ingram (12-21) between 1970-1976. In those seven years, our Tigers were 29-46-2. In Dabo Swinney's 11 years as head coach, the Tigers are 140-33. Look at those numbers real hard, then ask yourself…..are you still thinking it's not looking good?
Could be the OP was talking about what was going on in the game, but there were many others questioning the team, the staff and the program in general.
The program is in reload mode. Put these numbers in perspective. Clemson is 39-3 the last three years. Trevor Lawrence and Travis Etienne are graduating. Xavier Thomas will probably depart the team. Cornell Powell could return or depart for the NFL. He certainly showed out this year with the injuries to Justyn Ross, Joseph Ngata and Frank Ladson. Will James Skalski return? WIll Derion Kendrick return? Amari Rodgers will be drawing an NFL paycheck this time next year. Jackson Carmen may or may not return.
There are LOTS of questions regarding the roster that will take the field in April at the spring game. Can DJ Uiagalelei take the reins and run with them? Can Lyn-J Dixon step in and be the starter or will he get challenged by Chaz Mellusi and incoming freshmen Will Shipley and Phil Mafah. The 2021 recruiting class is ranked #4 today, leading up to the next National Signing Day in February. This class is simply loaded. The Tigers have 19 commitments in this class so far, and this includes one 5-star (Jeremiah Trotter Jr.), 17 four-stars and one lone 3-star. Most recently, Clemson picked up OT Tristan Leigh out of Fairfax, Virginia. Leigh is the 4th ranked offensive tackle in the 2021 class and might be the best offensive lineman Clemson has ever
signed. The future is very bright for this team, and this staff is one of the best in the country at developing talent.
No, Clemson can't win every game for the rest of our lives. 39 wins and 3 losses the last three years is noteworthy, don't you think? Dabo and his staff will take Friday night's game, dissect it, analyze what went wrong, and move forward. Just like they did against LSU last year, and like they did in the other two losses in the last three years. These are the "spoiled years". Grasp them and do like the team is doing, move forward. There is a LOT to look forward to.