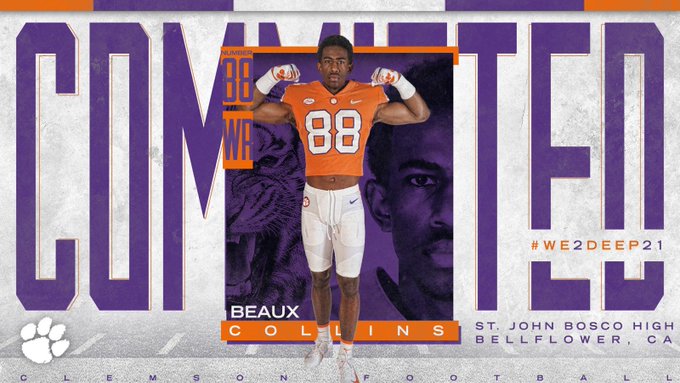 Beaux Collins out of Bellhaven, California (sound familiar?) has committed to play his college football at Clemson University. This is big. Collins is ranked as the 3rd best WR in the 2021 class and ranked as the 5th best player in California. He had 30+ offers before his commitment. One can bet they won't stop recruiting him.
Collins, 6-3 195, benefited from playing along side former teammate and Clemson signee D.J. Uiagalelei. They connected 41 times for 1008 yards and 14 touchdowns. He will be reunited with his former quarterback in 2021. How does St. John Bosco move forward without Uiagalelei? Whoever it is will have a top WR to throw to.
Collins joins Dacari Collins, 4-star WR out of Florida, in the 2021 WR class. Collins, 6-4 200, had 61 catches for 1148 yards and 12 touchdowns as a junior.
Brought to you by: