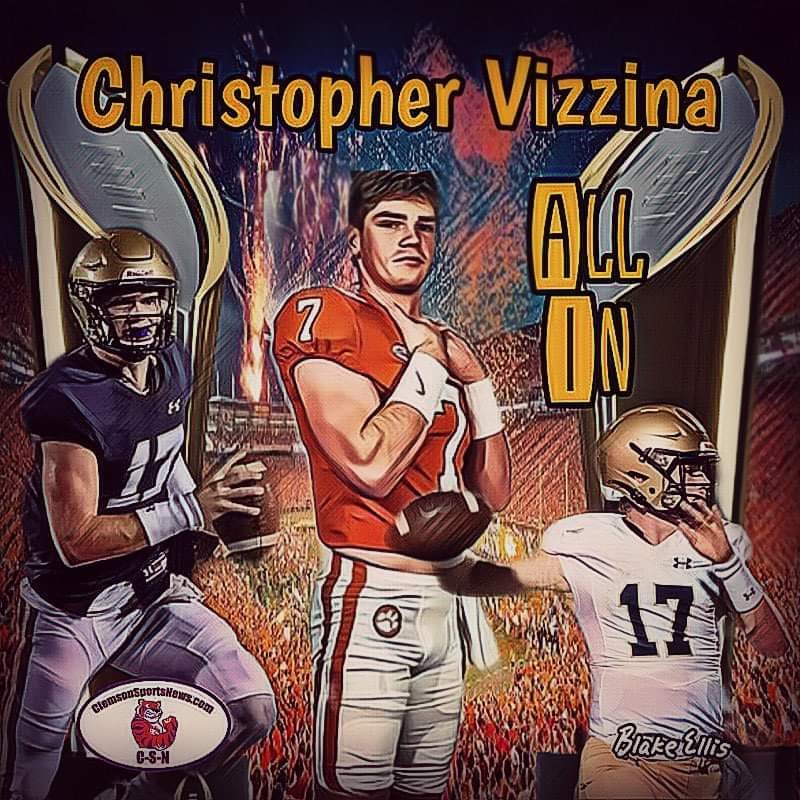 4-star Christopher Vinizza is a highly recruited quarterback out of Birmingham, Alabama. He ranks 7th in quarterback rankings, depending on which site you put faith in. Vinizza plays for the Briarwood Christian Lions in BIrmingham. He led his team to a 10-2 record last year playing 6A Region five… Their two losses came to teams with a combined record of 27-2, including a 15-0 Clay-Chalkville unbeaten state champion.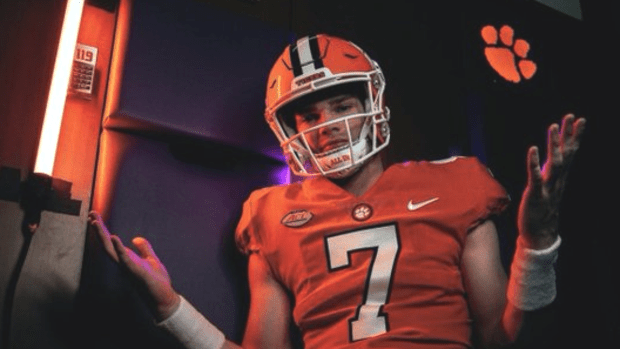 The highly coveted Vizzina had narrowed his choices down to Clemson, Ohio State, Georgia, Auburn, Notre Dame and Ole Miss. Several recruiting sites had him leaning towards the Tigers back in November when he first received his offer (November 20). They got this one right.
Vizzina had visited Clemson four times since the offer and was last in Clemson Saturday at the Spring game. He is ranked as the #7 best quarterback in the nation. The Tigers only offered two quarterbacks in the 2023 class. The other offer went to the nation's #1 player in the country, Arch Manning. After Clemson offered Vizzina, was it a coincidence that Manning removed Clemson from consideration?Something tells me he looked at Cade Klubnik and decided he didn't want to sit for a couple of years.
"Everybody knows what a Clemson offer means," he said earlier. "They're committed to you. For them to offer me – if they were ever to – that symbolizes more than me being just a great football player. It's more that they see you as a great person too and someone that benefits from the program as well." This quote was from September. In November, he got his offer.
As a junior, Vizzina passed for 2,065 yards, 16 touchdowns, with 4 interceptions. He also rushed 122 times for 600 yards and 15 more touchdowns.
Vizzina becomes the 2nd 2023 prospect to commit to the Tigers. 4-star WR Nathaniel Joseph of Miami, Florida, committed to Clemson back in September of 2021. Looks like a good combo to me.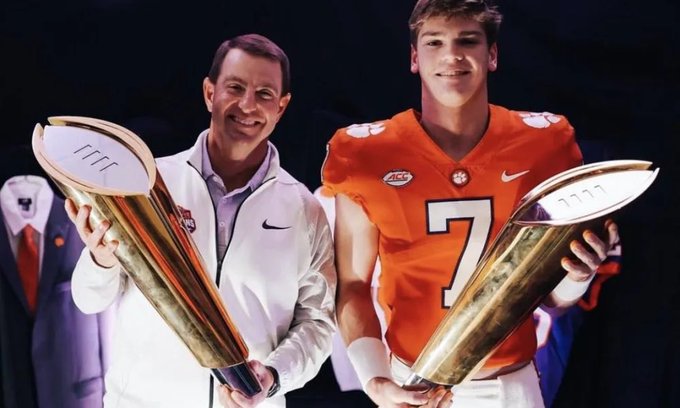 Look for the Tigers to make a big move in the world of recruiting this Spring/Summer. As of today, we have found intel as we reached out to sources, players and coaches all over the region that Clemson looks to build off this commitment and continue the trend with a Defensive Lineman and a Tight End expected to soon cast their lot with the Tigers.
In a year where NIL has taken center stage due to the shenanigans down in College Station , TX showing the rest of CFB that other programs are gonna push the ethical boundary. Well Clemson was a quick study and now has an on Campus NIL Collective "Reign" and off campus collective "Tiger Impact" that focuses on all athletes on campus and connects players with opportunities with corporate sponsors as well as charities.