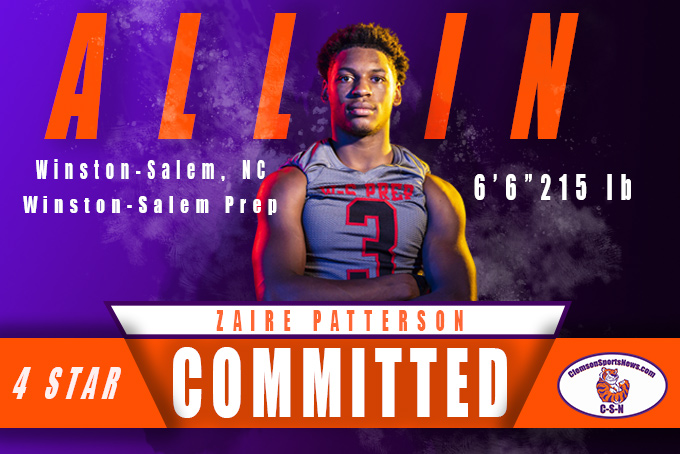 Zaire Patterson Commits to Clemson
By: Neil Burnett
As expected, NC Defensive End Zaire Patterson committed to the Clemson Tigers on a social media release to Twitter. Patterson, 6-6 230, is out of Winston-Salem, NC, and becomes Clemson's 13th commitment in the 2021 class.
It's amazing what a decision from a prospective high school football player can have on a football program. On April 21st, #3 player in the country, Korey Foreman, decommitted from the Clemson Tigers. The big defensive end surprised everyone when he committed to Clemson in the first place, being from California. When he started talking about wanting to take official visits, the relationship ended, and while the tigers may or may not be done recruiting Foreman, they definitely moved on. In the days to follow, Clemson would offer three defensive ends. The tigers had already offered NC 4-star DE Zaire Patterson back in January.
The door opened for Patterson, much like it did for current Clemson signee, Trenton SImpson. Simpson was a one-time commitment to the Auburn Tigers, but once Clemson moved on from California LB Justin Flowe, he decommitted from Auburn and jumped to the team he wanted to be with the whole time; Clemson. This seems like a similar case. There is a lot of chatter going on the internet that Clemson, Alabama, Georgia and Ohio State don't recruit, they pick and choose. The rest of the country is left to recruit who doesn't sign with those four schools. There might be some truth to that.
By the time 2021 rolls around, the defensive end room will be a crowded place. Xavier Thomas (Sr.), KJ Henry (Jr.), Justin Mascoll (Jr.), Myles Murphy (soph), and Greg Williams (soph) will welcome Patterson and Denhoff. DT Brian Bresee will also probably see time at defensive end. Needless to say, the position is loaded with talent.
Patterson joins Cade Denhoff, 6-6 225 DE out of Florida in the 2021 recruiting class for the tigers. .Denhoff is ranked as the 10th best at his position in the 2021 class, while Patterson is ranked a little lower at #29, but the potential is off the chart, and expect his rankings to shoot up over his senior year. Patterson registered 129 tackles, 27 tackles for loss, and 10 sacks. In layman's terms, a "tackling machine."
From 2018, ESPN's Tom Luginbill had this to say about Patterson. "Tall lean product that needs to continue to develop and fill out his lengthy frame. Displays very good first-step quickness. Needs to add mass and get stronger, but flashes some wiry strength. Displays good range. Still looks to be growing into frame and can struggle some to quickly redirect, but flashes decent ability to dip inside shoulder as an edge rusher. If he can keep quickness and add needed mass, he shows upside and upper-tier P5 potential." Patterson certainly did take Luginbill's evaluation to heart and now he is a Clemson Tiger.