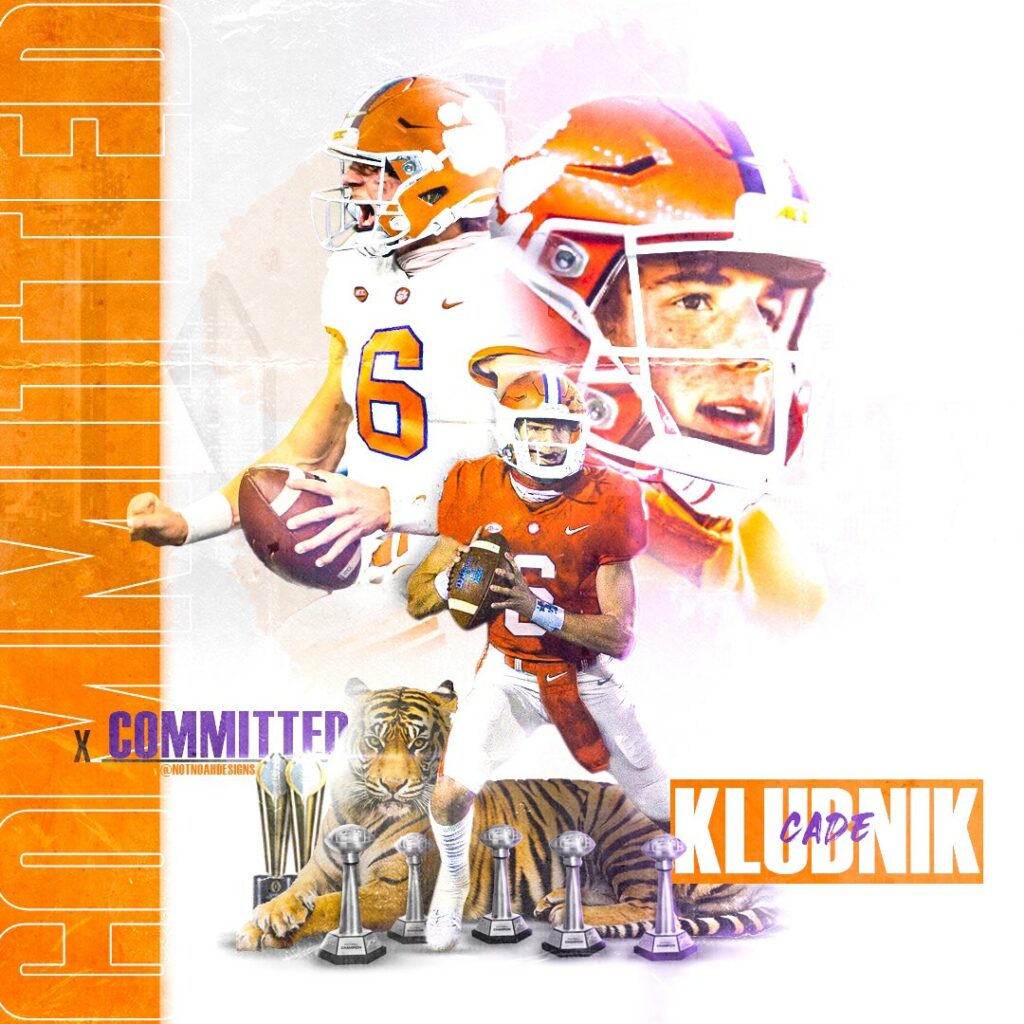 The Clemson Tigers got a HUGE commitment today from a 4-star (soon to be 5-star) quarterback out of the state of Texas. Cade Klubnik, 6-3 180 out of Austin, Texas, Klubnik is rated as the #5 Pro-style quarterback in the country in the 2022 class.
"The consistency of success, I love the coaches, to be able to play under that kind of staff is what I've always looked for, but the fact that the amazing people they are too. "
After receiving 30+ offers, Klubnik picked the Tigers, becoming the 4th commitment for the 2022 class, joining offensive linemen Blame Miller and Collin Sadler, and wide receiver Adama Randall.
Gabe Brooks, 247 Midlands Region Recruiting Analyst had this to say about Klubnik.
"Good height and lean build with an above-average frame. Highly producing QB vs Texas High School football 6A competition. Throws with a somewhat overhead release and generally stays on top of the ball. Comfortable in the pocket and off-schedule situations. Competent as an improvisational QB. Shows throw-on-the-run capability to multiple levels. Pro-style QB but mobile enough to keep defenses honest. Displays good velocity to the middle of the field, especially when footwork is consistent. Will enter college having faced strong competition relative to high school level. Competitor who participates in track and field (400 meters, long jump, triple jump). Wind-up delivery and will need to quicken release. Can transfer over-the-middle velocity more consistently to perimeter throws.Occasionally takes unnecessary chances, but assembled sterling INT rate as a junior (one in every 117 pass attempts). One of the top QB's in Texas in what looks like another strong class at the position. Projects to high-major level with long-term NFL Draft potential".
Great job by the staff going into Texas and getting this talented QB to come to the east coast. Klubnik is a key piece to the 2022 class and is the type of quarterback others want to follow (Read DJ Uiagalelei draw here).