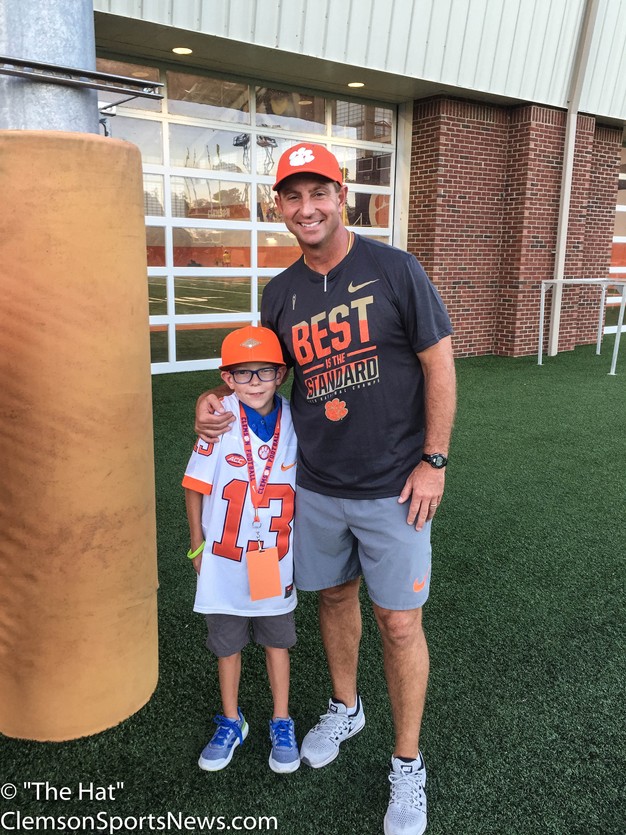 Aaron Ritz is your typical 11-year-old. He enjoys playing golf, fishing and spending time outdoors. But all his life he has been battling a silent disease known as Polycystic Kidney Disease, which causes the kidneys to enlarge and lose their function over time. No one had any idea anything was wrong with this regular "Kid", a huge Clemson fan, no one knew about it until August 13th, that is . . . when a sleepless night landed Aaron in the ICU.
While spending the next 15 days recovering in the hospital, Aaron received visits from the Furman girl's soccer team as well the Chapman High School golf team, and now since his story has been seen on social media, and now that Clemson Nation has been made aware . . . Aaron's Army now continues to grow.
Since being diagnosed, Aaron has received videos of encouragement from Clemson head coach Dabo Swinney and his favorite Tiger Hunter Renfrow .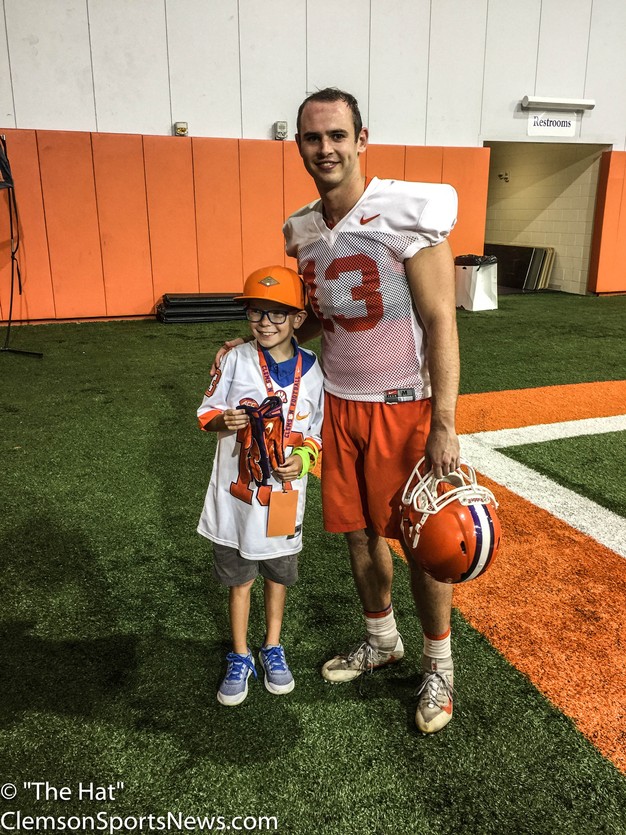 Aaron had said that his biggest hope was to give an Aaron's Army bracelet to Coach Swinney. Thanks to "The Hat" that dream came true Monday when the Tigers head coach entertained Aaron and his family for practice and a tour of the football facilities. Aaron got the "Orange Carpet" treatment as the Clemson family made sure to make him feel at home for his visit to see his favorite team practice. Aaron got to meet his favorite Clemson players, yes Aaron was able to give Coach Swinney his very own "Aarons army" bracelet.
The community has rallied around Aaron and his family by sending cards, balloons and all of their support. Aaron's family has started a GoFund Me page to help pay for the family's medical bills and so far have raised $10,000. The family still needs all the help they can get, as his treatments continue, and they try to get Aarons strength back . . . so he can then be placed on the transplant list in November and hopefully receive a kidney transplant soon after that. All sorts of fundraisers are in place at present, from social media campaigns to the family selling Aaron's Army T-shirts, bracelets, and stickers .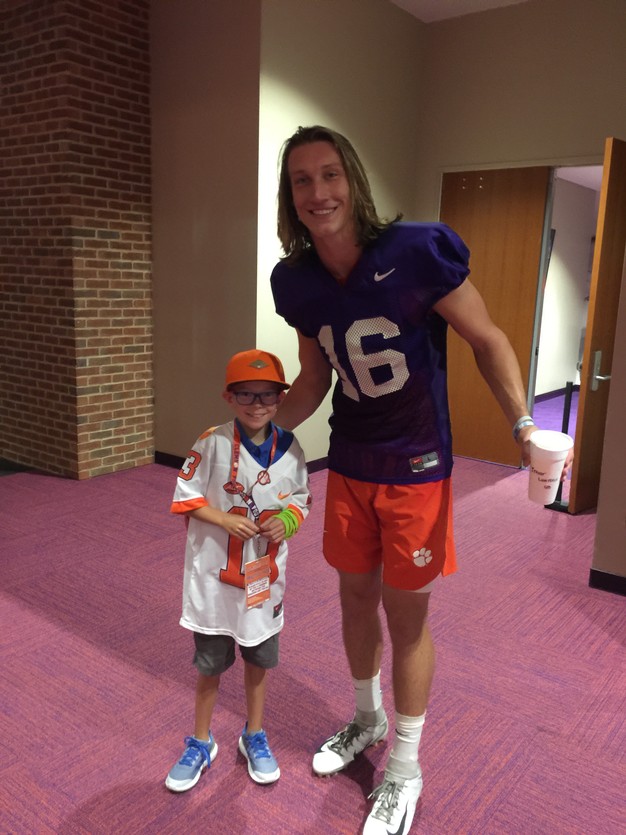 Clemson Sports News' own game day ambassador Dean "the Hat" Cox has personally taken on helping Aaron and his family as they battle this disease and its affects on a daily basis, Dean has set up a find raiser to be held at the Tipsy Taco on Pelham road in Greenville, SC on the evening of October1st. We hope to see as many folks of from Tigers to Gamecocks and just any person that would be willing to help, please attend and help this young man and his family in their fight to bring Aaron back to his dreams of being an active regular kid.
Info on this fundraiser here : https://www.facebook.com/events/1832176680151535/
Aaron's parents have created a Facebook page; "Aaron's Army Updates" where you can receive more information about upcoming events and follow Aaron throughout his journey. https://www.facebook.com/Aarons-Army-Updates-228098354529557/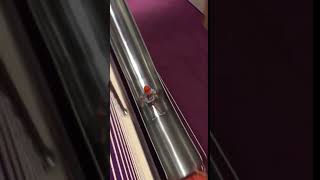 Aaron takes a ride on the famous "Slide" inside the Clemson football operations center.
Fox News special on Aaron Ritz and his fight with Kidney disease
Please visit Aaron's GOFUNDME page and help his family with the mounting medical cost' associated with his ailment.
https://www.gofundme.com/cnjv8t-aaron-strong
Enjoy this Gallery of Aarons day on Campus this Saturday for the game and Monday as he got to meet Coach Dabo Swinney and tour the facilities.