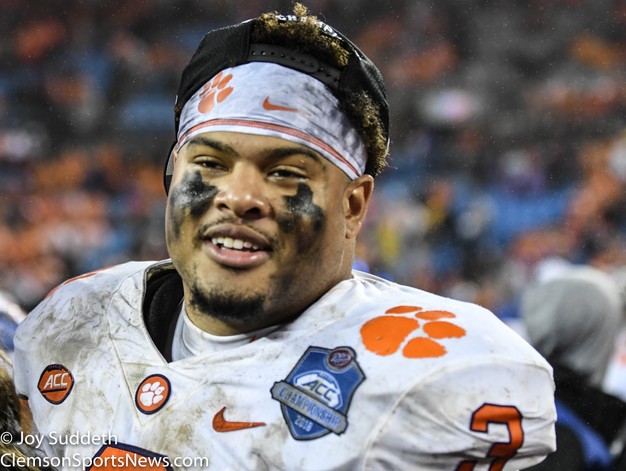 A look back at the 2018 Freshman Class
It's hard to believe that we have reached the end of the 2018 regular season, it seems like yesterday we were attending the first day of fall camp. Coming into the 2018 season, Clemson had returned a record 61 letterman, making this the most veteran team. Even though there were talented veterans returning to the team, they however, did not prohibit the Clemson freshman from making an immediate impact.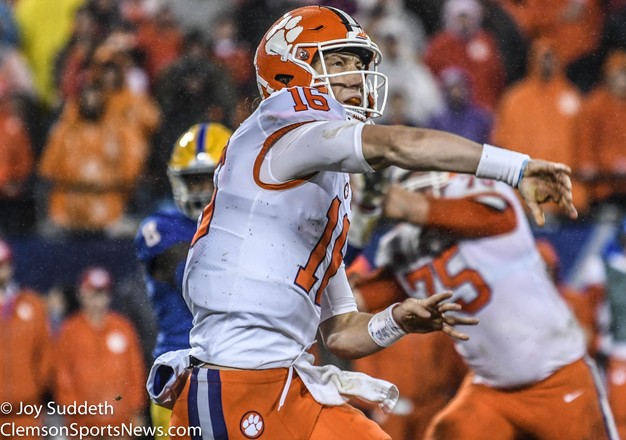 September 1st, Clemson kicked off the 2018 season at home versus Furman and 13 true freshmen made their collegiate debuts. Those 13 debuts matched the team's most in a single game since 2015 against Wofford. Quarterback Ben Batson, made his debut at Wake Forest, Mike Jones, Justin Mascoll, Drew Swinney and Jake Venables brought that number up to the 18 when they made their debuts against NC State. Carson Donnelly and Darnell Jefferies extended that number to 20 when they made their debuts against Louisville. The 20 freshmen that made their debuts this season are the most since 1982.
Quarterback Trevor Lawrence stepped into the full-time role of starting quarterback in week 5, replacing senior Kelly Bryant after Lawrence threw for 176 yards on 18 attempts for 4 touchdowns against Georgia Tech. Since taking over for Bryant this season, Lawrence has thrown for 2488 yards on 302 attempts with 22 touchdowns and 4 interceptions. As a freshman, Lawrence has broken a number of Deshaun Watson's freshman records, when he completed 20-37 passes for 314 yards, which was then a career high for him and had four passing touchdowns at Florida State which would earn him ACC Co-Rookie of the Week honors as well. When it came to the Boston College game, Lawrence broke Watson's record for total offense by a true freshman where he completed 29 passes on 40 attempts for 295 yards with one touchdown and one interception. Lawrence bypassed Kyle Parker's school record for passing touchdowns by a freshman with his 21st touchdown against Duke. Against South Carolina, Lawrence completed 27-36 passes for a career-high of 393 yards, the most by a tiger in 116-game history. Lawrence's accomplishments did not go unnoticed by the ACC, multiple times he earned ACC Rookie of the Week for his performances throughout the season. Lawrence has been named a semifinalist for the Davey O'Brien Award, has earned the title of ACC Rookie of the Year, ACC Offensive Rookie of the Year and has been named second-team All-ACC.
Wide Receiver Justyn Ross made an immediate impact upon joining the Clemson roster. Over the summer, Ross made SportsCenter's SCtop10 with his one-handed catch in a scrimmage. Over the course of the season, Ross racked up 629 yards and 6 touchdowns. Ross scored a touchdown on a 15-yard catch and run in his Tiger debut vs. Furman, gained 103 yards on three receptions including a 57-yard touchdown, his longest so far, against Georgia Southern. When the Tigers travelled to Atlanta, Ross scored a 53-yard touchdown on his lone reception, he became the first Clemson player since Artavis Scott to catch a touchdown pass of 50 or more yards. Ross caught a 59-yard touchdown pass from Chase Brice in the Tigers dominating win over Louisville, earned team offensive player of the week honors for his four-catch at Boston College and capped off ACC play with a 76-yard performance and a touchdown vs. Duke.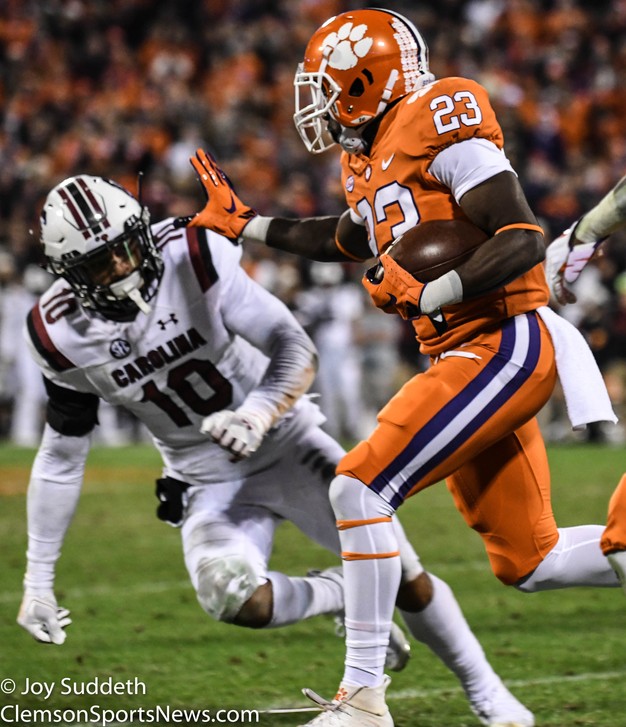 Running Back Lyn-J Dixon was a pleasant surprise as he burst on to the scene during his first preseason camp. This season, Dixon recorded 531 rushing yards and 4 touchdowns. Dixon leads the team with 89 rushing yards and six carries, including a 61-yard touchdown in his career debut against Furman, against Wake Forest, Dixon rushed for a career-high of 163 yards on 10 carries rushing for 2 touchdowns of 65 and 52 yards earning him ACC Rookie of the Week honors and rushed for 25 yards and a touchdown against NC State, those four carries were the fewest by a Tiger in the school's history on a 100 yard rushing day. Dixon would also score a rushing touchdown in the Tigers ACC Championship win over Pitt in the last few minutes of the game.
Xavier Thomas made an immediate impact in the Tigers Spring Game with 2 sacks. Thomas was one of 13 true freshmen to make their college debuts vs Furman where he recorded three tackles, one of those for a loss. Thomas recorded his first career sack against Georgia Southern. Against Georgia Tech, the freshman collected co-special team's player of the week honors when he delivered a huge hit on the Yellow Jackets only kickoff return of the day. The freshman will be remembered for sealing the deal on the Tigers come from behind win over Syracuse where he delivered a huge sack on Eric Dungey, he would also cause a sack against Florida State. Thomas was also responsible for a pass breakup in the ACC Championship.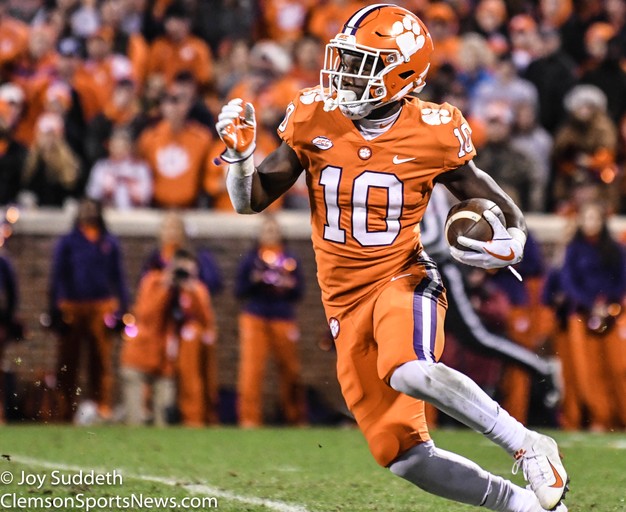 Derion Kendrick caught a 38-yard pass against Furman in his collegiate debut, Kendrick helped jumpstart the Tigers with a 40-yard kickoff return against the Wolfpack. Kendrick posted a season-high with four receptions and 51 yards vs. in-state rival South Carolina. Throughout the season, Kendrick would take a few snaps at quarterback. Coaches would also be able to use Kendrick's speed and agility in the jet sweep.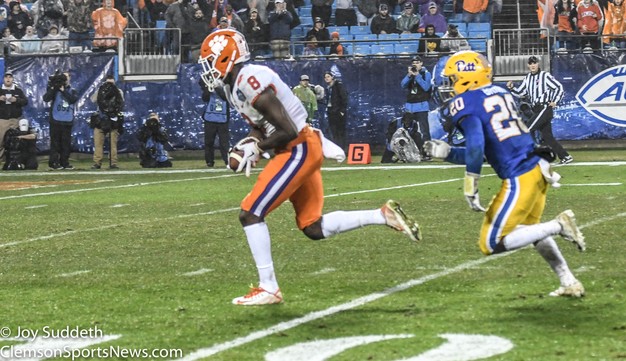 Jackson Carman stepped up tremendously when the Tigers took on Boston College as starter Mitch Hyatt went down with an injury, the freshman stepped in and played 34 snaps as the Tigers clinched their 4th straight Atlantic Division title and their fourth berth in the ACC Championship. Carman played seven snaps against the Gamecocks helping the Tigers to 744 total yards, the third-highest in the school's history.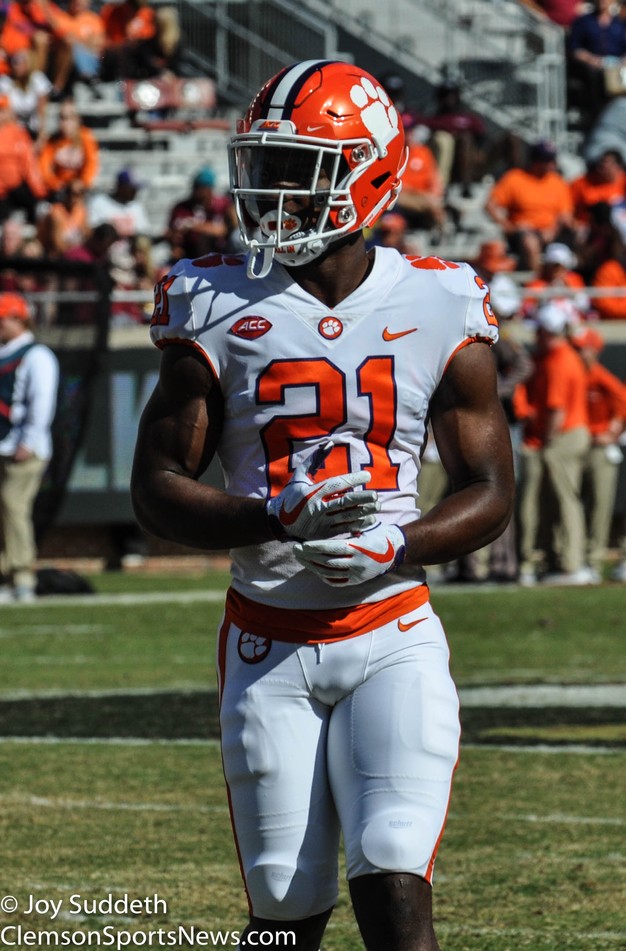 Redshirt Freshman Matt Brockhorst played 18 snaps in his debut against Furman, 20 snaps against Georgia Southern, 16 against Georgia Tech, six snaps against Syracuse, played 21 snaps against Wake Forest where the Tigers totaled 698 yards and 11.8 yards per carry, which was a school record and the entire offensive line would earn team offensive player of the game honors. Brockhorst played 24 snaps as the Tigers beat the NC State Wolfpack and accumulated 471 yards of offense, played seven snaps against the Seminoles, played 11 snaps against Duke and played a season-high of 30 snaps against South Carolina.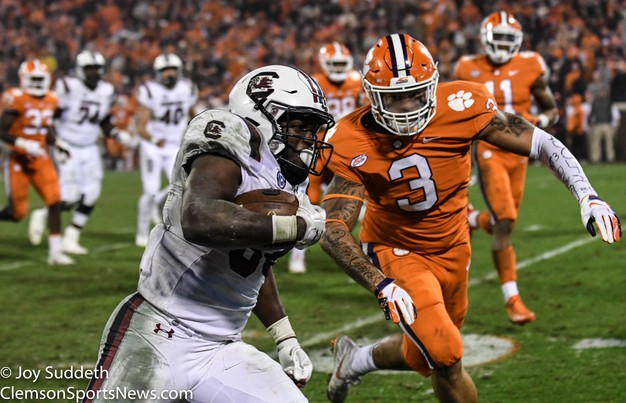 Redshirt Chase Brice made the decision to stay at Clemson despite three quarterbacks making the decision to transfer and the departure of Kelly Bryant in week 5 and Brice has proved himself a valuable asset to the quarterback position. Chase Brice introduced himself to the world of college football when he took over for an injured Trevor Lawrence, where he completed 7-13 passes for 83 yards and marched the Tigers down the field for a 13-play, 94-yard drive to push the Tigers to victory over Syracuse and earned team co-offensive player of the week. Brice was a perfect 4-4 for 50 yards and the first touchdown pass of his career at Wake Forest, Brice posted career-highs with 110 passing yards and three passing touchdowns against Louisville. Brice also recorded a career-long 28-yard rush in the ACC Championship game.
The freshman and the rest of the Clemson Tigers are set to take on Notre Dame in the Cotton Bowl in Arlington, Texas at 4 p.m.
This Feature Brough to you bu our Newest Sponsor: