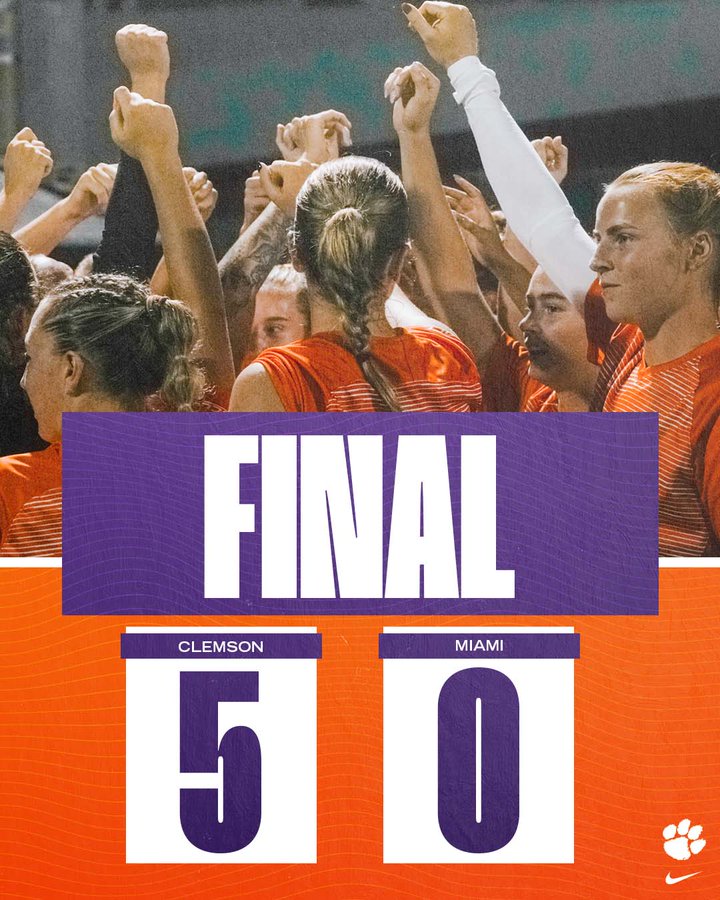 CORAL GABLES, Fla. – The No. 8 Clemson Tigers take down the Miami Hurricanes 5-0 as five different Tigers score and goalkeeper Halle Mackiewicz picks up her seventh clean sheet of the season. 
"It's a good win, I thought we kept great focus and concentration," Head Coach Eddie Radwanksi said. "I thought the level of play that our team played at was very high. It was an all-and-all great performance. It's nice to get the shutout and I just thought the level of concentration was very good."
Despite the match being delayed due to lightning, the Tigers came out strong on the pitch as they opened up scoring early in the first half. In the 9th minute, freshman Jenna Tobia found herself in scoring position after graduate Caroline Conti cut across the field and passed the ball into her possession. Tobia then used her speed and power to launch the ball into the top left corner of the goal, just above the Miami keeper's reach.
In the 19th minute, senior Megan Bornkamp found possession of the ball and passed it to Conti. On the edge of the 18-yard-box, Conti fired one in towards the left hand side of the net and the Miami keeper was unable to save it as it went just over the top of her head.
Closing out the first half, sophomore Maria Manousos chased down the ball that was sent all the way across the field by Bornkamp. Manousos found herself in scoring position as she went one-to-one with the Miami keeper and sent one in towards the middle of the net.
The scoring did not stop in the second half as two more Tigers scored in Coral Gables. Similar to Manousos' goal, junior Renee Lyles used her speed to take possession of the ball and force a one-to-one opportunity with the keeper and launched one in on the right side of the net.
Sealing the victory for the Tigers was graduate Sami Meredith as she found herself in scoring position after sophomore Emma Wennar passed it her way and the forward used her left foot to launch it in towards the top of the net.
With the win, goalkeeper Halle Mackiewicz earns her seventh clean sheet of the season and her 17th career shutout in the Tiger uniform.
Up next, the Tigers will travel to Boston, Mass. as they prepare to take on Boston College on Sunday. Kick-off is slated for 2 p.m. and the match will be streamed on the ACC Network.