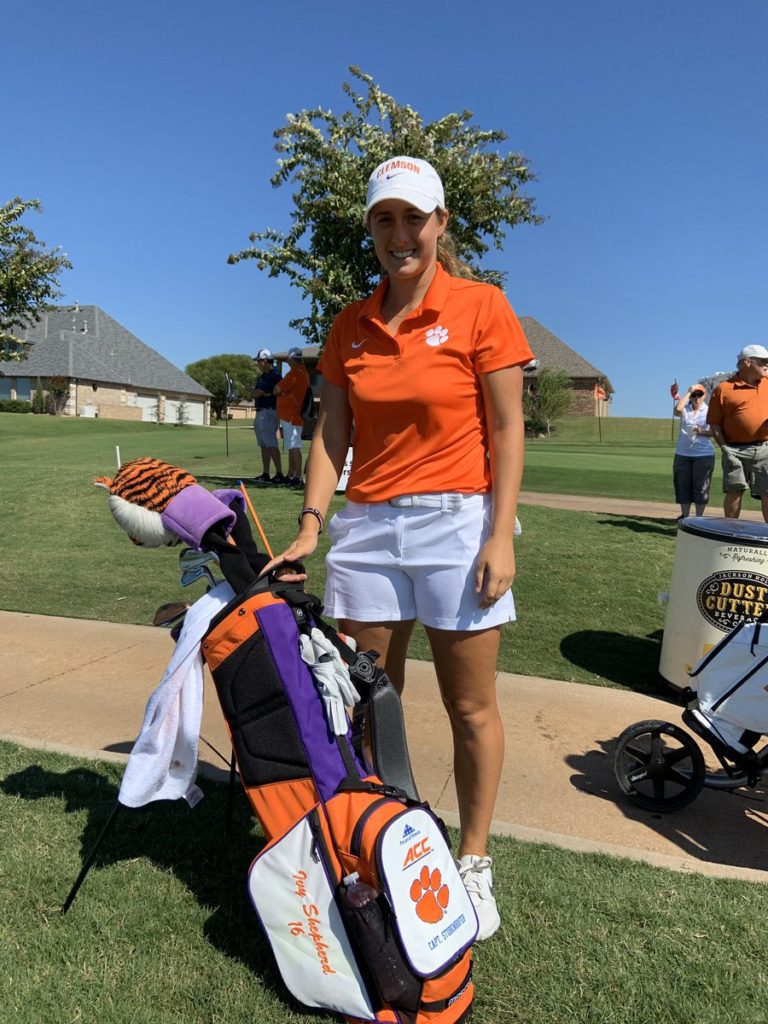 Shepherd Advances to Semifinals of North-South Amateur
By: Tim Bourret Courtesy Clemson Athletics Press Release
Clemson, S.C.—Clemson rising junior Ivy Shepherd won two matches Friday over two of the top 50 players in the nation and advanced to the semifinals of the North-South Amateur at Pinehurst #2 in Pinehurst, NC.
Shepherd is the top seed in the match play bracket after firing a five-under par 139 in the 36-hole qualifier on Tuesday and Wednesday. She won the stroke play qualifier in a one-hole playoff over Rachel Heck, a future Stanford University golfer, with a 20-foot birdie putt on the 14th hole.
Shepherd won her first-round match in the 32-player bracket on Thursday with a 2& 1 victory over Annika Borelli of Alamo, California. The native of Peachtree City, Ga. led for only three holes in the match and did not grab the lead until the 15th. Borelli was 2-up after nine holes, but Shepherd shot a 32 on the back nine. She jumped into the lead with birdies on the 15th and 16th holes to go 2-up. The players tied the 17th hole to give Shepherd the victory over the University of San Francisco player.
Shepherd moved on to face 16th seeded Gina Kim, an honorable mention All-American for the fourth ranked Duke team who was ranked 46th in the nation by the final Golfweek computer ratings for 2020. Shepherd defeated Kim 1-up in a match that was not as close as the score indicated. Clemson's top golfer in the shortened 2019-20 season lost the first hole, then won holes 2,3 and 4 to go 2-up. She never trailed the rest of the match, but Kim won the 15th and 17th holes to close to 1-down headed to the 18th hole. But the two players tied the 18th hole, giving Shepherd the win.
Shepherd, who was Clemson's top golfer in five of the six tournaments this year, faced Auburn's Megan Schofill in the quarterfinals. Schofill was ranked 31st in the nation by Golfweek this year and was named first-team All-ACC. But, Shepherd had her best match of the tournament, winning 4&3. The native of Peachtree City, Georgia never trailed. She was 4-up at the turn and closed the match with a birdie on the 15th hole.
Shepherd's semifinal match on Saturday will be against Allison Corpuz of Kapolei, Hawaii and the number-one ranked University of Southern California women's team. Corpuz was ranked as the 10th best player in the nation by Golfweek this year.
Ivy Shepherd at North-South Amateur, Pinehurst, NC
Stroke Play Qualifier
July 14, Pinehust #2 70 (-2)
July 15, Pinehust #4 69 (-3)
Note: Won playoff on first hole over Rachel Heck with birdie on 14th hole
Match Play
July 16, d. (32) Annika Borrelli (Alamo, CA, University of San Francisco), 2&1
July 17 d. (16) Gina Kim (Chapel Hill, NC, Duke University), 1-up
July 17 d. (25) Megan Schofil (Monticello, Fla., Auburn), 4&3