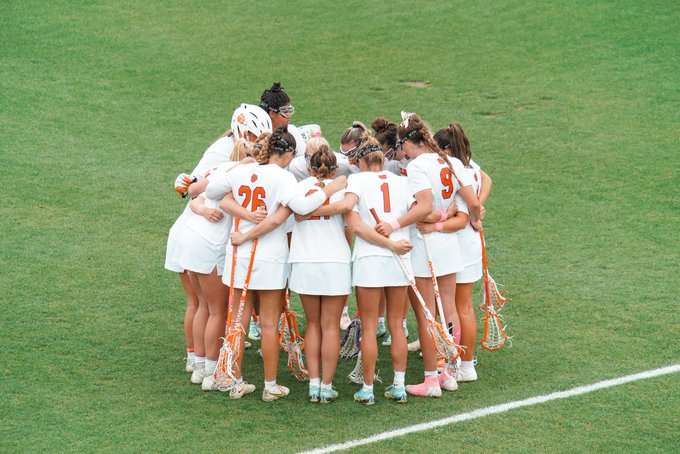 The No. 22 Clemson Women's Lacrosse team (9-4, 1-4 ACC) lost to No. 3 North Carolina (9-1, 5-0 ACC) 17-8 on Sunday afternoon in Chapel Hill, North Carolina. Gianna New led all scorers with three goals as four different Tigers got on the board.
North Carolina got out to a quick start with a 5-0 lead within the first ten minutes of the first quarter. Jaylen Jimerson ended the Tarheel's run to put the Tigers on the board. Hanna Hilcoff quickly scored a goal of her own with just over two minutes left in the first quarter to cut into North Carolina's lead, 5-2.
Freshman, Sophia Chepenik, recorded her 27th goal of the season as she scored Clemson's third goal of the game with just over five minutes left in the first half. The Tiger's defense silenced the Tarheel's offense for the remainder of the half as the Tarheels closed out the half with a 9-3 lead.
Hilcoff struck first for Clemson as she recorded her second goal of the game and 36th of the season with just under seven minutes left in the third quarter. North Carolina responded with a 2-0 run to close out the third quarter. Chepenik recorded her second goal of the game with under three minutes left in the fourth quarter as she jumpstarted a 3-0 run for the Tigers. New recorded a hat trick in the fourth quarter alone to secure her ninth hat trick of the season.
Sophomore Emily Lamparter started in the cage and recorded four saves through the first half. Krissy Kowalski retired Lamparter in the second half as she stopped 3 shots.