The Prediction
The #23 ranked Clemson Tigers travel to Columba, SC, to take on the Gamecocks Saturday night. According to hundreds of gamecock fans, this is the year they break the 6-game losing streak. Lee Corso "not so fast."
This is the second game in a row in the series where the Tigers have to travel to the Chicken Coup. Due to the SEC cancelling all out of conference games last year due to the Covid excuse, the Clemson home game was cancelled. Therefore, the Tigers have to travel again in 2021. Basically, Clemson will go there to collect their rent.
The Tigers are riding a 4-game winning streak heading down to the middle of the state. It is no secret about the offense struggling this year, most specifically QB DJ Uiagalelei. Let's just go on record. Clemson's top 5 wide receivers are not going to dress this week. The top TE is not dressing out. Their top offensive lineman (Matt Bockhorst) is not suiting up. The running backs behind Uiagalelei are playing nicked up. These aren't excuses, these are facts. Having said all this, this offense has not quit and continues to give 100% every play. Ever try throwing a football with a splint on the index finger of your throwing hand? Try it.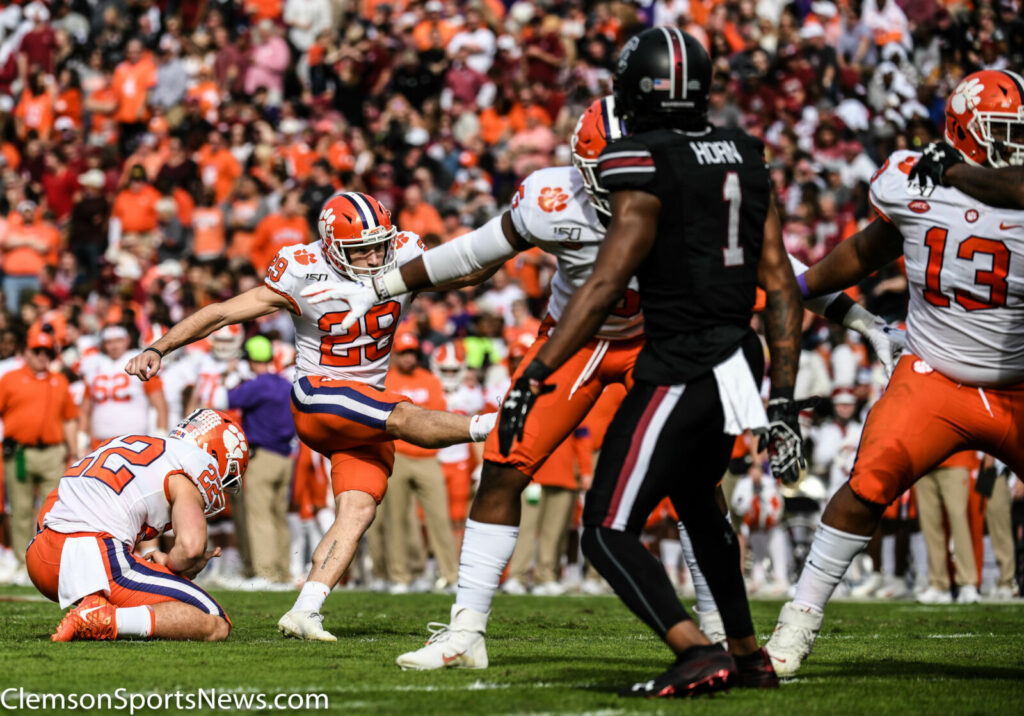 Bottom line, this offense is going at it hard and in their current 4-game win streak, the Tigers are averaging 38 points a game, including a season high of 48 last week against Wake Forest. Saturday night, the Tigers will know one way or the other if they are sliding into the ACC Championship game or missing it for the first time in 7 years. What we do know is that this team will go into a hostile environment, and I mean that in every sense of the word, and once again, put it all out there.
On the season, Uiagalelei, has thrown for 1,980 yards, with 9 touchdowns and 8 interceptions, and also been sacked 19 times. These are not the stats most fans expected after a promising 2020 in two starts. However, it's not all on him. Freshman Will Shipley and sophomore Kobe Pace put up 100+ yard games last week and will be depended on to carry this team this week. Freshmen Beaux and Dacari Collins will once be counted on to make the big catches. The gamecock defense is not exactly impenetrable.
The Tiger defense will come ready to play. They set the tone last week early against Wake Forest and will have to do the same this week against USC.
The gamecocks are led by quarterback Jason Brown, the 3rd starting quarterback used by Coach Shane Beamer this year. Brown is 2-2 in the last four starts, including wins over Florida and Auburn. In normal years, this would seem great accomplishments. This year, not so much.
The Florida Gators are going through another lackluster year. This isn't the TIm Tebow-led Florida Gators. This is the 5-6 Florida Gators who just fired their head coach and recently game up 52 points to Samford and lost to Missouri. Oh yeah, USC lost to Missouri too, Missouri is not a bad team, but if you listen to SEC fans, they should never have lost to ACC Boston College.
Then there is Auburn, another "Blue Blood" program that the Gamecocks beat, albeit in a down year. Dabo Swinney would have been run down mercilessly had he gone for a 4th and one inside his own 30 with 2 minutes left in the half and tried to pass for it. Lucky break for USC, huh? Not trying to make light of these two wins, The gamecocks are showing fight they haven't shown in a while.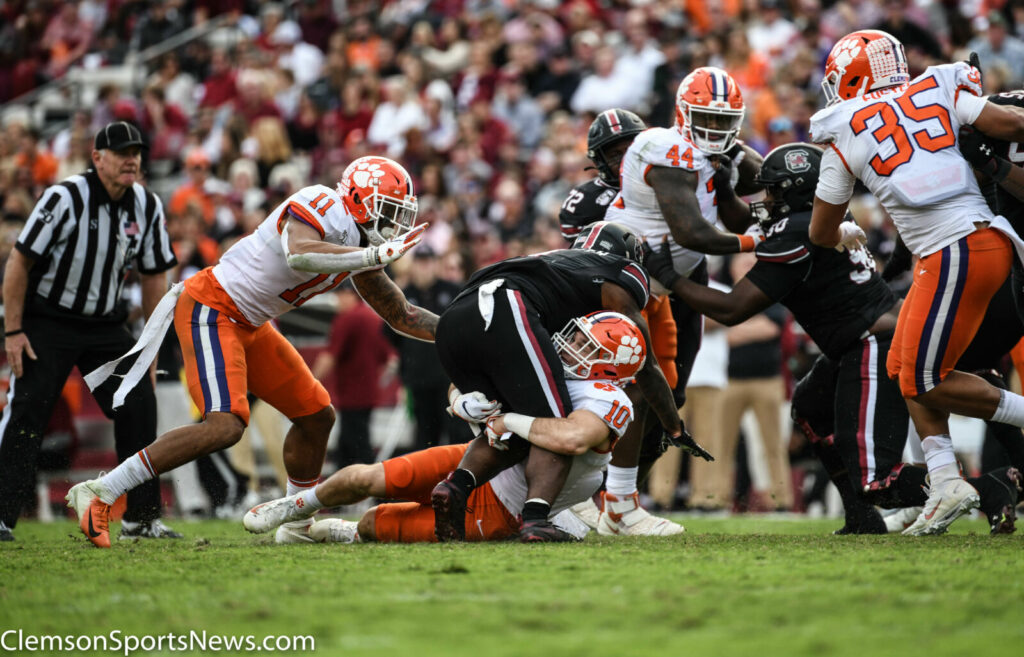 Let's check the motivations for each team.
South Carolina fans are aching, literally aching, to break this Clemson 6-game winning streak. It's been almost 2,900 days since USC has beaten Clemson. That means it's been 6 Christmas dinners, 6 Thanksgiving get-togethers, of USC fans having to listen to Clemson family members and friends hold the bragging rights. Clemson fans had to endure such during the greatest 5 years of USC football previous to the current streak. The fan bases are different in a lot of respects. I don't recall Clemson fans taking photos with USC players and coaches putting up the number of fingers of the win streak. You always hear "act like you've been there." They were there once and didn't do very well. A 7th straight win in the series would drive them even more crazy. It would tie the longest win streak in this series. This is motivation for the fans.
As for the team, USC is always "overly aggressive" on the field with this "SEC Dominance" theory and the SEC pride factor. The "adrenaline" factor lasts until one team gets smacked in the mouth.
Clemson does not control its own destiny with regards to the ACC Championship game but that doesn't mean this team will look past this game. It is, afterall, the State Championship game and the Tigers would love nothing more than to get their 7th straight win in the series, especially in front of a sold out WIlly Brice. No player on this Clemson team has ever lost to USC and they aren't ready to break this streak. Additionally, Clemson has 10 straight seasons of 10+ wins. A win here will make the Tigers 9-3 and a chance to continue this streak with a bowl victory.
The Tigers are an 11.5 favorite. How is a team that is struggling on offense, according to so many "experts", an 11.5 point favorite as a visiting team to an SEC team that has recently beaten "Blue Blood" programs like Florida and Auburn? Maybe the experts know something we don't.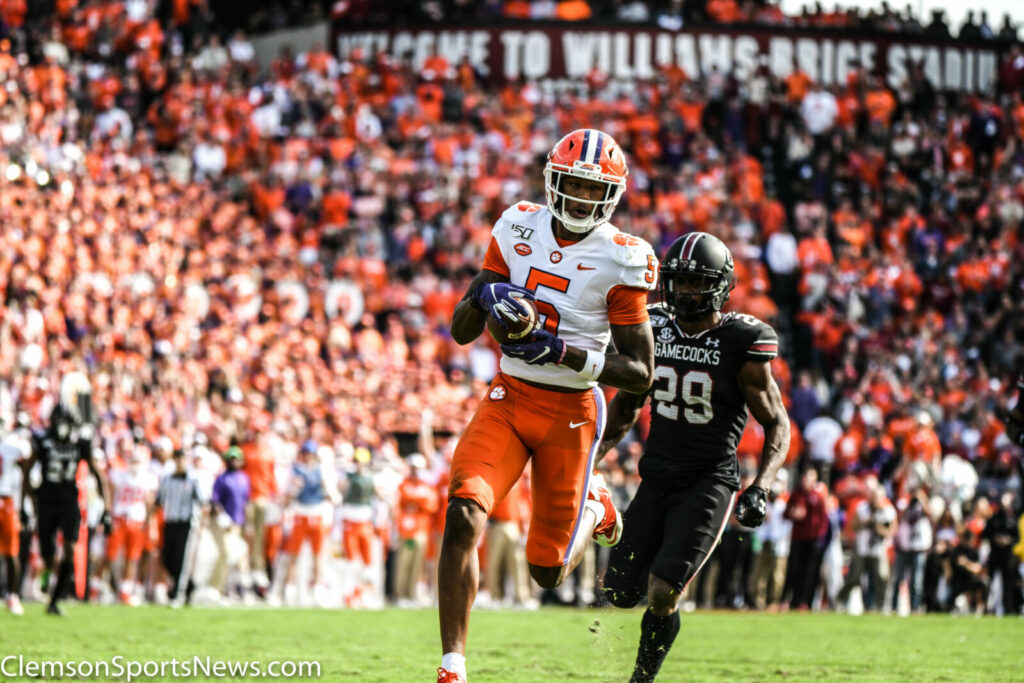 The keys to the game for Clemson is to continue to establish the run game, and pick and choose their time to utilize the passing game. Shipley and Pace are a great 1-2 punch and the offensive line seems to have grown up, and getting guard Will Putnam back in the lineup was key. The Tiger defense has to contain an improved USC offense that seems to have come to life under QB Brown.
The USC offense has leaned on RB's ZaQuandre White and Kevin Harris, who have combined for a little over 1,000 yards this year, to move the ball. White leads the team in rushing with 561 yards, but the most dangerous weapon on this team is WR Josh Vann (39 receptions for 641 yards, 5 touchdowns). He should get plenty of attention on Saturday night. The key to slowing down this USC offense is defensive pressure on Brown. The gamecocks have allowed 28 sacks on the season, ranking them 92nd in the country. As a team, the Tigers are ranked 3rd in the country with 40 sacks on the season. Pressure on Brown will be the biggest key to success in stopping this USC offense. On the other side of this coin, the Tigers have allowed 20 sacks on the season while USC is tied for 75th with 22 sacks.
What does all this mean? It means Clemson will win the game 34-20 on Saturday night and the streak goes to 7 games. Adrenaline can only carry you so far but coaching and talent will finish the game.