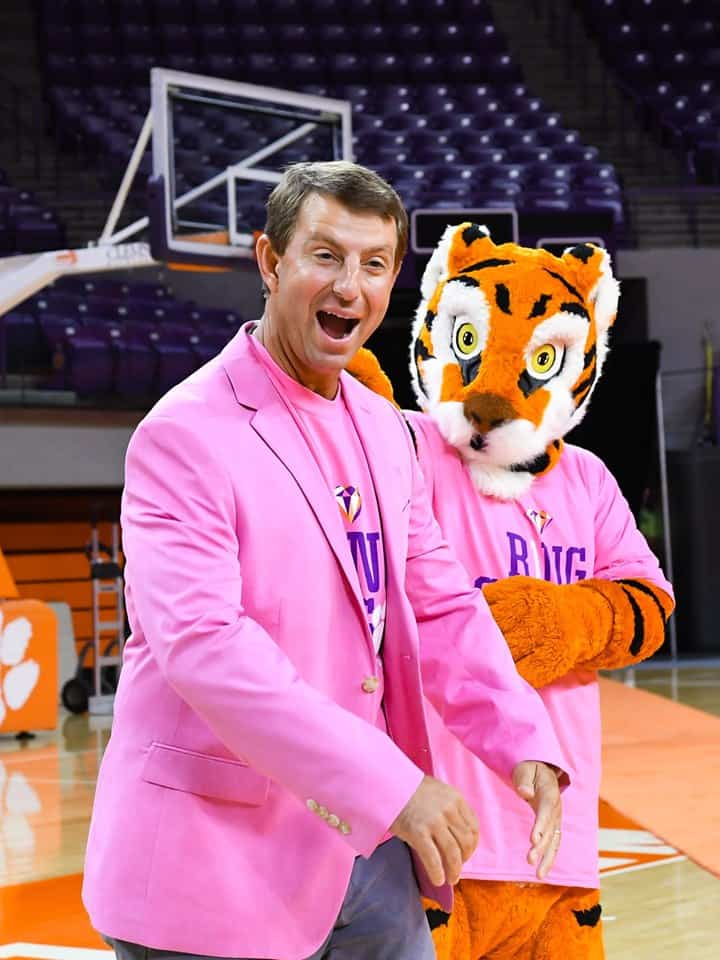 Photo Courtesy All In Foundation
Clemson,SC
Dabo and Kathleen Swinney held their annual Clemson Football "Ladies Camp" on Saturday July 20th. With an estimated 3500 campers and a large contingent of Coaches, players and volunteers this day was set to show the female demographic of Clemson Lady Tigers about how the football team goes about their days on campus and also educate them on the nuances of the game itself. A day of education and awareness, the Ladies were treated to everything from how a play originates and is then played out on the field. Toured facilities and had one on one time to meet and talk to players and coaches. This event has grown and grown and reached max capacity as it SOLD OUT of all available spaces.
Kathleen and Dabo have always used this clinic as a platform to address Breast Cancer research as it's a subject held close to the Swinney's own family as Kathleen has seen her sister's battle with the disease in the past impact her so much that she started the "All in Foundation". The Swinney's use the camp as a way to raise awareness, and educate and raise funding to fight against Breast Cancer by providing the means to continue further research with the donation from the Camp. This year the Camp raised a total of $400,000 for Breast Cancer Research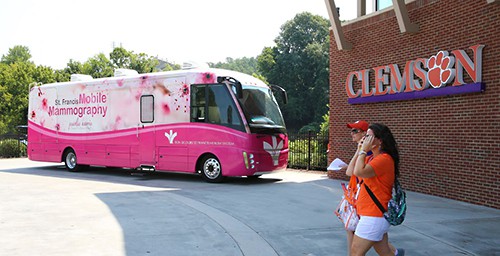 Clemson Sports News reached out to 2 separate ladies in the Clemson fanbase and local community to ask them to document their day at the camp and give us some feedback on what it is like to be there and from an attendee's point of view just what they saw, hear and experienced. Aimee Hill and Bunny Scott share with us all here us what it was like on Saturday.
Clemson Ladies Clinic from the Point of view Local Business Owner and Clemson Fan.
By: Aimee Hill
My name is Aimee Hill, my husband and I own Elkmont Trading Company in Clemson, SC. Owning a small business requires that you must wear many hats, the one that I enjoy most is buying for our sales floor. As the buyer, I feel that it is important to have a good understanding of what Clemson Football means to our customers. It is just such an important part of our community.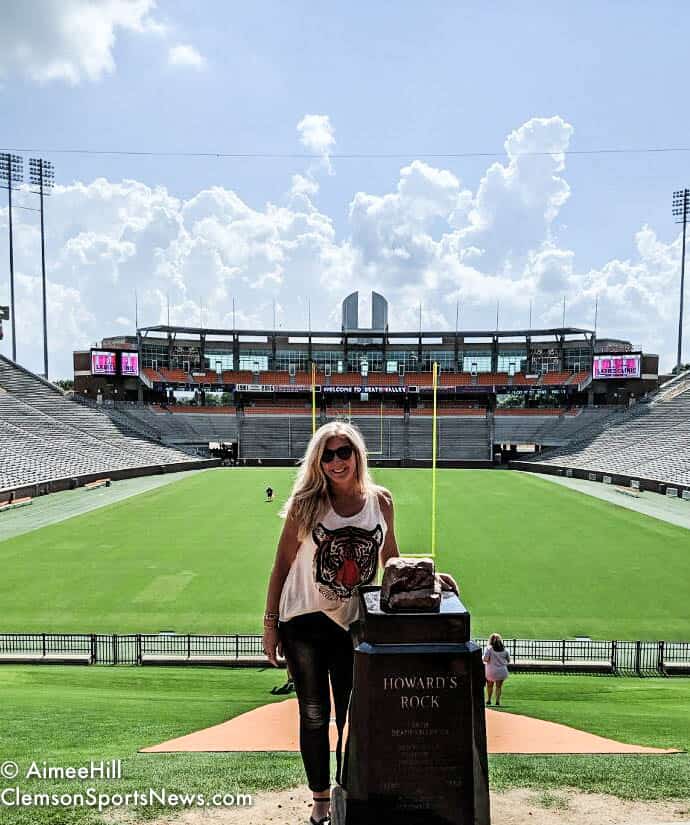 For me, football has always been about the social aspects of the gameday experience. I approached the Ladies Clinic as a somewhat outsider, hoping to connect with the energy and enthusiasm that is Clemson Football. This was my first opportunity to attend Dabo's All In Team Ladies Clinic and I am so grateful to have been a part of it.
I approached this day hesitant, not sure what I would take away from it. To be honest, my husband persuaded me to attend and as much as I hate to admit it, he was right but not for the reasons he gave. I approached Littlejohn this morning at 8 am hesitant but with a clear goals – network, engage and develop a strategy for how better to approach gameday at Elkmont. I remember wondering if I would need to stay for the whole day…
I was blindsided from the moment I stepped in the door. The energy and enthusiasm was infectious. My first text to my husband a little before 9 am was a photo of me holding a huge inflated diamond ring. It is of course "Ring Season." I could tell from the onset that this was going to be a much different football experience than what I was used to.
There were so many memorable moments of the day but a few that stand out to me include an appearance and speech by former SC Governor and US Ambassador, Nikki Haley, as well as the engaging entertainment provided by Dabo, his team, and a guest appearance by Nancy O'Dell, co-anchor of Entertainment Tonight. I also enjoyed meeting Coach Batson the Strength and Conditioning Coach for the Tigers, he was dressed out in pink in honor of Breast Cancer awareness. In fact, all the Coaches were, it was a nice touch.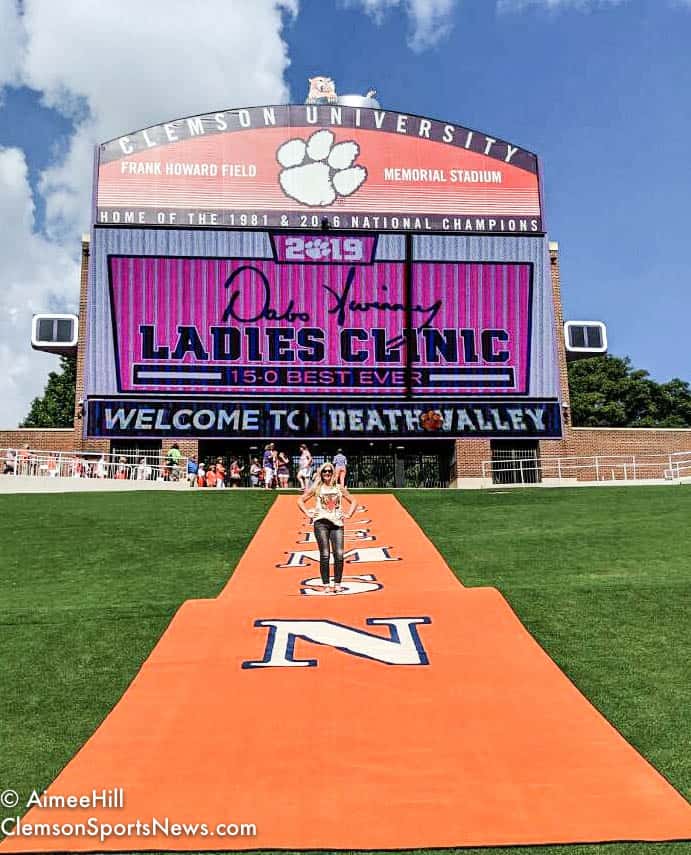 However, the one true surprise was during Coach Brent Venables defensive presentation. All you ever see in the news or talked about by former players is how intense he is. I remember seeing him on the sideline last season and seeing this guy constantly having to pull him back to the sideline. I asked my husband what he was doing and he told me that was Adam Smotherman, the "Get-Back" Coach, like I knew what that was… Well, I can now say that with that intensity comes a healthy dose of humor and wit. All of the presentations were very professional, engaging and most of all entertaining. I even learned a thing or two along the way.
The team at Dabo's All In Team Foundation clearly understands their audience. The way in which key players were introduced gave an understanding of who the individuals were, it added a human touch to the game and it drew me in to this thing called Clemson Football. I actually found myself engage. Dabo, Kathleen and company know their product and I was buying what they were selling. I was no longer glazing over staring at X's and O's on a bar napkin as my husband futileIy tried to make sense of the game to me. Forgive me for this, but I can honestly say that I left Littlejohn at 5pm, "All In." Yes, I stayed the whole day!
Along the way I met wonderful people – coaches, trainers and fans, lots and lots of fans. I wrapped up the day across the street at the iconic Esso Club with several new found friends. We pulled tables together and relived the highlights of the day. Running down The Hill, rubbing Howard's Rock, Dabo's and Ambassador Halley's speeches and hearing all the inspirational stories to name a few.
An unexpected highlight of the day was meeting Hall of Fame member and former Head Athletic Trainer Fred Hoover. He regaled us with stories of the 1981 National Championship, Danny Ford and even Coach Frank Howard. I texted my husband that I just met the sweetest man who has been shopping with us for twenty years going back to when we were Outdoor Adventures across from the stadium. My husband told me later this evening that I had met a Clemson legend. He told me that Hoover ran down The Hill 208 times and never missed a Clemson football game from 1959 through 1999. And that embodies what I guess is the one true take away from the day. Clemson is not just a football program, it is a community full of wonderful people that are welcoming, humble, funny, passionate and extremely entertaining.
https://elkmonttradingcompany.com/products/sm-wardrobe-graphic-tank?_pos=1&_sid=badf5a106&_ss=r&variant=7735308451868
Hit the above link and you can find the Tiger Tank Top Aimee is wearing available online and at ETC.