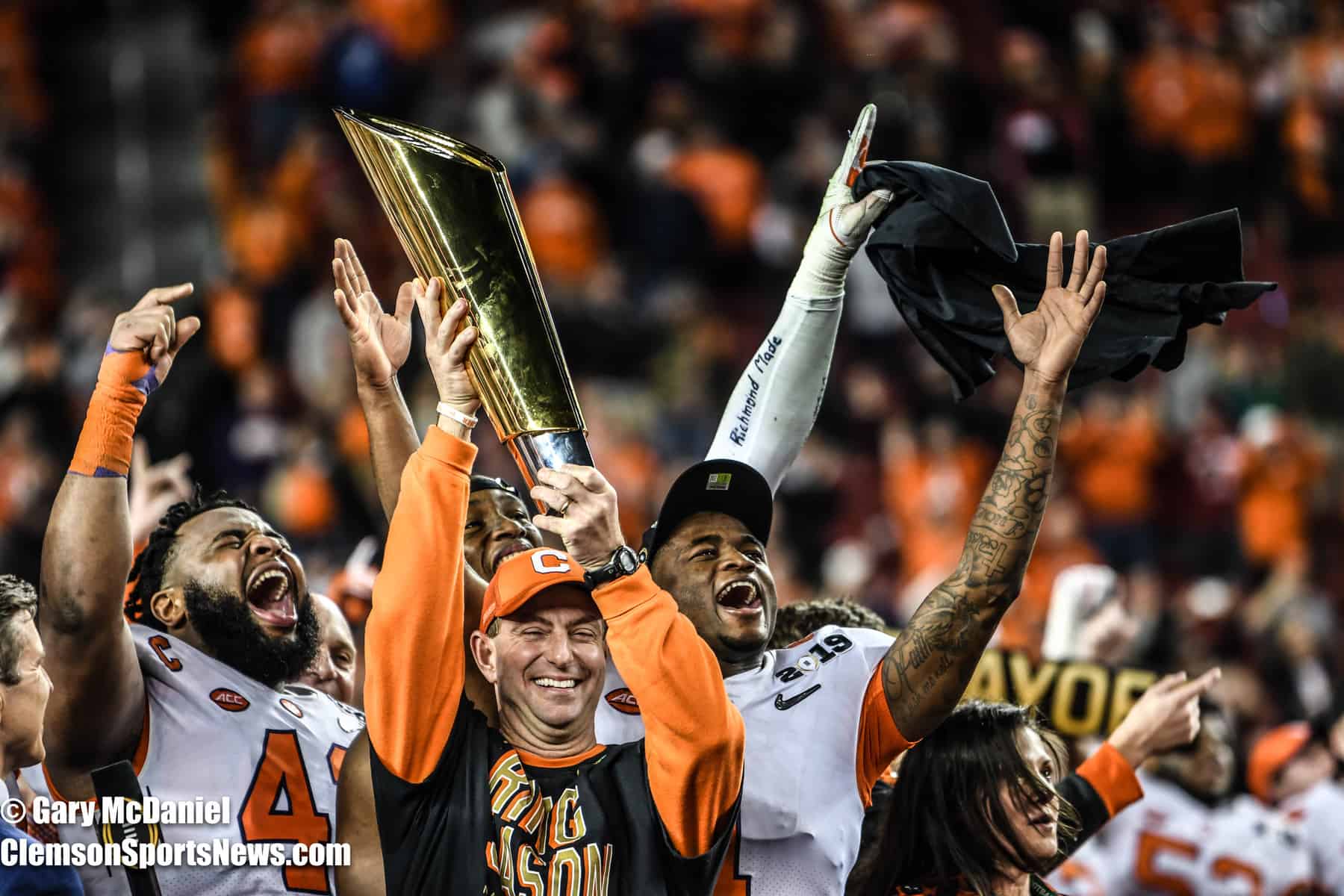 Clemson Sports News reached out to one of its colleagues in covering the ACC … Chris Heidel of HERBFM Sports out of Baltimore, MD. Chris is well known in the College Football media here on the East Coast and specifically ACC and SEC coverage. Being home based in Baltimore and its central location on the eastern seaboard, Chris has a rare take and one that comes from a "Professional" fan based area. As he looks hard and deep into the historic data and today's ACC to get his takes on the college football world inside the conference. Look for his contributions here from time to time as we continue our series with guest writers "Outside Looking In" .
Clemson's Rise to Dominance
Written by Chris Heidel
July 17th, 2019
Charlotte, NC- To say that the Clemson Tigers rise to domination in the Atlantic Coast Conference has been an unorthodox one would be a vast understatement. The program in now a national powerhouse and is considered by practically every media outlet (including this one) a guaranteed a spot in both the ACC Championship game and the College Football Playoff. But how did this rise to national prominence come about? Before looking ahead to what's in store for the Tigers in 2019, I wanted to look back to see just how the Tigers got here.
The Tommy Bowden era came to an end on October 13th, 2008 after the Tigers, who were picked to win the ACC Championship started their campaign with a sluggish 3-3 record. It was only then that an unknown wide receiver coach who had been working with the wide receivers since 2002 and who had an uneventful career at the University of Alabama made his coaching debut.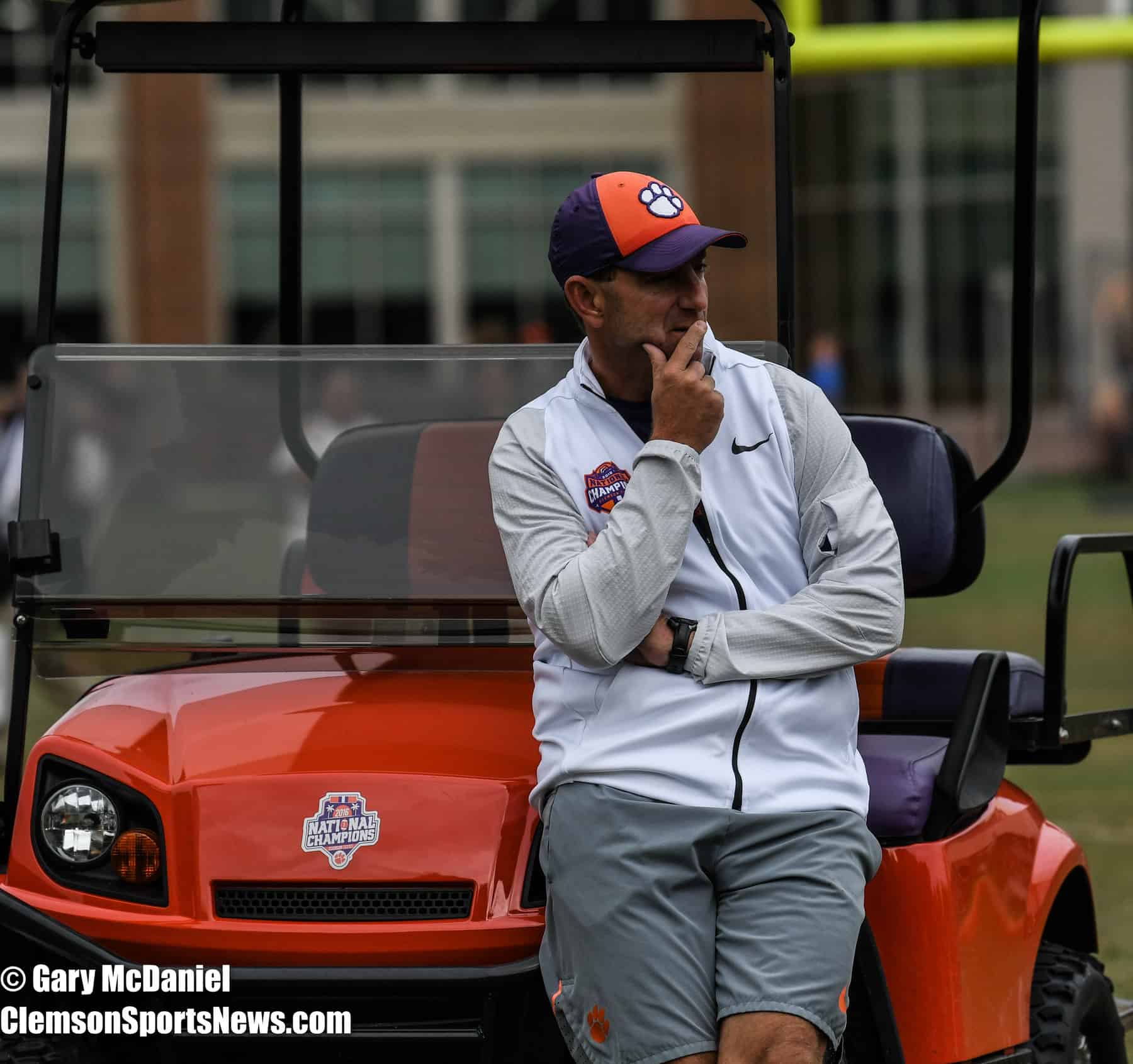 Swinney would win his first game as a head coach breaking a six year losing streak to the Boston College Eagles. Dabo would go on to lead the Tigers to a 4-3 record the rest of the way and a post season appearance in the Gator Bowl which the Tigers would lose. Who would of thought back then that just over a decade later the Tigers would be vying for their unprecedented fifth straight ACC Championship and third National Championship in 2019?
While at Alabama Dabo Swinney wasn't exactly an impact player although it must be mentioned that after making the team as a walk on in 1989 he earned a scholarship and lettered on three teams including the Alabama's 1992 National Championship team. From walk on to champion, his work ethic and grit laid the foundation for what is now one of the greatest dynasties in college football history. Yes I said it, "Dynasty"! Swinney offered these thoughts when asked about the culture he has developed at Clemson, "We've built our culture through loving our players, graduating our players, equipping them with the tools they need to go be successful in life, making sure they have a good experience."
In 2011 the Tigers would win their first ACC Championship in a decade amassing a 10-4 record but loosing in the Orange Bowl. The Tigers recorded 11 wins in 2012 and 10 wins in 2013. In 2014 the Tigers won another ten games, their fourth consecutive season of ten or more wins thanks to a young freshman quarterback named Deshaun Watson. The sophomore gunslinger burst onto the college football landscape in 2015 throwing for 35 touchdowns in leading Clemson to a perfect regular season only to lose to eventual champion Alabama in the title game. But Deshaun would get redemption next year leading the Tigers to a National Championship in 2016. Clemson finished fourth in the AP poll in 2017 despite finishing 12-1.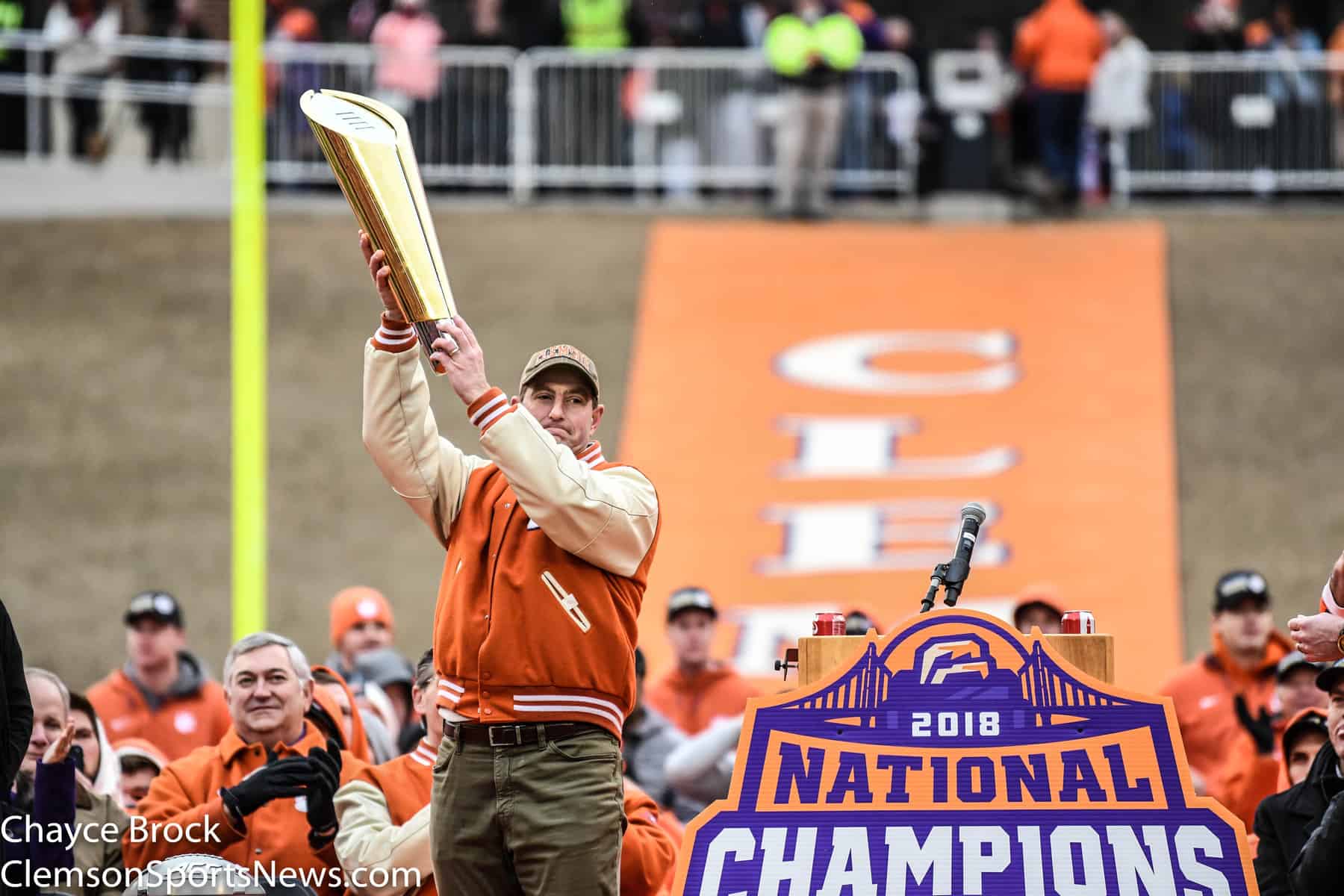 Last year Clemson was simply on a different level then most of their competition. In ACC play their dominance was reflected by defeating ACC opponents by more than 20 points per game. Clemson never seems to miss a beat, they loose players to the NFL and restock with four or five star recruits. But the one constant is Swinney who is as humble as any coach I've ever come across. A self proclaimed man of faith his integrity and character is reflected in both his players and his assistant coaches. Make no mistake the loyalty of his assistant coaches is a big reason why Clemson is a premier program and the class of the ACC. But through the countless All-Americans, first round NFL Draft picks, and great players Swinney has stayed the same. "I work with a group of people that I love. We have great relationships. So Clemson is a special place, there's a quality of life and a simplicity of life in Clemson that's really special, that's just kind of a natural resource that you really don't understand until you have lived it,"Swinney remarked at the 2019 ACC Media Day in Charlotte, NC. He credits Gene Stallings for alot of his success on and off the field, Stallings was his coach when he played at Alabama. "Coach Stallings has been one of great mentors in my life." Swinney has tallied a 55-4 record the past four seasons and is poised to lead his Tigers to yet another college football playoff appearance behind the right arm of Trevor Lawrence. For all his success as a freshman Lawrence is grounded and surprisingly mature. He throws a great deep ball and has good instincts like s crafty veteran in the pocket. His performance last year against Alabama in the National Championship game was for the ages.
So what's next for the Clemson program, more of the same WINNING! Can anyone really challenge the Tigers in the ACC? See you in Charlotte in December Clemson fans.Chris Heidel is an ACC Contributor who writes for www.herbfmsportsradio.weebly.com
Brought to you By our Sponsor:
#Cle #CLEMSONFOOTBALL #ClemsonTigers #CLEMSONSPORTSNEWS #CLEMSON #ALLIN #OutsideLookingIn