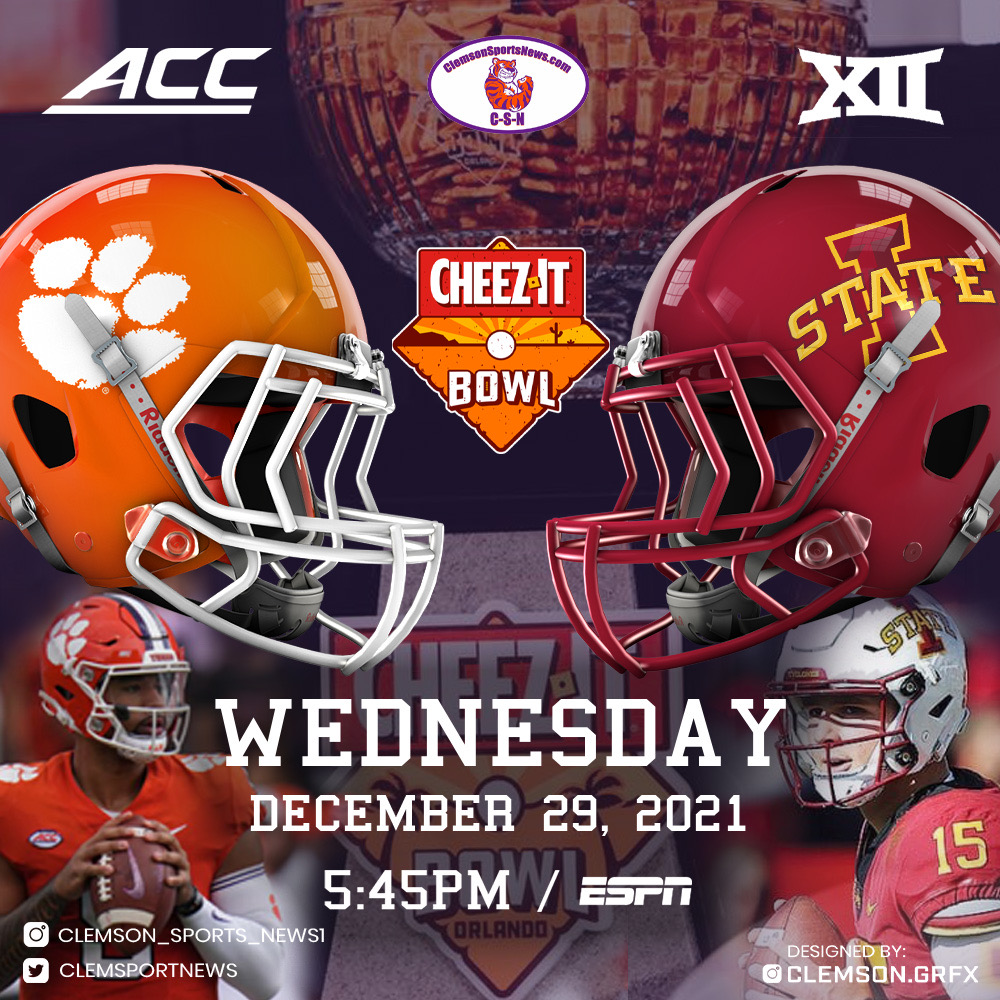 78
#19 Clemson Tigers take on unranked and 7-5 Iowa State, Wednesday, 29 December. There is a lot being said right now about teams "not wanting to be there" when they don't go to a prestigious bowl, i.e. College Football Playoffs. This couldn't be further from the truth for the Tigers.
Several bowls have already been cancelled due to Covid, according to sources. Texas A&M backed out of the Gator Bowl against Wake Forest, and the slot was filled by 5-7 Rutgers. Four bowl games have been cancelled altogether, and some are saying there could be more.
Make no bones about it, Clemson is ready to play in Orlando. Despite several transfers and losing two coordinators, this team appears ready to get after it. Can the same be said for Iowa State? They also have felt the "transfer portal" blitz, but they also lost their top offensive weapon in RB Breece Hall who opted out to get ready for the NFL Draft.
This move is going to make Iowa State one dimensional and QB Brock Purdy is one of the most accurate passers in the country, completing 73% of his passes for almost 3000 yards, 18 touchdowns and only 7 interceptions. Purdy isn't much of a running threat, gaining only 224 yards on the year while getting sacked 20 times. At 6-1 220, he isn't the biggest quarterback Clemson has faced nor the fastest, but he can throw the ball when given time. Two WR's left the team via the transfer portal, but main targets are still there. WR Xavier Hutchinson (82-953-5) and TE Charlie Kolar (58-723-5) will be looked upon for production against one of the top defenses in the nation.
Breece Hall was the leading rusher for Iowa State, picking up over 1400 yards and 20 touchdowns, and also the 3rd leading receiver on the team with 36 receptions. Next man up is sophomore RB Jirehl Brock, who carried the ball 23 times on the year for 132 yards and one touchdown. It's going to be an uphill battle for this Iowa State offense on the ground. Look for new DC's Wes Goodwin and Mickey Conn to ramp up the pass rush and put a lot of pressure on Purdy.
The Cyclones defense is a senior laden team, led by LB's Jake Hummel, Mike Rose and Vance O'Rien. Hummel is the team's leading tackler with 76 total tackles and Rose is right behind him with 73 total tackles. Defensive end Will McDonald IV leads the team in sacks with 11.5 and as a team, they have 32 sacks (40th) and 78 tackles for loss (34th). The secondary took a hit when two starters, Isheem Young and Kym-Mani King left the team and entered the transfer portal.
You can't look at the total numbers and come to a conclusion about this Clemson team. The Tigers last 5 games showed an offense totally different from the first 7 games. Clemson scored 163 points in their first 7 games, which included three losses. In a 5-game winning streak, the Tigers scored 182 points. They found their run game, and put up 30+ points in every game the last 5 games. The offense has had to overcome multiple injuries, especially to the wide receiver room. Brandon Streeter takes over for Tony Elliott as the Offensive Coordinator. It will be interesting to see the difference in the play calling, if there is any.
The Tigers turned to the running game the last half of the season, basically turning the offense over to the offensive line and RB's Kobe Pace and Will Shipley. WR's Joe Ngata, EJ Williams and Troy Stellato are expected back to enhance the passing game.
In conclusion, the Tigers are going to be too much for the Cyclones on both sides of the ball. The Clemson offense will be tested by this experienced Iowa State defense but the Tigers are more than capable of putting up 30+ points for the 6th straight game. The loss of RB Breece Hall is going to be too much for Iowa State to overcome and this Clemson defense will have a field day on Purdy. One dimensional teams do not fair well against Clemson, and neither do quarterbacks who can't escape pressure. DC Wes Goodwin will bring the house, maybe even more than Brent Venables did. The Tigers had zero opt outs as a team and come in ready to get their 10th win of the season.
Clemson wins going away, 41-21.