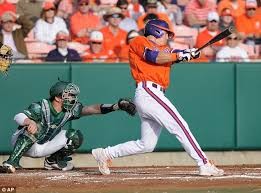 CLEMSON, S.C. – The Tigers play their first midweek game when they host Furman at Doug Kingsmore Stadium on Tuesday afternoon.
GAME SETUP
• Who – Furman (3-0) vs. Clemson (3-0)
• Best Rankings – FUR – NR; CU – No. 11 BA
• When – Tuesday (4 p.m.)
• Where – Clemson, S.C. (Doug Kingsmore Stadium)
• Watch – ACC Network Extra
• Video Announcers – Bob Mihalic, Kyle Parker
• Listen – TigerCast, Clemson Tigers Network
• Live Stats – ClemsonTigers.com
• Social Media – ClemsonBaseball
• Tickets – ClemsonTigers.com, 1-800-CLEMSON
• Promotion – Fans can purchase a ticket for only $2.
SERIES HISTORY
• Overall Record – Clemson leads 150-57-4 (1896-2017)
• Record at Clemson – Clemson leads 81-26-1 (1896-2017)
STARTING PITCHERS
• RHP Trent Alley (FUR) vs. LHP Sam Weatherly (CU)
CLEMSON OVERVIEW
• Clemson swept William & Mary at home in three one-run games last weekend.
• The Tigers are averaging 4.7 runs per game and hitting .230 with a .398 on-base percentage and three steals.
• The pitching staff has a 3.54 ERA, .192 opponents' batting average and 18.00 strikeout-to-walk ratio and Clemson is fielding .991.
FURMAN OVERVIEW
• Furman is led by second-year head coach Brett Harker.
• The Paladins swept Marist in three games at home last weekend. They are hitting .311 and have a 2.57 ERA and .956 fielding percentage.
• Jake Crawford is 7-for-9 (.778) with a homer and three RBIs, while Jason Costa has totaled two homers and four RBIs.
QUICK HITS
• Clemson is 3-0 for the first time since 2010.
• The Tigers committed just one error in the series against William & Mary. That error was by a pitcher on a failed pickoff attempt.
• Taylor Harbin, an assistant coach at Furman, played three seasons (2005-07) at Clemson.
HIGGINBOTHAM BACK ON THE MOUND
• Sophomore lefthander Jake Higginbotham was a midweek starter as a freshman in 2016, but suffered an arm injury and missed all of 2017.
• He returned to action against William & Mary on Feb. 18 and earned the win in 5.1 strong innings pitched, allowing just one run on two hits.
• In his career, he is 4-0 with a 4.19 ERA and 31 strikeouts against 21 walks in 38.2 innings pitched over nine appearances (eight starts).
ATTENDANCE
• Clemson is averaging 5,393 fans per home date (3), the fifth-highest figure in the nation and first in the ACC (through games of Feb. 18).
• Entering 2018, Clemson had a top-20 national figure in average attendance 24 straight seasons and a top-15 figure 16 years in a row.