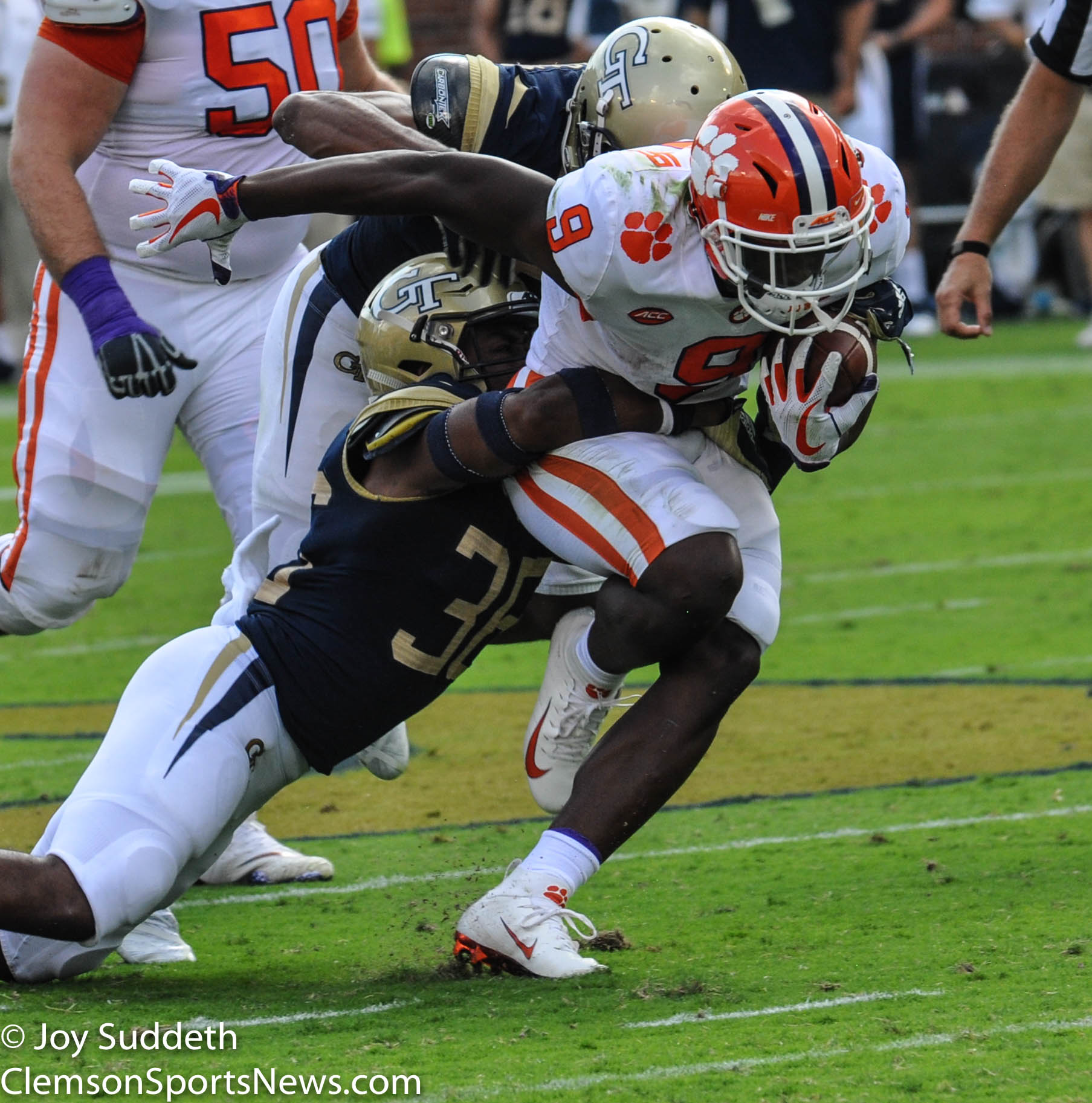 THURSDAY, AUG. 29 • 8 P.M. ET • MEMORIAL STADIUM (81,500) • CLEMSON, S.C. NO. 1/1 CLEMSON (0-0, 0-0 ACC) vs. GEORGIA TECH (0-0, 0-0 ACC)
CLEMSON/GEORGIA TECH SERIES HISTORY: – OVERALL: Clemson trails series, 31-51-2 – HOME: Clemson leads series, 15-6 – ROAD: Clemson trails series, 14-44-2 – NEUTRAL: Clemson leads, 2-1 – LAST MEETING: Sept. 22, 2018 (49-21 W) – STREAK: Clemson, Won 4
TELEVISION: ACC Network (Dave O'Brien, Tim Hasselbeck, Katie George, Maria Taylor)
RADIO: Clemson Tigers Network (Don Munson, Tim Bourret, Reggie Merriweather) **Sirius XM 84**
Clemson vs GT Preview:
Clemson opens the 2019 Season as the Nation's top ranked team in both the AP and Coaches Polls. The Tigers start with lofty expectations and look to repeat as both ACC and National Champions. Clemson enters game one of the Regular season facing an ACC opponent in the form of long time cross-division rivals Georgia Tech. The Yellow Jackets with a brand new coach and a makeover on offense, make the the trek up I-85 North and look to shock the world as they themselves try to find an identity. Coach Jeff Collins comes down from two season as Temple's head man, and is trying to take a roster recruited to run the triple option and fit it to his scheme of a "pro spread".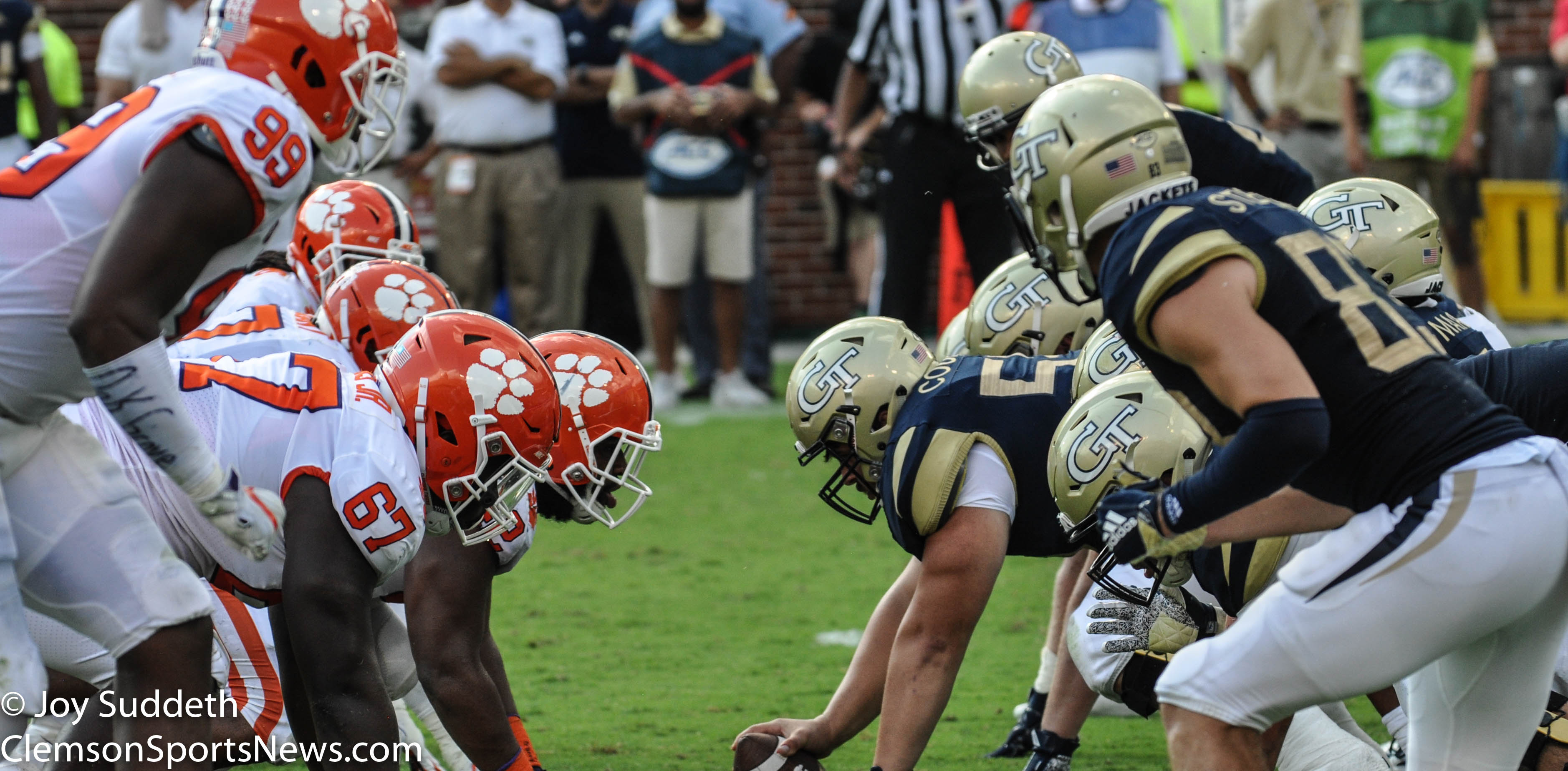 With all the unknowns that are the Jackets offense, word out of the flats of downtown Atlanta and the Tech practice fields is that as many as three QB's could take to the turf inside Memorial Stadium. And with a roster that was left without a single tight end. Coach Collins is depending on a UCONN transfer and some converted RB's to carry that position group. The Offensive Line is storyline of its own, with a history of over 90% run plays the Jacket OL has to trade in chop blocks for pass protection. A line that was almost never asked to get out of their stances and hit the reverse button and move and work in that dynamic. Now must figure out against the likes of Xavier Thomas and gang if they are still a work in progress or a refined product.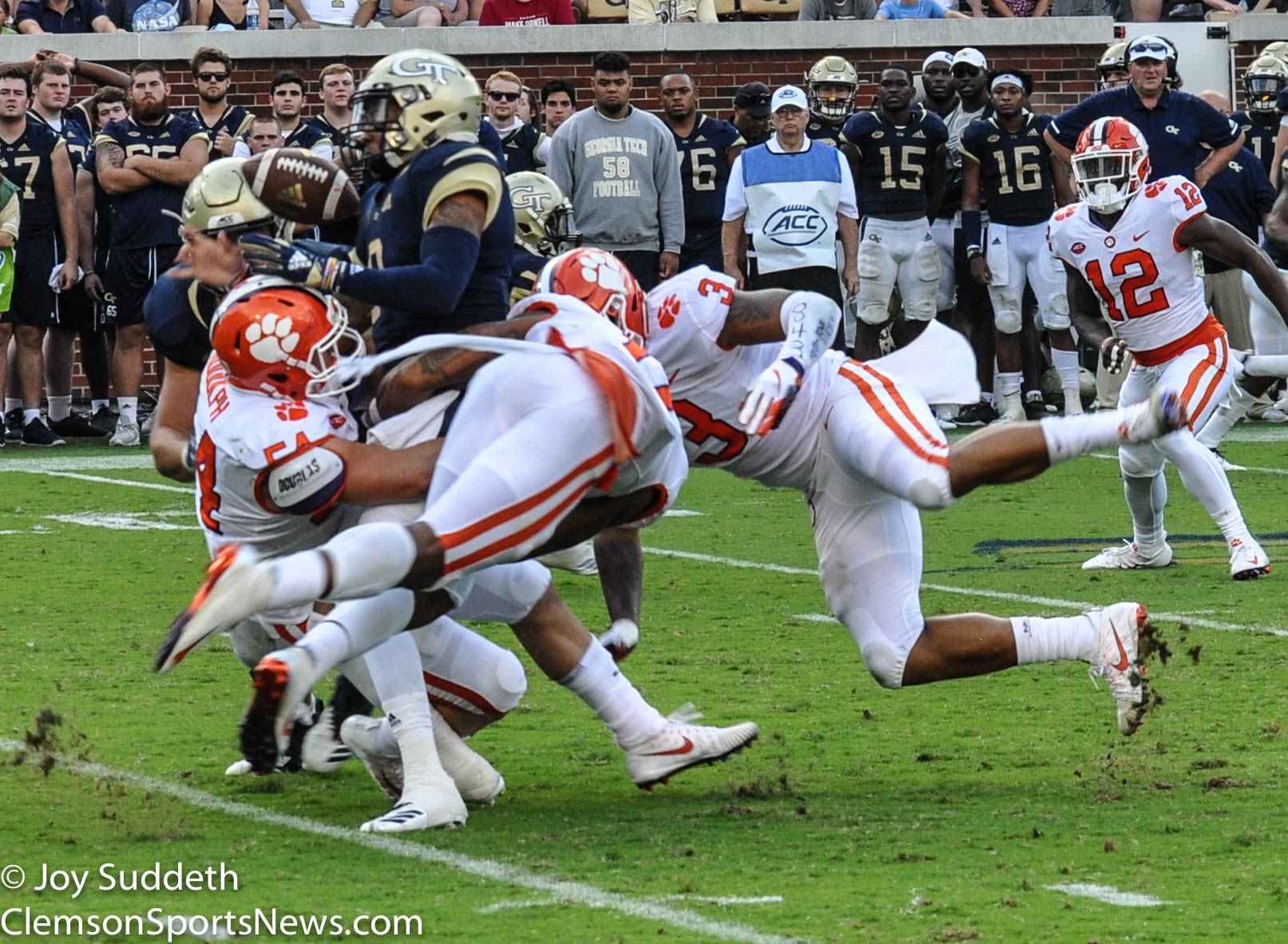 Clemson has its own set of "unknowns" , and will look to this game to see if the answers they seek inside the defensive lines and at tight end can be answered. As both these position groups have been in need of solid depth moving forward. And as documented in fall camp the first team of this line is fine, its developing the depth that Clemson is known for without losing production. Players like Tyler Davis and Darnell Jefferies along with freshman Etinosa Rueben and a few more will need to accelerate the learning curve for all these players as the schedule steps up in opponent quality in coming weeks. At tight end its youngster Jaylen Lay that looks the part coming off the bus, but can he fill the roles needed at the position on the field. Tight end is the hardest position to learn on the field outside of quarterback. And the young peach state native has made huge strides over fall camp. Also his fellow freshman Davis Allen is a player we think will see snaps this season and early.. But don't sleep on veteran JC Chalk here. Word is Chalk really reshaped his body and is a different more athletic version in 2019.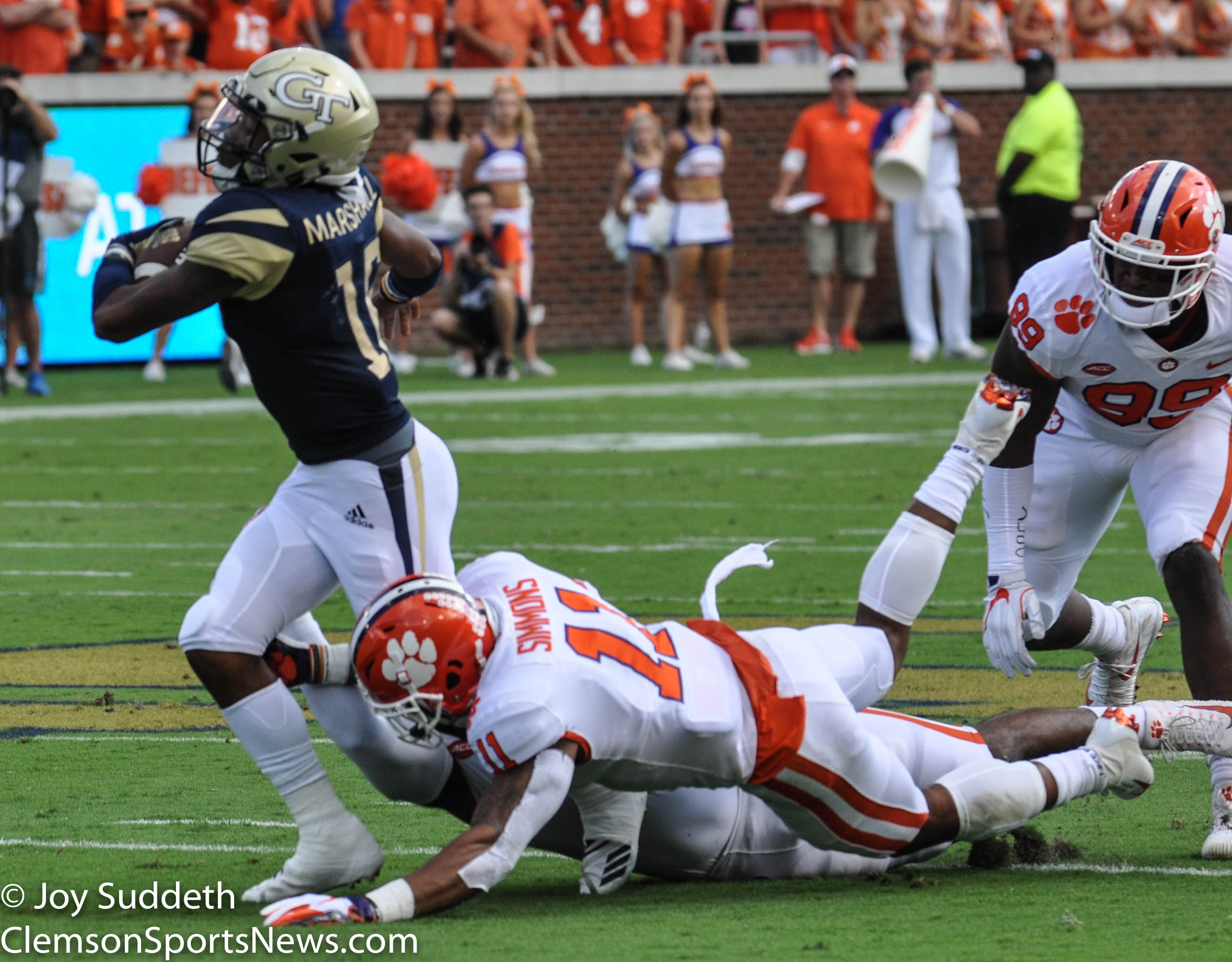 The Tigers come in with all the accolades that the defense had last year, well this year the Clemson offense has the press in awe after the way they dismantled both Notre Dame and Alabama in last year march to the title. And with good reason this group comes in to the year highly regarded. One, you have a guy named Trevor, and add to that 2 of the top wide receivers in the nation in the forms of Higgins and Ross. Oh and there is this 1600 plus yard running back named Etienne that is hanging around and running behind a senior laden offensive line. And yes you can see why the national pundits have showered this unit with praise in the pre season. Now comes time to prove that all the hype was well deserved and perform on the big stage that is college football.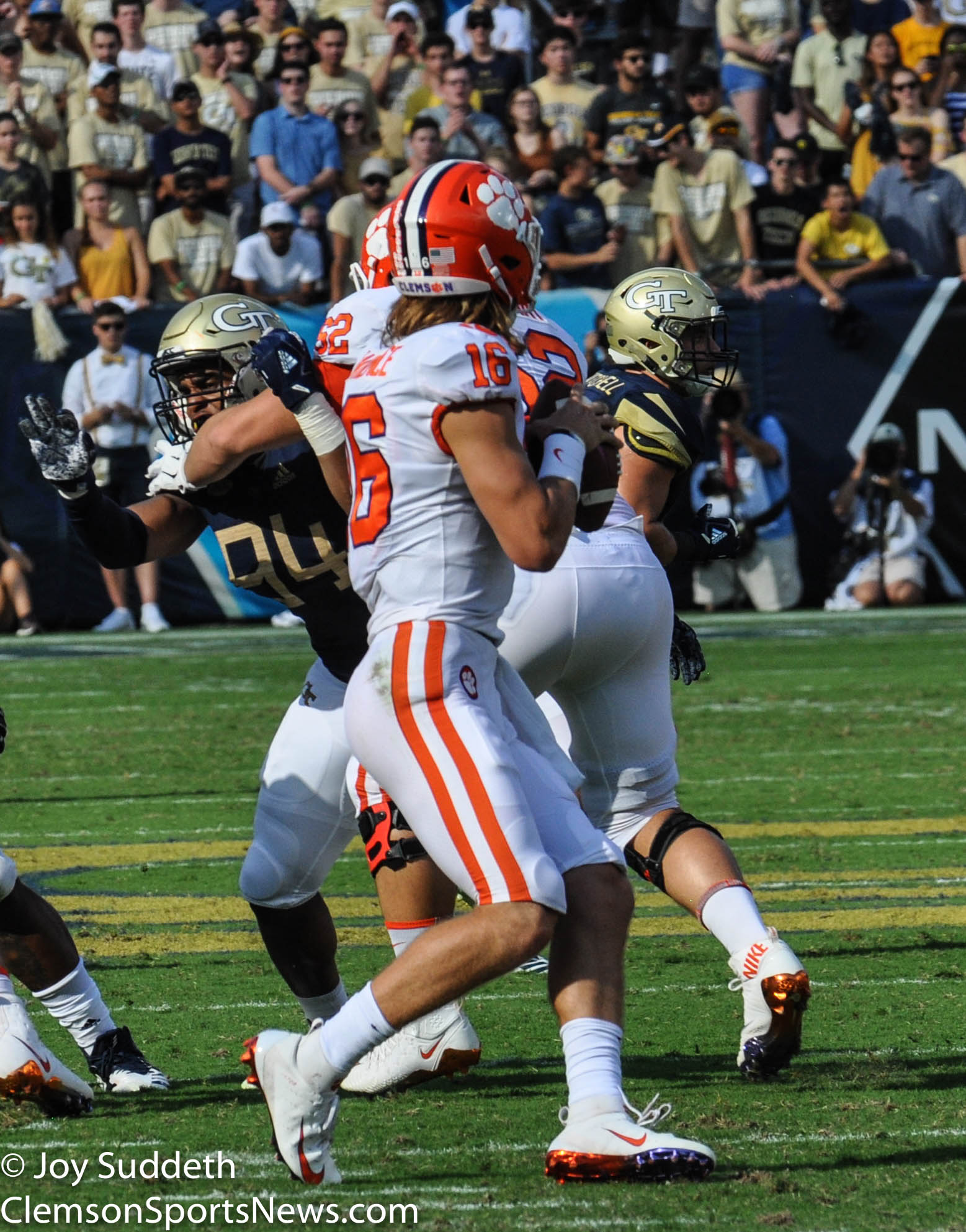 Coach Dabo Swinney as usual has been his optimistic self all pre season, and even with a rash of injuries to his team mid camp, always positive and at the same time holding back praise. Swinney seemed to really brighten up when mentioning particularly Jaylen Lay and his progress. And spoke on how a few of the young defensive lineman have also started to show progress. But again this can't be measured until the lights literally come on inside Memorial Stadium on Thursday night. So let's get down to how this game plays out in our minds eye.
When the Tigers have the Ball:
Look for the Tigers to look for balance here and showcase both facets of the teams skill sets. #9 will get his 120 plus yards and a score and #5 and #9 are gonna showcase their skills and pick up a score each. Look for the back ups to mop up in late 3rd quarter and the benches empty into the 4th as this staff puts a few of the potential red shirts to task in game action. Clemson has its way and shows the difference in a 5 star and a 3 star as this tech defense will be out manned on all levels.
When the Jackets have the Ball:
Clemson will spend most of the 1st quarter and into the 2nd trying to figure out just what the Jackets are going to run offensively. The Techsters themselves have to find their identity. And with a roster built for the triple option, coach Geoff Collins is in midst of a ground up rebuilding process. One that will take a few years as he infuses the roster with players that fit his schemes. For now and today's game the term
"Schitzo" is a kind description as this team arrives in Clemson to face the #1 team in the Nation. Collins will just be looking to see his team line up and operate properly for a series or two. Good luck. Welcome to the ACC and Death Valley Coach Collins. Clemson's defense will figure out the Tech game plan and will end up opposing its will on the the Ramblin' Wreck.
Special Teams:
GT:
Wesley Wells 9/9 long of 48 39-39 PAT's
Pressley Harvin 41.3 long 62
Clemson:
Will Spiers 39.7 long 63
BT Potter 1/1 long 24 7-7 PAT's
Clemson Players to watch: Joseph Ngata, Tyler Davis, Derion Kendrick, Jaylen Lay, and Xavier Kelly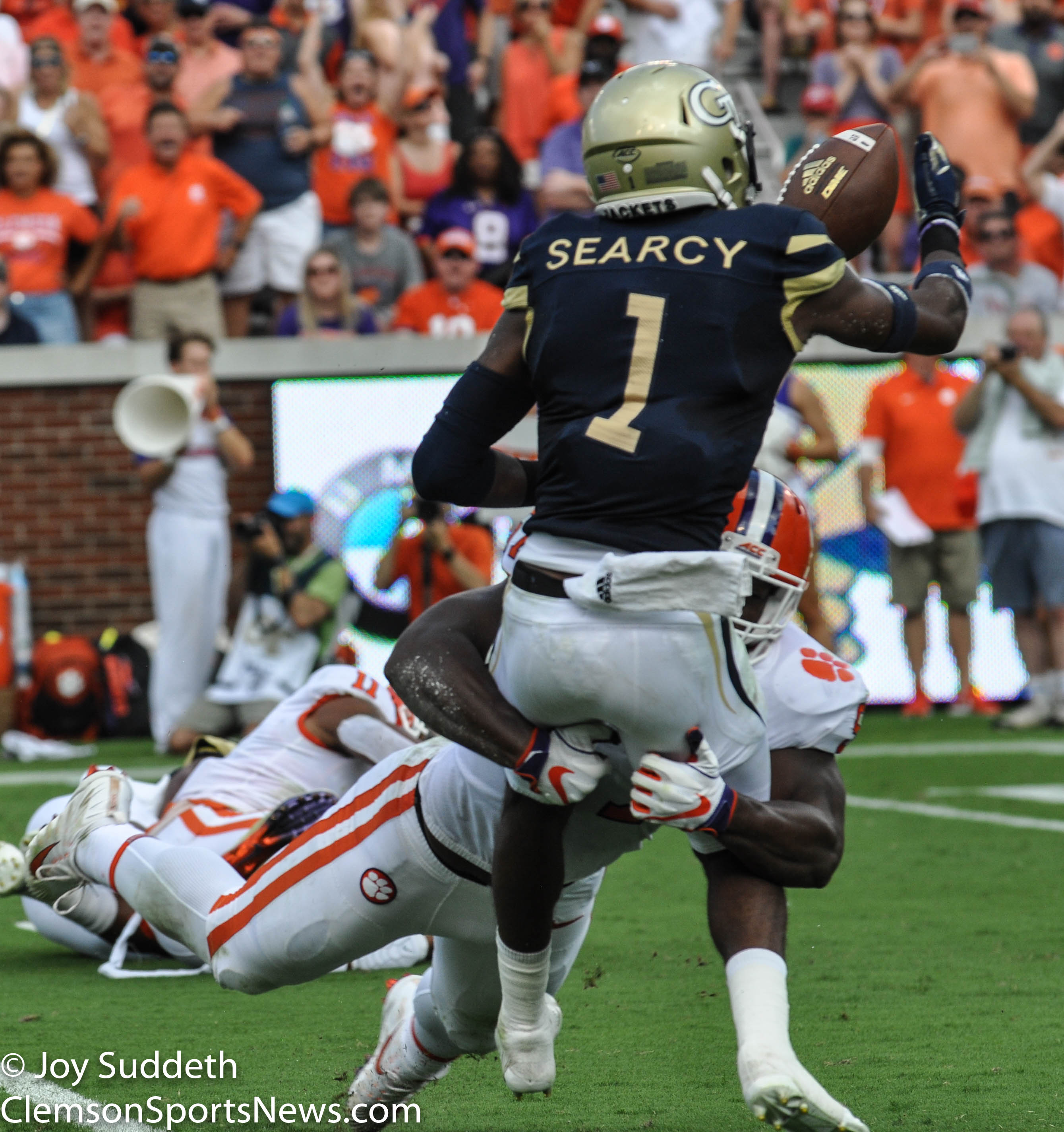 Prediction: The Tigers will have their way with a Tech Defense that returns less than half their starters from last season and look for the Tigers to find the end zone early and often as they get out to a quick lead. On the other hand I would not be surprised to see the Jackets score quickly on some sort of a trick play. Trying to use the Clemson young defensive ends aggressive play against them and some sort of "trickeration" results in points. But look for Brent Venables to get a handle on things as soon as he can flush the game plan out of the Jackets offensive staff. All in all this one leads to Chase Brice, Joseph Ngata, Lyn J Dixon and crew out onto the tuf to show their wears by mid 3rd quarter. Swinney gets what he wanted here a glorified pre season game that gets this team to 1-0 over all and in the ACC. Tigers exterminate the Jackets ……..
Clemson 51 Georgia Tech 13
Brought to you by our Sponsor: