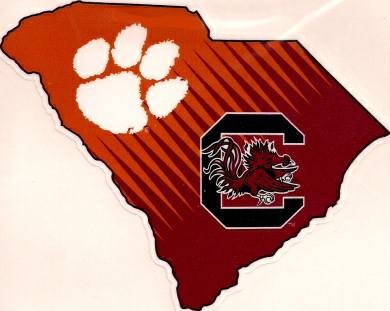 South Carolina won its third-straight Certified SC Grown Palmetto Series versus Clemson, 9-5, over the course of the 2017-18 season.]
The Palmetto Series is an annual points competition between the state's flagship universities in head-to-head athletic events. Points were awarded for the winner of each athletic contest between the two schools, including sports in which both teams competed as part of multiple-team tournaments. Points were also awarded for academics and a food drive benefitting Harvest Hope Food Bank and Golden Harvest Food Bank.
South Carolina earned nine points for wins in women's soccer, women's golf and women's basketball, volleyball, women's cross country, men and women's tennis, the food drive point and the academic point.
Clemson won five points for the competition in men's soccer, men's golf, football, baseball and men's basketball.
To learn more about the Palmetto Series, follow along and participate, visit www.palmettoseries.com. You can also connect online with the Palmetto Series on Facebook, Twitter and Instagram.
Clemson-South Carolina 2017-18 results
Men's soccer: Clemson 4, South Carolina 1
Men's golf: Clemson -1, Gamecocks +1 at Carpet Classic
Women's soccer: South Carolina 1, Clemson 0
Volleyball: South Carolina 3, Clemson 0
Women's golf: South Carolina -11, Clemson +1 at Mason Rudolph Championship; South Carolina +1, Clemson +20 at Landfall Tradition
Women's cross country: South Carolina 1:33:26, Clemson 1:34:20 at Carolina Challenge; South Carolina 580 points, Clemson 702 at NCAA Regionals (the lower score the better).
Women's basketball: South Carolina 66, Clemson 36
Football: Clemson 34, South Carolina 10
Men's basketball: Clemson 64, South Carolina 48
Women's tennis: South Carolina 4, Clemson 1 (Jan. 27); South Carolina 4, Clemson 0
Baseball: Clemson wins series, 2-1
Men's tennis: South Carolina 8, Clemson 1
Food drive: South Carolina 96,974 meals, Clemson 55,931.5 meals
Academics: South Carolina 3.25, Clemson 2.98 (average of fall and spring student-athlete GPAs)
(Results from Palmetto Series website)