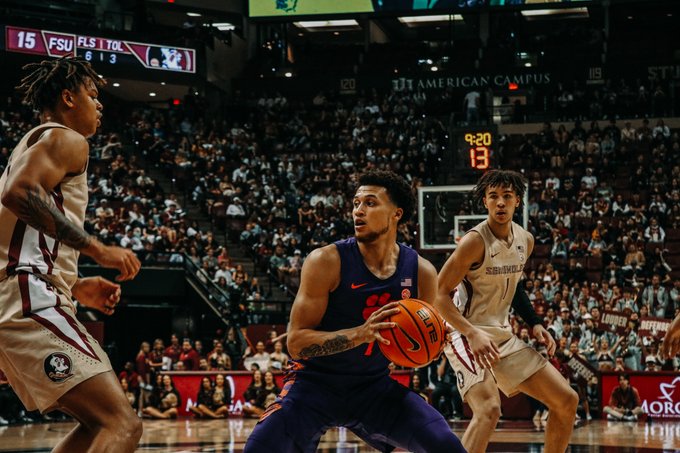 TALLAHASSEE, Fla. – Clemson University men's basketball earned its 10th ACC win of the season over Florida State 82-81 on Saturday in dramatic fashion.
Chase Hunter (Atlanta, Ga./Westlake) caught an inbound pass from Ian Schieffelin (Loganville, Ga./Grayson) and nearly drove the length of the floor and delivered a game-winning 3-point play with four seconds left for the win.
The Tigers (18-4, 10-1 ACC) were led by Hunter, Hunter Tyson (Monroe, N.C./Piedmont) and PJ Hall (Spartanburg, S.C./Dorman).
Hunter's career-high 26 points came on 7-for-12 shooting, including 10 made free throws. Tyson was Clemson's catalyst in the first half, scoring 17 of his 27 points in the opening stanza. He drilled a career-high six threes and chipped in seven rebounds. Hall finished with a rugged 17 points and 10 boards and notched his third double-double of the season.
Clemson got out to a blazing start opening the game on a 16-2 run over the first 5:53 of the game. However, the Seminoles (7-15, 5-6 ACC) finished the first period on a 32-16 run and took the lead going into halftime.
The Tigers erased a seven-point second half deficit but would still trail by three with 25 seconds left. After Hall made two free throw attempts following a crucial Schieffelin offensive rebound, the Seminoles' Matthew Cleveland made just one free throw setting up the Tigers' final play.
With 8.5 seconds on the clock, Hunter's heroics took over and he completed the winning play to give Clemson the victory.
Off the Tiger bench, RJ Godfrey (Suwanee, Ga./North Gwinnett) totaled eight points and four rebounds. Godfrey also added a career-high three blocks. Dillon Hunter (Atlanta, Ga./Westlake) earned his second consecutive start and added five rebounds and a team-leading five assists.