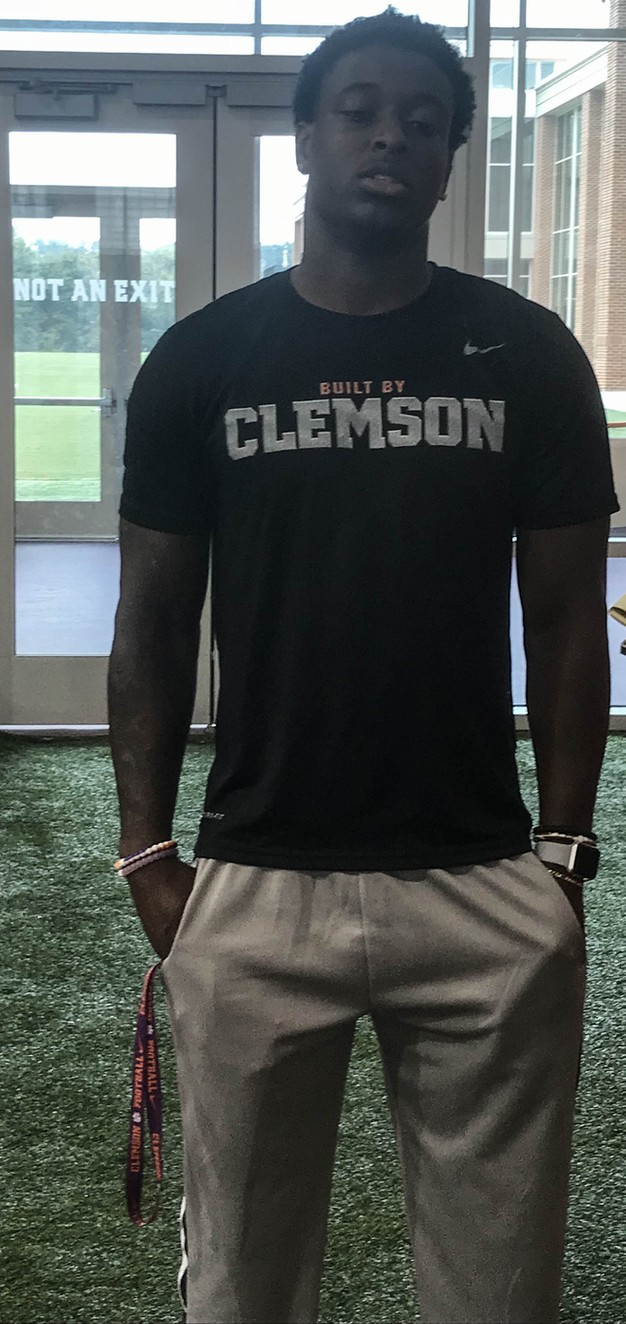 One on One with K'Von Wallace
K'Von Wallace seems to be in the right place at the right time in big games. Last season, as the Tigers were hanging on to the 20th ranked NC State during the last play of the game Wallace has a 55-yard interception securing the win for the Tigers. During that game, Wallace also had two pass breakups in 35 snaps. Last Saturday, as time was running out the Aggies managed to score a touchdown setting themselves up to tie the game and take the Tigers into overtime. Wallace managed to intercept the ball on the two-point conversion, saving the game for the Tigers. In his career at Clemson, Wallace has 42 tackles, a tackle for loss, two interceptions and five pass breakups in 537 snaps over 29 games.
During interviews preparing for Georgia Southern, I was able to catch up with Wallace and talk with him about his recruiting process and what made him decide to come to Clemson, how he has become a major leader on the defense, what it is like to play under Coach Conn and Coach Venables, and what players, he leans on for guidance.
Q – What was the deciding factor on Clemson and what would you say about the culture of Clemson that you would pass on to future recruits?
Wallace – "The culture of Clemson is like no other; it's not like any other university the love is real. You have a head coach that is more personal and intimate with you, instead of having all his assistance come and talk to you he is very personal, and he wants to come and talk to you, he wants to come and talk to your family. He wants to talk to your mom, brothers and sisters, your dad. He wants to visit you and communicate with you on and off the field. And at the end of the day he wants you to get an education, he is not just all about football. He wants you to get an education, and he cares about your well being, he is always checking on you, and all of the coaches are like that. Just since is what separates this university from others.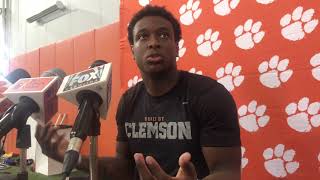 Q- How has the experience that you have gained helped you to become a leader on the defense?
Wallace – It was very important, I came into camp as a true freshman, and it was really hard to grasp the defense that we had because I feel like that we have an NFL defense already. Just coming in and learning that and also playing was great experience. Now with me coming in as a junior and knowing all of those plays and doing all of those right things is slowing the game down is way easier and making me play faster and better.
Q- Can you describe what it is like to play for Coach Conn and Coach Venables? What players would you say that you lean on for guidance?
Wallace – Coach Conn is a great coach; he is a person coach before he is a football coach. He wants to know about your well being; he wants to know if you're going to church and things of that nature. He is a very spiritual guy, he is someone that I needed in my life, so is Coach V. Coach V is very hard on you, and I need that. My High School coach was very hard on me, so I need someone who will go out there and push me and challenge me every single day.
I lean on a lot of guys that are younger than me and older than me. I lean on the walk-on Cameron Scott, I lean to Darien Rencher, who just earned a scholarship this year. I lean to Christian Wilkins and Mark Fields, those older guys. The younger guys like K.J Henry, who sits beside me
This story brought to you by our sponsor: