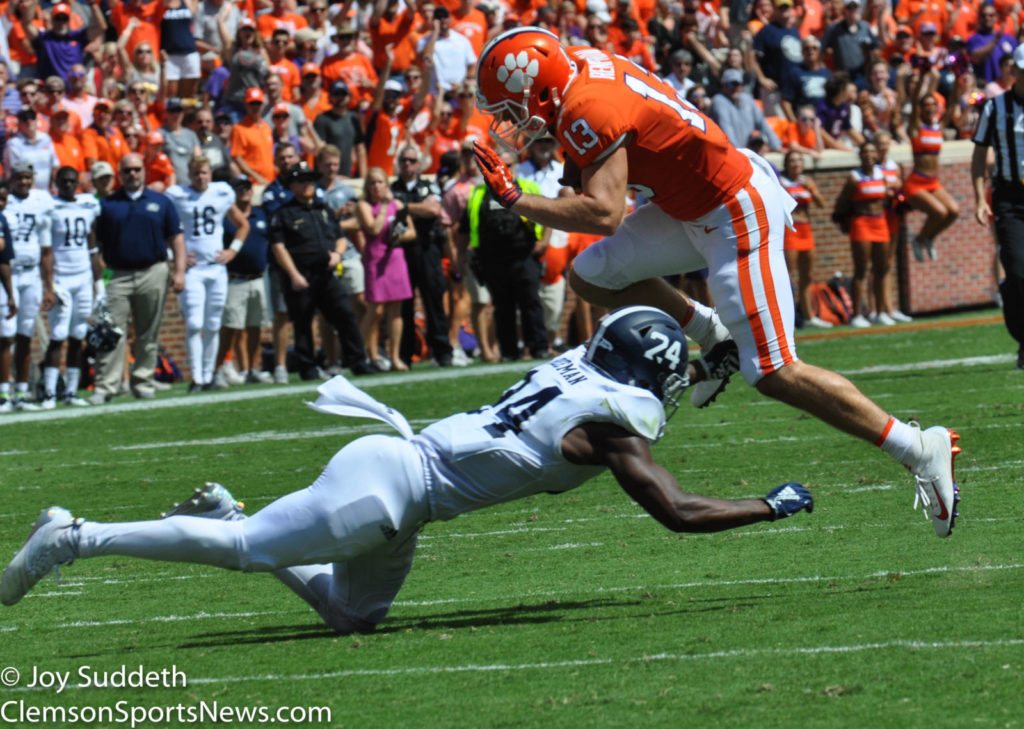 Lucky Number 13
By Zachary Wagner
For centuries, the number 13 has been considered an "unlucky" number. Whether it be Friday the 13, or Judas who was the 13th person to sit at the table at the last supper, 13 has always been considered one of the most unlucky numerical numbers.
Thirteen though has been the opposite for the Clemson Tigers over the last decade and a half. The "unlucky" number has gone to a slot receiver starting with Tyler Grisham in 2005.
Let's take a trip down memory lane with the wideouts and the history of the #13.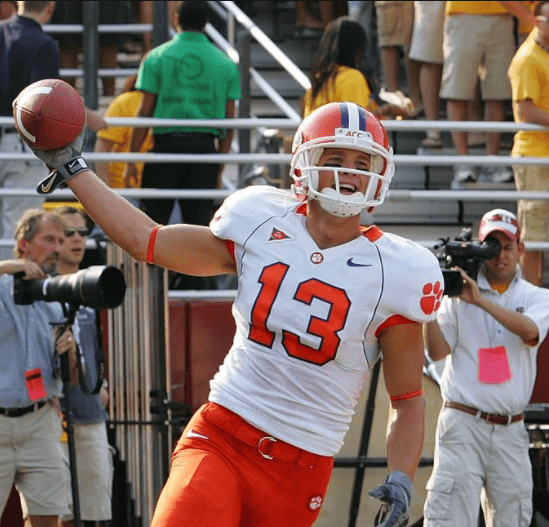 Tyler Grisham: 
The Birmingham, Alabama native was the first wide receiver to wear #13 for the Tigers, and thus the tradition began. Grisham hauled in 132 receptions for 1,390 yards and eight touchdowns in his four years of wearing the one-three for the Tigers.
Grisham went on to play for the Pittsburgh Steelers and Denver Broncos in the NFL for four seasons before returning to Clemson in 2014 serving as a graduate assistant (2014-15), offensive analyst (2016-19) and was named the wide receivers coach by Dabo Swinney on February 6th.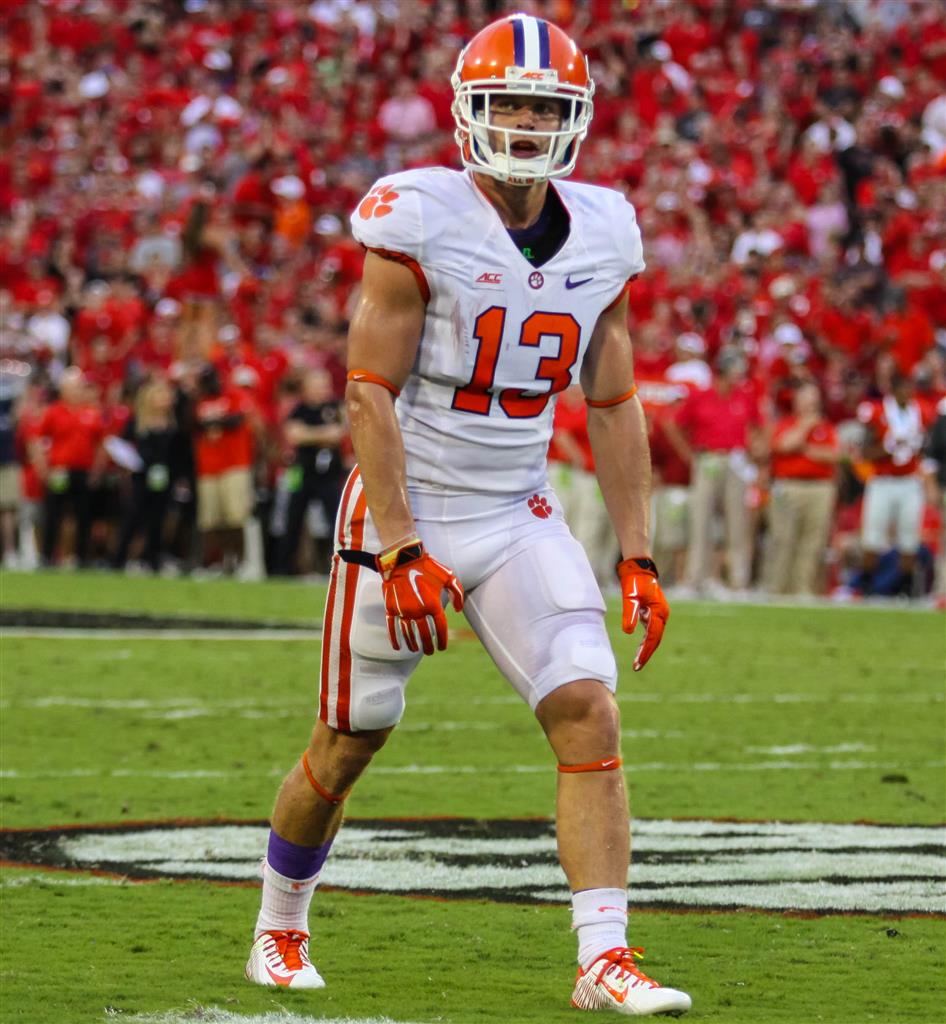 Adam Humphries:
The tradition of the 13 jersey then went to Adam Humphries of Spartanburg, South Carolina. Humphries wore the #16 jersey for his freshman and sophomore season as placekicker Spencer Benton wore the 13 jersey. In his four years of catching passes for the Tigers, Humphries hauled in over 125 receptions, 1,000 receiving yards and three touchdowns.
Humphries went undrafted as in the 2015 NFL Draft but was picked up by the Tampa Bay Buccaneers as an undrafted free agent. In his four years with the Bucs, Humphries hauled in nine touchdowns and had 816 receiving yards during the 2018 season. On March 14, 2019 Humphries signed a 4-year 36 millions dollar contract with the Tennesse Titans. Not bad for an undrafted rookie right? 
Hunter Renfrow: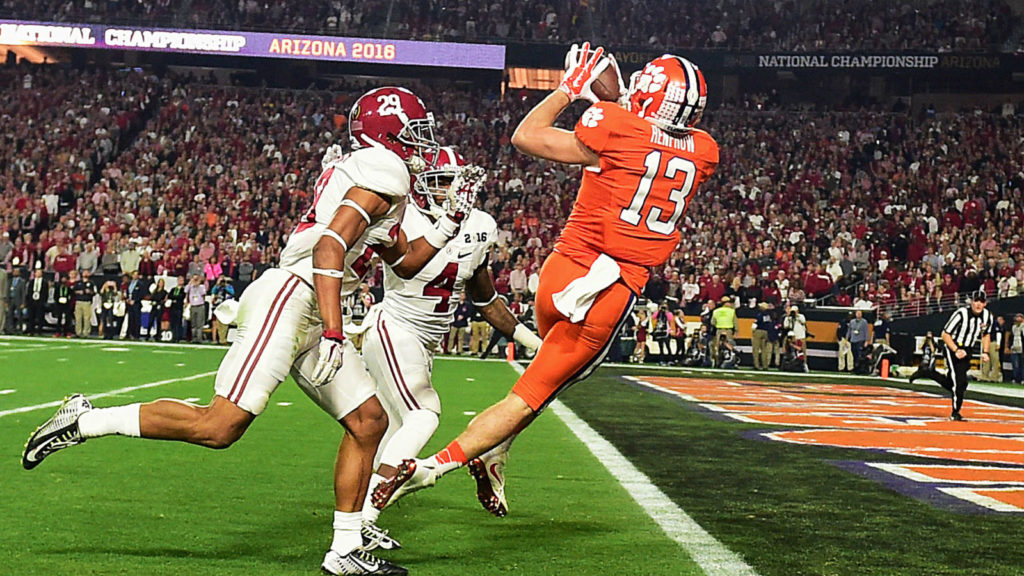 The next player to continue the tradition of #13 needs no introduction. Renfrow has a special place in Clemson Tiger fans hearts and minds for his heroic catch in the 2017 National Championship Game against Alabama giving the Tigers the lead with one second remaining in the game. In the Orange and White, Renfrow recorded 15 touchdowns and over 2,000 receiving yards. Renfrow did not have a season for the Tigers where he did not account for less than 490 receiving yards.
In 2018, Renfrow received the Burlsworth Trophy, presented to the best college player that started his career as a walk-on.
Renfrow was selected in the fifth-round of the 2019 NFL Draft by the Oakland Raiders. In his rookie season in the NFL, Renfrow finished with 605 receiving yards and four touchdowns.
Red-shirt freshman Brannon Spector is the next wide receiver to put on the "unlucky" 13 jersey for the Tigers. Will he be ready to step up and follow in the footsteps of those before him? Time will only tell.