It's time to turn the page on 2021. Clemson returns a LOT of good pieces in 2022, and one can just feel the excitement building towards spring practice. The most watched position on the field is going to be quarterback.
DJ Uiagalelei needs to be given the benefit of the doubt. No, he did not live up to "Heisman" expectations, and everyone saw his struggles last year. Some might call this the "sophomore jinx". Others will simply say the team didn't do their evaluations and he wasn't as good as they thought. Whether people see this is making excuses, but there were several factors in his lackluster year.
First off, he fought through injuries all year. The last couple of games of the year, both wins by the way, he was trying to pass with a splint on his index finger, and wearing a knee brace. Hard enough playing the position when healthy, but he pushed through, and led the Tigers to a 10-3 record, including a bowl win over Iowa State. Fan expectations were high coming into the season after watching DJ throw for over 800 yards in two games in 2020 against BC and Notre Dame. No one expected the injuries to the wide receiver corp, and the Tigers spent the first 5-6 games of the season trying to solidify the offensive line. Add to this that by the end of the season, two RBs had left for the transfer portal, leaving the position in the hands of a sophomore with no starting experience and two freshmen. The WR had been whittled down to two freshmen and Will Swinney manning the position in the last few games of the season. It's hard to succeed with all this going on, but somehow, Clemson won 10 games anyway in a "down year."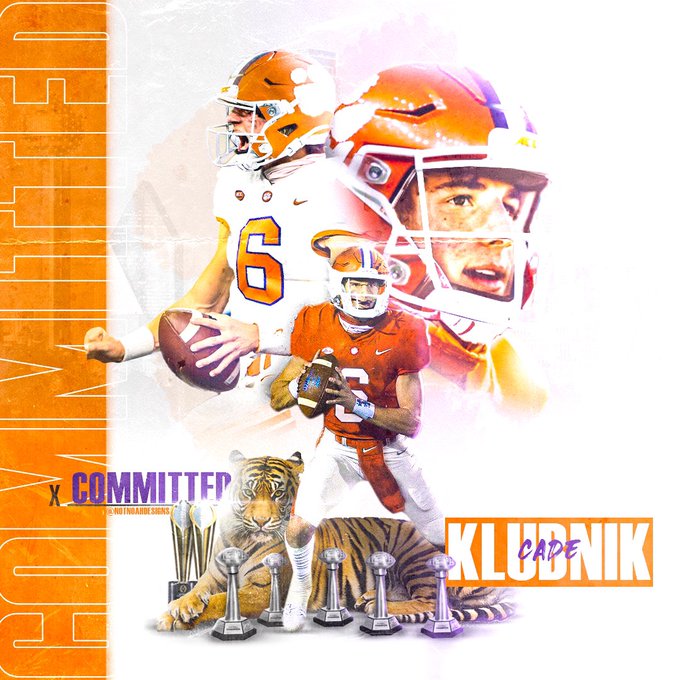 QB Taisun Phommachanh felt he might get more playing time through the "free agency portal" and left the team the first week of December, leaving walkon QBs Hunter Helms and Billy Wiles. Not exactly the situation you want to find yourself in down the stretch. Keeping Uigaglelei healthy was a priority the 2nd half of the season. Helms and Wiles are young and between the two of them, completed 7 of 17 passes on the season.
There is little doubt that Phommachanh's exit was due in part to the main reason why fans are so excited about the spring game in April. 5-star Cade Klubnik arrived on campus this week. Klubnik comes to Clemson fresh off of two straight Texas State Championship seasons, He led Westlake High School to 27 straight wins, throwing for 78 touchdowns, 6 interceptions, and running for another 27 touchdowns.
Comparing the two quarterbacks are almost like trying to compare David and Goliath. DJ is 6-4 250 with a cannon for an arm while Klubnik is a little more slight at 6-2 185 with a "catchable ball arm". Uiagalelei is bigger which in 2021, seemed to have limited his "escapability" to avoid sacks. He was sacked 21 times on the year, albeit, 7 of those sacks came in the first game against Georgia.
Klubnik, on the other hand, is speedy, throws well on the run, and has the "it" factor in getting out of the pocket.
Both quarterbacks will benefit greatly from a steady offensive line, a healthy wide receiver group, and possibly, new ideas in play calling from new OC Brandon Streeter.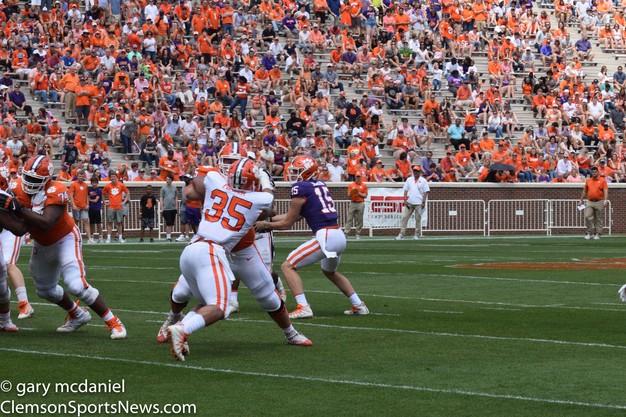 Wiles and Helms will continue to get better in backup roles, and it would not surprise anyone if one of them decided to enter the transfer portal at some point since transferring seems to be the easy way out instead of staying and fighting for the job. With three 5-star quarterbacks in front of them, playing time is going to be minimal in 2022, and who could blame them?
A total surprise to everyone is incoming transfer former Clemson QB Hunter Johnson. Johnson transferred after his freshman year due mainly to the presence of Trevor Lawrence. The writing was on the wall and off he went to Northwestern. A few years later. Johnson contacted Dabo Swinney to see about a GA position, and one thing led to another, and Dabo convinced him to play one more year and finish up his collegiate career at Clemson. What does Johnson bring to the table? How about 5 years of collegiate experience, and a foundation of Clemson football.
Coach Streeter has his work cut out for him at the quarterback position. He now has 3 5-star quarterbacks at his disposal as well as two talented walk-ons who are still cutting their teeth. It's a good problem to have and the Spring Game should be fun to watch with this quarterback competition.