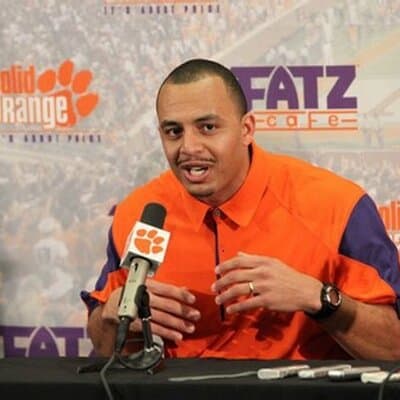 2018 Allstate Sugar Bowl – Clemson Co-Offensive Coordinator
Tony Elliott Quotes – 12-29-17
Q. What was your first impression of Hunter Johnson?
COACH ELLIOTT: Is this guy going to survive? I'm here with all these Division I athletes. He showed up. He's a small guy, unassuming, doesn't look like a football player. But the moment he took off running and we saw him catch the ball, just his knack for the game, we knew he'd have a chance to compete.
Q. How often does he drop balls in practice? Does he ever drop anything?
COACH ELLIOTT: Actually, I think he dropped the first one the other day, and I had to get on him. I said, "Hunter, I'm not used to yelling at you for dropping the ball." He doesn't drop the ball. I think that's why he's so successful is because he practices the right way. He takes practice like it's a game. That's why he's able to perform.
Q. What is it about him that makes him able to perform and produce at that high level against a good team?
COACH ELLIOTT: I think it just goes back to who he is at his core, his belief system. Very, very confident, very, very humble. He understands it's a privilege to be out there. Every day, when he comes to practice, he treats it like it's a privilege. His attention to detail is unbelievable. He's got a coach's mind, grew up in a coaching household. He understands what it takes to be successful, and that's why he's able to compete.
Q. Alabama has a ton of injuries on defense. When you watched them from the beginning of the season to the end, how have you seen them adapt given all the injuries they've had?
COACH ELLIOTT: They keep saying there are a lot of injuries, but they just keep rolling guys in there. I swear they've got about 25 defensive linemen. Every time you watch film, you see a different one. Literally in our staff meetings watching film, we're like who's 24 [Lewis]? Who's 4 [Allen]? And they just keep rolling them in there. But you see their system. They ask those guys to be ready to perform. The biggest area of concern would be their linebacker motion. I think they're going to get a lot of D linemen back. Really the linebacker position is the one that probably gives them the biggest issue just because they ask those guys to do so much. But when 30 [Wilson] was in there, you saw him come back from his foot injury later in the season versus Auburn playing at a high level.
But, when 30 [Wilson] was in there, you saw him come back from his foot injury late in the season versus Auburn, playing at a high level. Obviously, 42 [Holcombe] has played a lot of football for them early in the season. And then I think one of their best players on defense is 32 [Evans], the way that he runs around. So I anticipate that with the time off, they have an opportunity to get those guys healthy and really haven't seen them go away from what they do. They just keep plugging guys in and asking those young guys to step up.
Q. What's it like to watch Minkah [Fitzpatrick] on film?
COACH ELLIOTT: He's incredible to watch because he does so much. I mean, he can go out there and play corner, lock you down. He can lock your slot down. He rushes the passer. If they need him to go back and play off the hash, he can do it all. You can tell he's like a quarterback out there. He gets those guys in the secondary where thee need to be and plays with a motor. And you can see that everyone feeds off his confidence.
Q. What about Kelly Bryant?
COACH ELLIOTT: Going into it we knew athletically he had everything he needed. We just didn't know how he was going to perform when the lights came on. Right out the gate seeing how he came out against Kent State, being able to throw the ball where he needed to throw it, he continued to progress. Biggest thing is, when there was a little bit of a lull and we weren't hitting the deep balls down the field, he never lost confidence. He kept throwing the ball. And that's just a sign of maturity that he trusts the process, he trusts his ability. And he understands that you're going to have to work through some low times to get back to performing at a high level.
Q. What did you make of when people were questioning you guys at the beginning of the season because of having to replace Deshaun [Watson]?
COACH ELLIOTT: It's "next man up" is the mentality. We've been working for a long time as a program to get to that point. And we challenge everybody, whether they're a starter or a backup going into it, you have to prepare as if you're a starter because you're one snap away from being the guy that the team is counting on. So Kelly had a great mentor in Deshaun. He saw it every single day what it looks like to prepare, what it looks like to go out, your practice habits, your demeanor, how you handle the media. He had a perfect example in front of him. And he was a young person that he took advantage of that. A lot of guys, when they're in a backup role, they sit there and wait their time, twiddling their thumbs. He took advantage of it. He prepared every single day. And, when he got his opportunity he performed. So just having Deshaun there every single day showed him what a ‑‑ I said it before, Deshaun prepared like a pro. I think that's what Kelly has been able to adapt and learn throughout the season, how you prepare like a pro.
Q. Was there ever doubt through spring practice and summer that he would be your guy? Was that ever a question in your mind and Coach's [Dabo Swinney] mind?
COACH ELLIOTT: Never a question. I think right out of the gate when we started we had great chemistry, great cohesion. And you could tell that he'd been working in the off‑season with the guys. The team was very, very confident in his ability. The biggest question and concern was we'd never seen him do it under the lights. When you talk about going on the road to Louisville, we're going to have to go to Virginia Tech, playing in those environments, he'd never been the guy out there first. That was our only concern. Physically and mentally, we knew he was prepared and ready. He had waited his turn. He really brought the guys together.
And we were excited about what we had offensively. Because there were a lot of questions with all the guys that walked away. But we saw that the guys rallied towards him. He's got a great demeanor about himself. The guys really feed off him. And now we just need to see him do it.
Q. Did those stages, those road games against those teams, compare to what we'll see on Monday?
COACH ELLIOTT: I think, when you're playing Florida State in Clemson, that's a big game when you're on the road at Lane Stadium at night, College GameDay, biggest game in a long time. They got all their former great they're honoring there. Go to Louisville. And, if you look back to when Deshaun [Watson] was a young guy, Deshaun didn't play quite as good at Louisville. Third game of the season Kelly [Bryant] goes there and leads us to one of the biggest victories we've had on the road in our conference. I think he's going to be ready for the moment. And what you're learning about Kelly is there's never a moment that's too big for him. I think that's something that he learned from Deshaun, too, is just, once the smoke clears and you're on the field, it's just football ‑‑
Q. Character‑wise or personality‑wise do you see similarities in how they handle things?